PompeoGate: The First Scandal Of Campaign 2024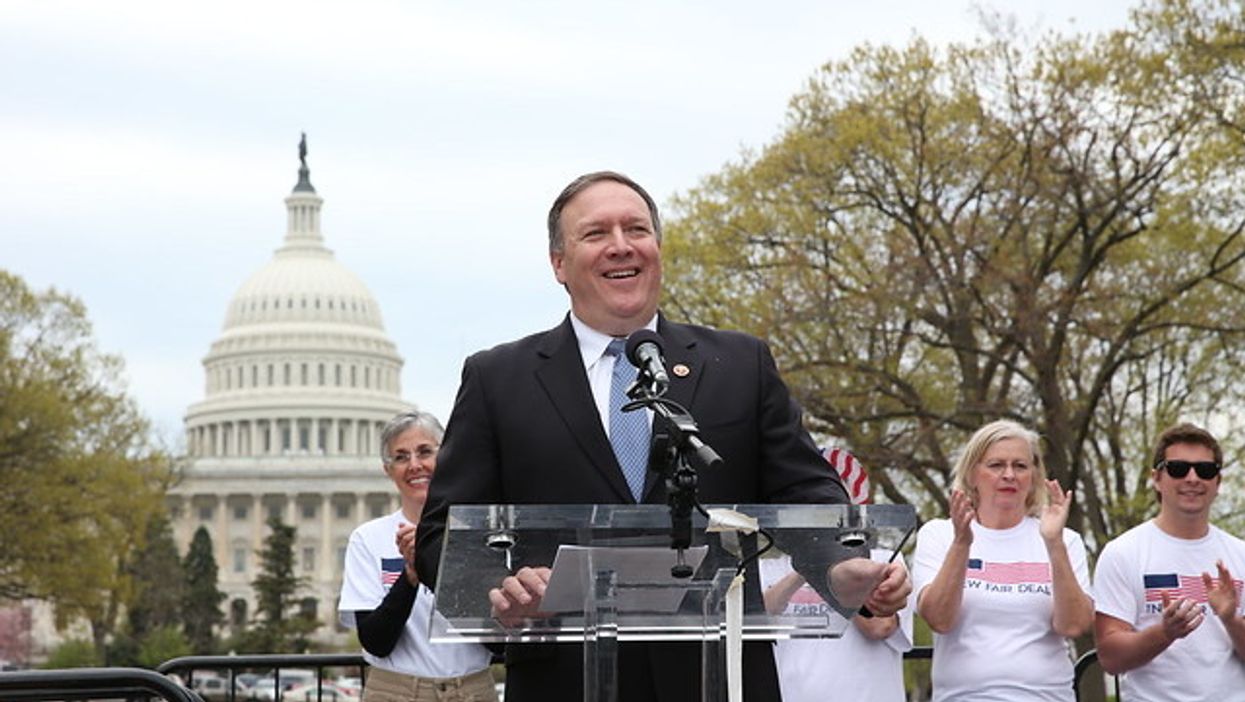 Do you remember Mike Pompeo?
Not the Pompeo who now serves as secretary of state, and who liked to boast that he had restored the "swagger" of the diplomatic corps (even as he served up his own Ukraine ambassador to a White House smear campaign). And no, not the sleazy character who induced the firing of the State Department's inspector general in order to bury an investigation of his own misconduct. This Secretary Pompeo is a flunky of President Donald Trump who lives happily inside the president's ethical vacuum.
---
But just a few years ago, there was a representative from Kansas by the same name. He was a West Point graduate who oozed religious righteousness — and a congressional scourge who felt obliged to express his white-hot anger in a separate and furious postscript to the House Select Committee on Benghazi report in 2015.
The Benghazi committee majority, quite frankly, set out to inflict maximum political damage on Hillary Clinton, and then secretary of state and soon-to-be Democratic presidential nominee Clinton. But they had not slurred her adequately, in Pompeo's view. So he issued a special addendum that allowed him to tar her as "morally reprehensible," a baseless insult that not even Rep. Trey Gowdy, R-S.C., the committee chairman, would endorse.
That Rep. Pompeo was just so different from this Secretary Pompeo — a smug figure who, for instance, saw no reason to cooperate with congressional subpoenas during the Trump impeachment inquiry. Back during the Benghazi farce, that old Pompeo would have grown livid at the very thought of a document or witness withheld by the White House for any reason.
Of course, that Pompeo demanded and got testimony and documents from scores of officials and Clinton associates, relevant or not, all of which were fulfilled in a spirit of transparency. This Pompeo stonewalled the House investigators at the command of the White House, behaving as if Congress had no constitutional authority at all. His insistence on full disclosure and government accountability only applies to Democrats.
Given the man's truly monumental arrogance, it is hardly surprising that he has now brought us the very first scandal of the 2024 campaign. That scandal involves the so-called Madison dinners, hosted by the secretary and his lovely wife in the State Department's fanciest dining room, where various Republican high rollers, celebrities and swells were wined and dined — all clearly in anticipation of Pompeo's candidacy for president after Trump's second term. (The name is an insult to James Madison, America's fifth secretary of state and a figure of integrity who paid for his wife's legendary dinners from his own pocket.)
Months ago, Pompeo was suspected of coveting a Senate seat from his home state, which was why he kept flying back to Kansas without any conceivable State Department business there. But from the guest list at his State Department soirees, it now seems clear that he will be seeking the top job.
The only problem is that the secretary brazenly fleeced you, the taxpayers, for the entire cost of those lavish events — none of which had anything whatsoever to do with American diplomacy or the purposes of his position. These private events began in 2018, according to NBC News, with a long list of influential guests that has included various billionaires, right-wing Supreme Court justices and even a smattering of diplomats. Perhaps their principal aim was to expand the discussion of "America's place in the world," as the engraved invitations said. Which must be why the Pompeos invited country singer Reba McEntire, retired NASCAR driver Dale Earnhardt Jr., the governor of New Hampshire and a host of "Fox and Friends."
Inspector general Steve Linick had begun to inquire about the "Madison dinners" the week before Pompeo got him axed. And now congressional Democrats have expressed keen interest in learning more about the dinners to determine exactly how and why taxpayers' money came to be squandered on Pompeo's political ambitions.
No doubt this Secretary Pompeo will attempt to resist any such inquiry on some pretext that would have infuriated the old Rep. Pompeo.
But perhaps the president himself — an egomaniac who abhors the idea of any of his stooges stealing the limelight — will have the last word. As one of Trump's senior White House aides reportedly told NBC, "If the president knew about any of this, he would have fired Pompeo months ago."
It isn't too late.
To find out more about Joe Conason and read features by other Creators Syndicate writers and cartoonists, visit the Creators Syndicate website at www.creators.com.