Pope Francis Goes To Washington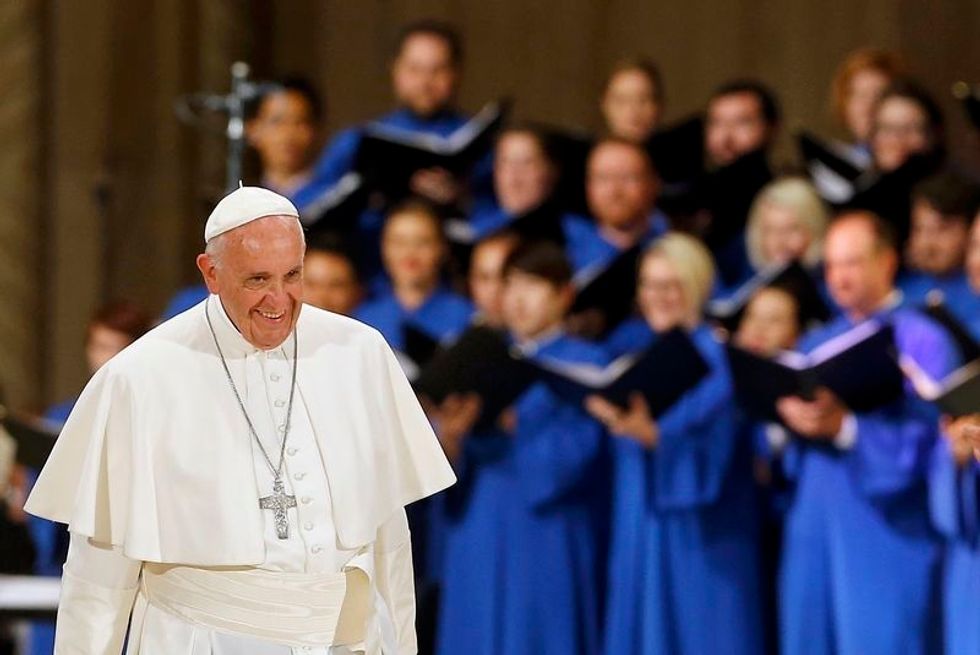 He is the only man in the world with this job title, but from the moment Pope Francis was hired, he eschewed the fancy trappings of his predecessors to avoid the isolation of privilege. So there he was Wednesday, pulling up to President Barack Obama's rental house on Pennsylvania Avenue in a boxy little Fiat.
After the pope's brief speech on the White House lawn, he switched cars and headed for the parade, where he waved to thousands of admirers from his popemobile, a modified Jeep Wrangler made by union workers in Toledo, Ohio.
Surrounded by emergency vehicles and swarmed by security, Pope Francis nonetheless managed to persuade grim-faced Secret Service agents to fetch babies from the crowd so that he could kiss them. My favorite moment during live coverage came when agents tried to shoo away 5-year-old Sophie Cruz. The little girl in pigtails made eye contact with Pope Francis, and he waved for her to come to him. An agent lifted her so that the pope could kiss and embrace her.
News organizations later reported that Sophie had traveled from Los Angeles with her parents and a group that advocates for American-born children of immigrants. I confess I read that and thought, "Nice work, God."
Pope Francis is only 5 feet 9 inches tall, but he is a towering figure this week in a country — in our country — full of people yearning for signs of greatness in those who think they're entitled to center stage. Millions of Americans, most Catholic but surely not all of them, are hanging on his every word.
And why not?
I'm not Catholic, and I am mindful of those who continue to suffer because of the Roman Catholic Church's failings. But there is something about this pope. His respectful ease with our president and his words of gentle optimism invited immediate contrasts with what some presidential candidates have been trying to pass off as leadership in recent weeks.
The difference is so stark.
Pope Francis: As the son of an immigrant family, I am happy to be a guest in this country, which was largely built by such families.
Donald Trump: "When Mexico sends its people, they're not sending their best. … They're sending people that have lots of problems, and they're bringing those problems with (them). They're bringing drugs. They're bringing crime. They're rapists."
Ben Carson: "I would not advocate that we put a Muslim in charge of this nation. I absolutely would not agree with that."
Pope Francis: Mr. President, I find it encouraging that you are proposing an initiative for reducing air pollution. Accepting the urgency, it seems clear to me, also, that climate change is a problem (that) can no longer be left to a future generation. When it comes to the care of our common home, we are living at a critical moment of history.
Mike Huckabee: "I don't pretend to know. Here's what I do know: When I was in college, we were told that (the) climate was changing but we were about to go into a deep freeze and, if we didn't make urgent changes in the way we live, we were all going to be Popsicles within another generation."
Ted Cruz: "If you look at satellite data for the last 18 years, there's been zero recorded warming. The satellite says it ain't happening."
Pope Francis: During my visit, I will have the honor of addressing Congress, where I hope, as a brother of this country, to offer words of encouragement to those called to guide the nation's political future in fidelity to its founding principles.
Ah, Congress — where Ted Cruz is threatening to shut down the government. And his classmate Marco Rubio now claims that women get abortions just to drive profits from fetal tissue sales he knows do not exist. Handoff to Jeb Bush, who said, "I'm not sure we need a half a billion dollars for women's health issues." End this round with Ohio Gov. John Kasich, who's made a second career of ridiculing teachers. "If I were, not president, but if I were king in America, I would abolish all teachers' lounges, where they sit together and worry about 'woe is us.'"
These men want to be our next president.
On Wednesday, thousands lined the street to welcome Pope Francis to Washington.
Small wonder why.
Connie Schultz is a Pulitzer Prize-winning columnist. She is the author of two books, including …and His Lovely Wife, which chronicled the successful race of her husband, Sherrod Brown, for the U.S. Senate. To find out more about Connie Schultz (con.schultz@yahoo.com) and read her past columns, please visit the Creators Syndicate Web page at www.creators.com.
Photo: Pope Francis is applauded inside the Basilica of the National Shrine of the Immaculate Conception in Washington on September 23, 2015. REUTERS/Patrick Semansky/Pool