Pope Makes Opposites Attract For A Short Spell
@JamieStiehm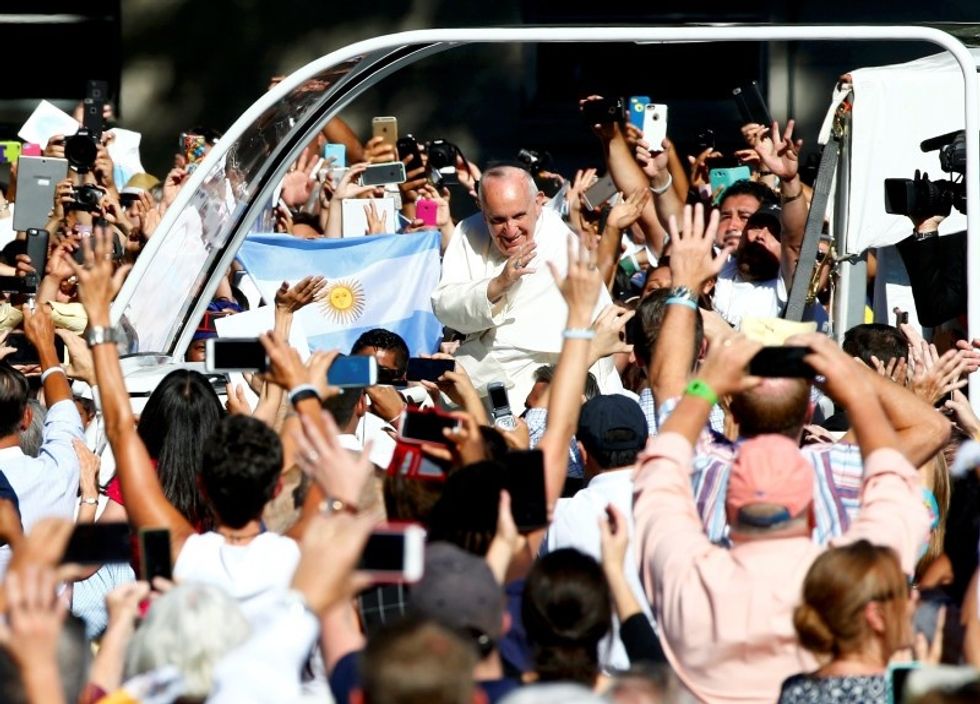 WASHINGTON — The first day of fall, the last light of summer. The pope and the president. Church versus state. Yom Kippur, the Jewish high holy day of fasting, atoning and praying in synagogues across the city, next to the felicity that attended Pope Francis when he alighted from his plane into the hands of President Barack Obama and his family of three tall females.
Contradictions and contrasts melted in the sheer sunny glow of the papal presence. I'm not Catholic, nor was I meant to be a medieval religion believer. I never saw what was in it for a free woman like me, fond of her constitutional rights and liberties. But just for the day, I felt under the peaceful spell suddenly cast over the city.
Yes, I was ready to confess all my sins to Francis. He was staying on the street where I live, actually, just three blocks down Massachusetts Avenue — "Mass Ave.," as we call it. So, you know, my connection is close to home. Could I throw pebbles on the window of the Vatican Embassy?
A parade, an elaborate formal Roman Catholic Mass, a White House reception and a historic address to a joint session of Congress awaited the pope, who had just flown in from Cuba. Our erstwhile enemy, Fidel Castro's island nation can be counted as a diplomatic ally at last. For that, we owe the man who lights up a white gown and skullcap.
Francis, unhurried and full of grace, is really a nonviolent revolutionary. Clearly, he is not in this thing just to be pope; he communicates moral conviction and urgency, especially on climate change and immigration. He is here to get things done. His words are a conduit to action and activism outside religion.
From what I've seen, the pope is a brilliant border crosser. His disarming modesty — "pray for me or think good things" — is a way to get others to think big, too, beyond narrow views, to see the larger picture. The abolition of the death penalty, which he champions, is a way to embrace human dignity, even at its most fallen form. As old-fashioned as ice cream socials, compassion waters a parched place in our public squares in our sharp "social media" age.
In seven years, I've never seen the cool president so jazzed, so visibly thrilled to meet any head of state. (The Vatican is its own state.) Don't get me wrong; Obama has impeccable grace and manners on stately occasions. But this time, bliss was shining through his eyes.
The two men — ages 78 and 54 — are precisely matched in years to be father and son here on Earth, in flesh and blood. The pope's honorific title is "Holy Father," but Obama was searching for something else. Obama wrote elegiac memoirs about dreams from his absent father in far-off Africa. In waking, he wept, he wrote.
In his first encounter with Francis, Obama looked utterly at home from the moment they met. It was as if they had already met long ago. A minor miracle, to be sure, for a president who has endured much absence and abuse with good grace.
At the Capitol, Francis was greeted with cheers from members of Congress hungry for adult authority in the House, which is fraught with bickering, and the Senate, which is facing a shutdown over Planned Parenthood. They will go back to high-class partisan wrangling today or tomorrow.
Outside on the Capitol's creamy white balcony, the pope blessed the children.
I heard the pope wakes at dawn. For a change, so did I, to the most spectacular sunrise I've ever seen in my city.
To find out more about Jamie Stiehm and read features by other Creators writers and cartoonists, visit Creators.com.
Photo: Pope Francis waves to the crowds gathered to see him as he arrives at the Basilica of the National Shrine of the Immaculate Conception in Washington on September 23, 2015. REUTERS/Tony Gentile