Poppy Speaks Out At Last — Too Little, Too Late
@JamieStiehm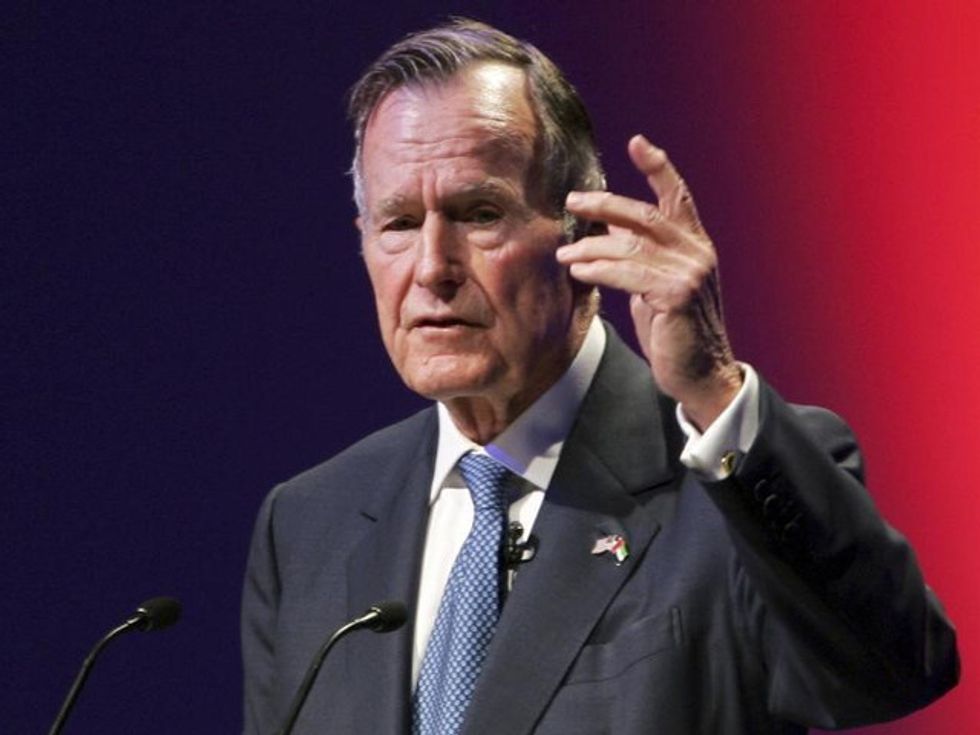 If only "Poppy" had quit in 1992, after one White House term, then the 41st president's fruit would not be so bitter. George Herbert Walker Bush would have dined out on German reunification and the multinational coalition in the first Gulf War — a desert cakewalk. Through no fault of his own, the Soviet Union and the Cold War ended on his watch, and that should be enough for any man pushing 70.
"I didn't finish the job," Bush I said. He's now 91.
Out on the stump, the monumentally ambitious president found he could not connect to the American people. A jolly good fellow who wrote a ton of thank-you notes, he went as far as China and Langley for the blue-chip resume, always a team player who never had "the vision thing."
Earlier, in 1988, he won as Ronald Reagan's chosen understudy. But like many men of his Ivy League WASP war hero mold, he could not speak straight to the heart of people at home. Not to save his political life. His speech often sounded strangled.
A new biography, an elegant volume composed by author and presidential historian Jon Meacham, is titled Destiny and Power: The American Odyssey of George Herbert Walker Bush. It's based on the former president's diaries and revealing chats, often at the family compound on the Maine coast.
The result of that sharing is the most generous portrait that the former president, nicknamed "Poppy" since prep school, could hope for. Meacham's work is written in a gentlemanly spirit, just as his American Lion book on the gruff general and president, Andrew Jackson, glowed. For that he won the Pulitzer Prize. (Meacham once deftly edited a magazine piece of mine.) Meacham excuses Bush's mean moments in political combat as untrue to his code. (The 1988 campaign was not pretty.) Nor does he pass judgment on Bush's loyal service to President Richard M. Nixon.
Bush realized late there was no way to win against the young Bill Clinton, who could coax the stars out of the sky. The generational contrast was stark. We learn that Bush confided to his diary that he felt the war-high in his approval rating was thin ice. The future won; the past lost. Bush had been schooled and worked in exclusively male institutions; Clinton was educated in co-ed settings and married another Yale Law School graduate. (Barbara Pierce Bush dropped out of Smith College to marry Poppy.)
Now it turns out, tragically, Poppy's speech troubles extended to his own firstborn son George W. Bush as wily Donald Rumsfeld and Dick Cheney — who pushed the nation down the path of war in Iraq. More than most, the Bushes have played their family dramas out in public, at our expense. The American people are still paying the bill — and so are Iraq, Syria and other countries bathed in blood. The show was not even fun to watch.
The Bushes are not just genteel from a long New England line. Their manners mask a cutthroat bunch — jocks who don't crack books much — when they aren't writing adoring notes to fellow Bushes. Winning and loyalty are cherished, whether it's horseshoes or the Florida presidential contest in 2000. They have their men, like lifelong friend James Baker, always there to help in a pinch. In Florida, with brother Jeb Bush as governor, the cliffhanger was almost a cosmic family thank-you note to opponent Al Gore, Clinton's vice president — whom Poppy had once referred to as a pair of "bozos." (Now he and Clinton are tight.)
Cheney's war-mongering as his son's vice president offended Poppy; building up his own power base was the last thing he would have done as Reagan's No. 2. Bush, ever the good team player, found Cheney's aggression a terrible influence. Yet Poppy had hired Cheney to be his secretary of defense and so — well, it was all in the tribe. As a seasoned foreign policy hand, Poppy knew the "axis of evil" language used by his son was trouble. But he never spoke "mano a mano" to his son, as columnist Maureen Dowd noted.
So why not say something at the time to us, the American people? It's clear: We're not their kind, dear.
To find out more about Jamie Stiehm and read features by other Creators writers and cartoonists, visit Creators.com. COPYRIGHT 2015 CREATORS.COM
Photo: Former U.S. President George H.W. Bush speaks at the World Leadership Summit in Abu Dhabi, United Arab Emirates on November 21, 2006. REUTERS/Stringer