Portland: Top Places Off The Beaten Track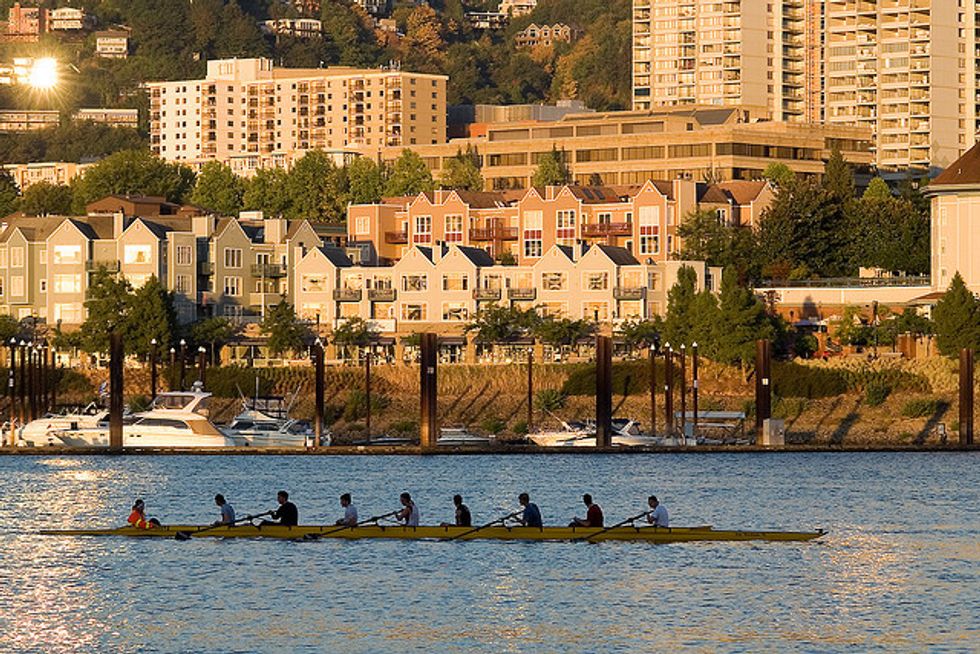 By Brian J. Cantwell, The Seattle Times (TNS)
Unless you moved to Seattle like last week, you've probably taken a few weekend getaways to Portland. Portland, the weird. Portland of "Portlandia" fame, so hilariously politically correct that locavores need to know the name of the chicken they're eating. Portland, deliciously marinated in craft beer.
Got a feeling of "been there, done that"? Perhaps you've already stopped to smell enough roses in the famed International Rose Test Garden? Exhausted the stock of your favorite mystery writer at the heavily flogged Powell's City of Books? Familiarity need not breed contempt in this entertaining town. Next time, get off the beaten path with these ideas:
Mississippi Avenue
You've "done" downtown? Spent time aplenty in the Pearl District? Hop aboard a Route 4 TriMet bus to North Mississippi Avenue, one of several happening North Portland neighborhoods just east of Interstate 5 (mississippiave.com). Merchants describe it as having "a lot of history and a ton of love."
The busiest commercial stretch, four blocks between Fremont and Mason streets, is an intimate, tree-lined street anchored at night by the music scene revolving around Mississippi Studios, "built, owned and run by and for musicians" since 2003. It's a recording venue that also hosts some 500 shows a year with bands, DJs and comedians (3939 N. Mississippi Ave.; mississippistudios.com).
At any hour, there's novel shopping and dining. I liked the Mississippi Pizza Pub, 3552 N. Mississippi Ave., which deservedly claims Portland's best gluten-free pizza (gluten-free being a badge of honor in a city of restaurants that also seem to feature kale in most dishes). There's sidewalk dining plus inside booths with old English pub tables.
Among many other eateries there's the StormBreaker brew pub, the Bar Bar, and ¿Por Que No? Taqueria (all with inviting patios), a breakfast-all-day place enigmatically called Gravy, and Miss Delta, a Southern soul-food joint with an appropriate Mississippi bent.
The offbeat doesn't stop there. Learn how to roast your own coffee beans at Mr. Green Beans, pick out an "aerium" with Tillandsia air plants at Pistils Nursery, or browse through a DIYer's dream warehouse full of recycled doors, windows and even vintage claw-foot bathtubs at the nonprofit ReBuilding Center.
Oaks Park amusement park
Got fond memories of Seattle Center's Fun Forest, sacrificed a few years ago to the overexposed glass art of Dale Chihuly? Head for Portland's charming Oaks Park, a riverfront amusement park with rides open March to October, and you'll never look back.
There's the usual quota of Rock-O-Plane, carousel, roller coaster and such, plus a go-cart track and a giant, year-round roller-skating rink with laser-light show and a wood floor so mirrorlike you can look down and comb your hair.
Friends and I indulged in the miniature-golf course ($6/round) shaded by, yes, oaks. It edges the Willamette River, with an outstanding view of passing boats, plus sunsets over the wooded hills south of downtown. 7805 S.E. Oaks Park Way; oakspark.com.
Tip: On the way to Oaks Park, two off-the-beaten-track business districts, Moreland and Sellwood, have enticing places to eat and drink.
World's smallest park
From downtown, it's a short walk to the riverfront to see what the Guinness World Records folks officially recognize as the world's smallest park.
It's a 2-foot diameter concrete planter with a small fir tree, some ground cover and whatever whimsical additions recent visitors may have left (such as tiny plastic horses on my visit).
In the late 1940s the concrete hole was intended to be the site for a light pole. When the pole failed to appear, Dick Fagan, a columnist for the now-defunct Oregon Journal, planted flowers in the hole, named it after his column in the paper, "Mill Ends" (a reference to leftover pieces of wood at lumber mills), and devoted considerable ink to the idea that a leprechaun lived there. It became an official city park in 1976.
Mill Ends Park is in a crosswalk on the median of Southwest Naito Parkway, at Taylor Street. Be careful of speeding cars as you take your "I was there" selfie.
Distillery Row
It's gaining its share of tourist promotion, but you still might be the only visitor present on a summer Sunday when you step into any of the seven tasting rooms on Portland's Distillery Row.
Purveyors of gin, vodka, rum, whiskey and various specialty boozes are not so much in a "row" as they are scattered near each other in an otherwise untouristed Southeast Portland light-industrial area east of the Willamette River.
Among my favorites was New Deal Distillery (Southeast Ninth and Salmon Street, newdealdistillery.com), in a handsomely renovated small warehouse where the tasting counter has an open view of aging barrels and a gleaming, copper-topped Christian Carl still from Germany.
Owner Tom Burkleaux got his license in 2004, making him one of the old-timers in Oregon's modern era of small-batch distilling.
"We had such great things as the coffee roasters and the brewers, why not a distillery? So here I am," he said, offering a sample tapped from a barrel of in-the-works bourbon.
Most tasting rooms open weekends, some open daily; see distilleryrowpdx.com for details. Various tasting fees apply.
Weird museums
Don't miss these museums if you agree with the bumper stickers around town that say "Keep Portland Weird."
What's odder than a little museum dedicated to the ignoble vacuum cleaner?
It's actually a fascinating topic once you're, uh, sucked in. From wood-trimmed, hand-pumped contraptions to space-agey machines of the 1960s, more than 200 vacuums occupy Stark's Vacuum Museum, a side room of the Stark's Vacuums store that Portlander Clarence Stark founded in 1932 (107 N.E. Grand Ave., starks.com/vacuum-museum).
Out front they still sell sleek, modern Dirt Devils and stolid Hoovers, but the museum wing (free admission, open daily during store hours) has the antique, hand-powered Jaeger Jr., whose instructions read, "To operate this labor-saving device, pump up and down furiously." Labor-saving, they say.
The oldest on display is a Regina Pneumatic Cleaner from the 1890s, which required two people to operate and resembles a small cement mixer.
It's said that the Duntley Pneumatic Cleaner was demonstrated in its day by sucking the vacuum hose to a ceiling while a salesman did chin-ups from it.
Chin-ups was about all it was good for, one vacuum salesman suggested.
For more oddities, cross town to the Peculiarium, hidden away on a back street at Portland's far northwest corner (2234 N.W. Thurman St.; peculiarium.com).
Kind of a combo of joke shop, Ripley's Believe It or Not, Seattle's Ye Olde Curiosity Shoppe and Archie McPhee, the Peculiarium's freaky stuff ranges from a fuzzy, 10-foot-high Sasquatch figure that greets you inside the door (photo op!) to displays of old pharmaceuticals such as bat sweat, "for external use only."
There are novelty candies such as Pop Rocks next to racks of "Freaky But True" comic books, and an ice-cream counter that sells sundaes topped with real freeze-dried mealworms and scorpions. Eat one and get inducted into the Insectatarian Club, with your photo posted in the window. Free admission.
24-hour pancakes off the beaten track
I lived around Portland for 10 years and never came across the 1950s-era Original Hotcake & Steak House. No big surprise, it's on a ho-hum stretch of Powell Boulevard, over the Ross Island Bridge from downtown.
Nothing is highbrow here, from the graffiti-smeared restroom to the snaking, order-before-you're-seated (read the sign, they mean it!) line of tank-topped, tattooed Portlanders who wait for Burger King-like booths while cramming money into a jukebox that blares tunes from "Yellow Submarine" to "Sweet Home Alabama."
But it's open 24/7 every day but Thanksgiving and Christmas, and does a bumper business in breakfast, self-proclaimedly "loved for our large portions."
Two eggs with two hot cakes or hashbrowns and toast are $6.95. They sell more than 300 omelets a weekend (three-egg omelet with chili and cheese, $9.95).
Side orders include just plain gravy, for a couple bucks. Go figure.
The cakes are plate-filling, fluffy and golden, the hashbrowns fresh cut, and the syrup sweet and maple-y.
Tie-dye-shirted servers deliver it all quickly, any hour of the day or night, and hungry Portlanders drop by in droves. 1002 S.E. Powell Blvd.; hotcakehouse.com.
Photo by Stuart Seeger via Flickr