Post Office Forced To Cut Saturday Delivery Due To GOP Sabotage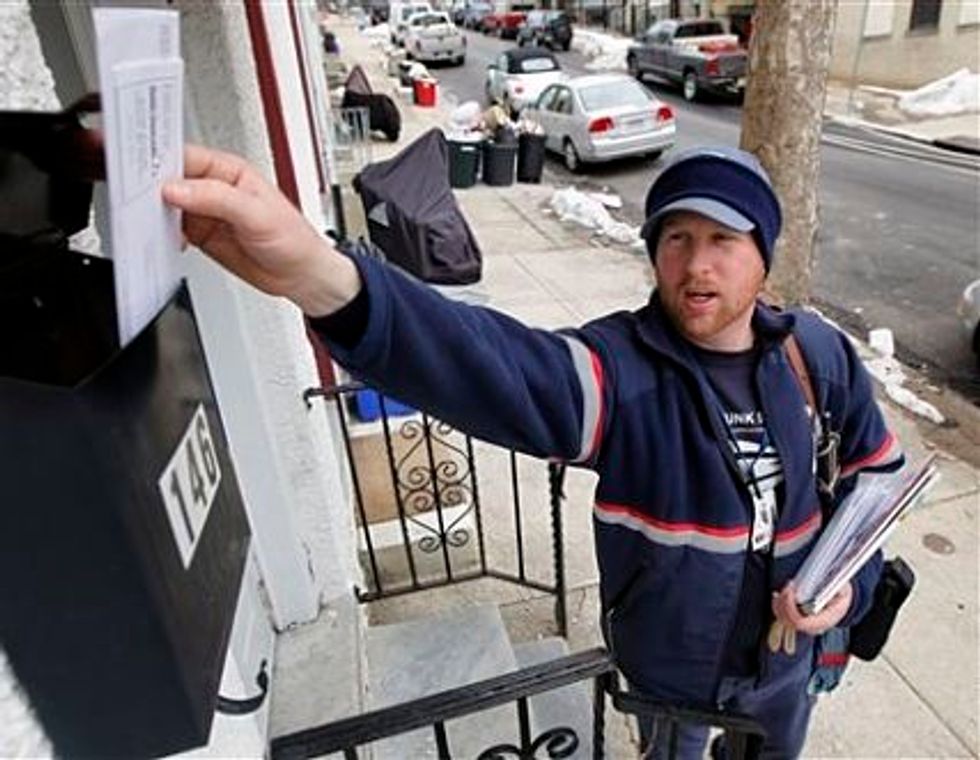 The Post Office announced Wednesday that it has no choice but the eliminate Saturday delivery of letters to save $2 billion, putting roughly 35,000-40,000 jobs at risk. Package delivery will continue six days a week.
"Our financial condition is urgent," said Postmaster General Patrick R. Donahoe, who in the past had said he didn't have the power to eliminate a day of service without congressional approval.
The rise of email has presented a persistent challenge to the Post Office, which is entirely self-funded, but the budget crisis was created purposely in 2006 by Postal Accountability and Enhancement Act (PAEA), which mandated the funding of 75 years of pension obligations within 10 years. The same law prevents the service from raising tax rates to fund the pensions.
"No business in the world could survive a mandate from the government to pay out $5 billion a year without the ability to raise its rates," American Postal Workers Union President Cliff Guffey said on Ed Schultz's radio show. "Anyone would go bankrupt."
Before the law passed, the USPS was not in any debt. About 70 percent of its losses can be traced directly to PAEA, as the postal service works continually to deliver new gains in productivity, reports Esquire's Jesse Lichtenstein in his must-read exposé of the war on letter carriers, "Do We Really Want to Live Without the Post Office?"
Guffey believes the point of the law was to drive the Post Office out of business and force letter delivery to become privatized as it is in Germany, "where stamps are 78 cents."
Majority FM's Sam Seder explains the plot against the Post Office here:

USPS covers many regions of the country that private carriers won't serve. Article I, Section 8, Clause 7 of the Constitution says Congress has the power "To establish Post Offices and post Roads."
Now Congress is continually blocking any effort the service would like to make in order to reduce costs, including closing some small post offices, raising rates and funding pensions in a reasonable way. Its losses without the costs of pensions are around are estimated around $900 million a year.
Congress could try to stop the change in service, though it failed to pass a bill designed to prevent the elimination of Saturday service late in the last Congress.
Both Speaker Boehner and the White House are calling for Congress to act. It should start by reversing the damage it did in 2006.
Photo credit: AP Photo/Matt Rourke, File