@POTUS: Another Way To Attack The President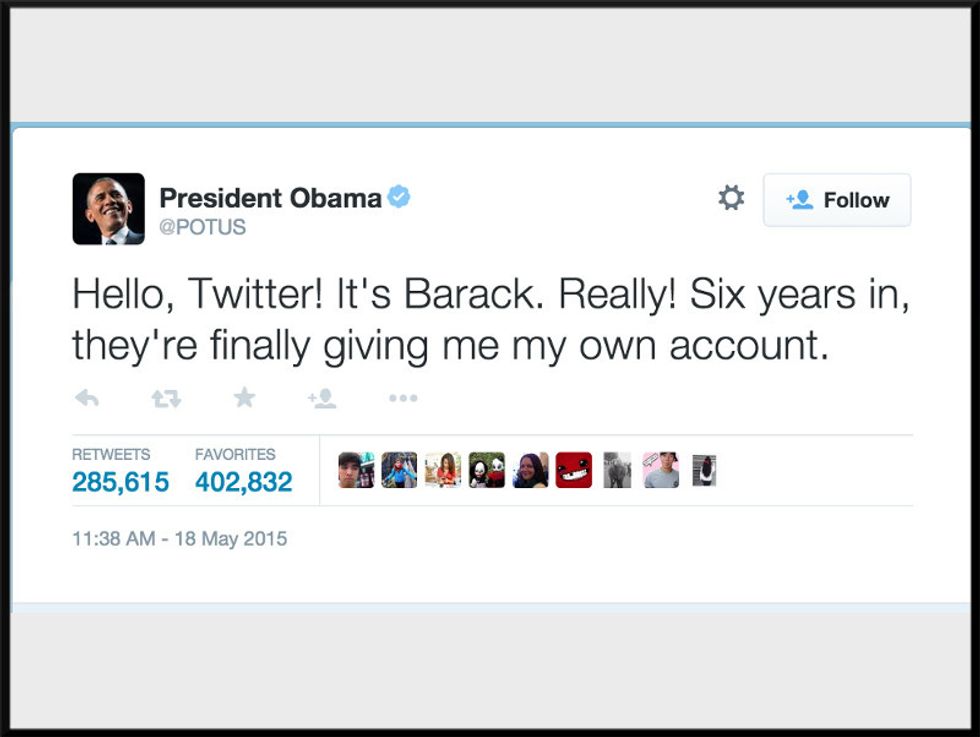 Any high-profile person starting a Twitter account is news.
But when the president does it? Well, that's something else entirely.
Who does he follow? Who is he talking to? Who's tweeting at him? And how many of those tweets consist of threats and hate speech? (Unfortunately, a lot.)
@POTUS — not to be confused with @BarackObama, which is controlled by the group Organizing for Action — is the actual Twitter handle of the president.
So who is @POTUS following? Most of the 65 accounts he follows are government entities — the Treasury Department, Energy Department, Department of Veterans Affairs — and high-level administration officials, like Secretary of the Interior Sally Jewel, Secretary of State John Kerry, and Secretary of Commerce Penny Pritzker.
But he also follows his alma maters, Occidental College (1979-1981), Columbia University (1981-1983), and Harvard University (1988-1991); Chicago sports teams (Blackhawks, White Sox, Bears, and Bulls); and of course, Michelle Obama, Joe Biden, and the White House.
Notably lacking? TheChicago Tribunepointed out that @POTUS was not following the Chicago Cubs.
Former advisor David Axelrod told the Tribune that the president has pledged his allegiance to the White Sox many times.
"Hey, say what you will, he's consistent," Axelrod said. "Once a Sox man, always a Sox man."
The Sox's senior coordinator of social media, Colleen Maxwell, told the Tribune that "it's standard procedure" not to follow a rival when you're a big fan of a particular team. "But if it was him [clicking to follow], it shows he knows the audience. He knows what he's doing."
@POTUS, which launched earlier this week, will have tweets coming exclusively from the president, the White House announced, as part of his ongoing effort to be transparent to the American public. The president immediately charmed with an exchange with former President Bill Clinton (whom he follows, along with the first President Bush):
Good question, @billclinton. The handle comes with the house. Know anyone interested in @FLOTUS?

— President Obama (@POTUS) May 18, 2015
Along with @FLOTUS and @VP, the @POTUS account will have new owners, presumably after the presidential inauguration in 2017.
However, in the five days since the account launched, @POTUS has been the recipient of racial slurs and hate speech. Since @POTUS's bio says that tweets directed at the account can be archived — as is true of anyone whose tweets are part of official government business — it may not be advisable to tweet the president directly. The Secret Service monitors Twitter for threats, and they will go after someone they deem a credible threat.
Case in point: Jeff Gullickson of Minneapolis tweeted a doctored picture of the president with a noose around his neck, calling for his arrest. The Secret Service landed on his doorstep shortly after, TheNew York Timesreported.
Don't presume that you can just use Americans's favorite justification for everything, the First Amendment, as an excuse to make violent tweets against the president. As Hanni Fakhoury, a senior staff attorney at the Electronic Frontier Foundation, toldThe Daily Dot, "the First Amendment does not protect true threats: any statement that conveys an intent to do harm or physical injury." Tweeting threats to the president can land you in jail.
The BBC on Wednesday published its own comparison of world leaders' Twitter accounts.
@BarackObama leads with more than 59 million followers, with the Pope in second place — although he has nine (!) different accounts, each in a different language, so that designation really needs an asterisk.
India's Prime Minister, Narendra Modi, is number three and Turkey's President, Recep Tayyip Erdoğan, is fourth. India's huge population and Twitter's popularity in Turkey accounts for their high standings.
@POTUS, as of this writing, has 2.33 million followers, although that number is sure to grow. Sysomos, a social media monitoring firm, published a blog post Wednesday analyzing the spread of @POTUS's tweets and his audience. Only 38 percent of his followers identify themselves as coming from the U.S., with the U.K. making up 6.6 percent. (Over 27 percent is unidentified.) Sixty-five percent of his followers are male, with 35 percent female.
Photo: For some reason, it took six years for Barack Obama to do this. Image: @POTUS/Twitter