Powerful Storm Hits Taiwan, Millions Without Power, Six Dead
@reuters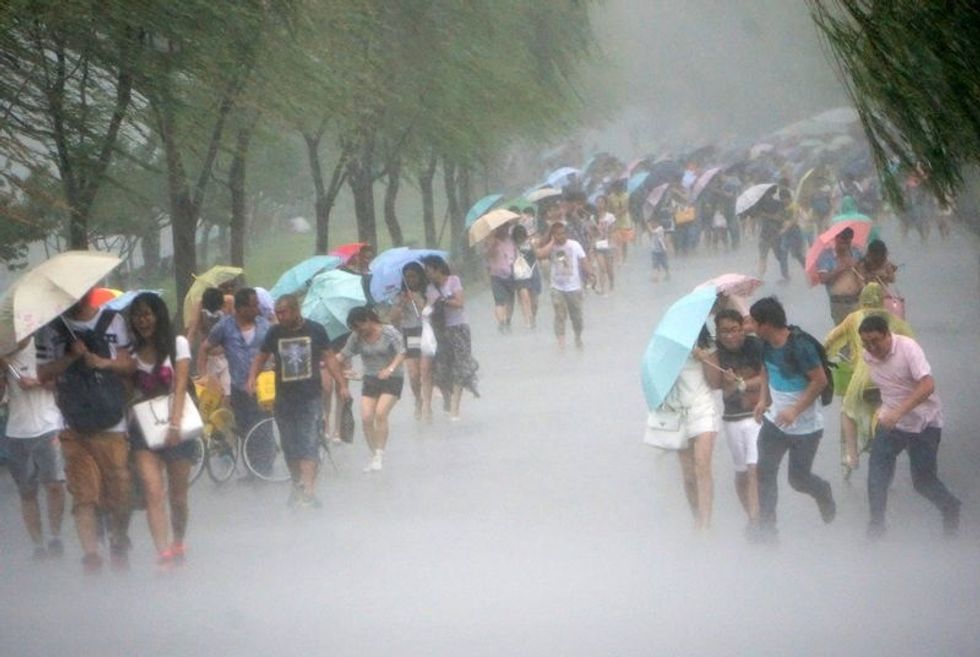 By Michael Gold and Yimou Lee
TAIPEI/YILAN, Taiwan (Reuters) – A powerful typhoon battered Taiwan on Saturday with strong wind and torrential rain, cutting power to 3.62 million households as the death toll rose to six.
Four people were missing and 101 were injured, authorities said. Hundreds of flights were delayed or canceled and more than 9,900 people were evacuated from their homes.
Television footage shows trees uprooted and power poles toppled over, a moped being swept into the air by wind, and shipping containers piled on top of each other at a port.
"The storm will weaken but we expect more rain, particularly in southern Taiwan," said Wang Shih-chien, an official with the island's Central Weather Bureau.
The storm made landfall early on the island's east-coast counties of Yilan and Hualien, bringing more than 1,000 mm (39 inches) of rain in mountainous areas and wind gusting up to 200 kph (124 mph).
Although the eye of Typhoon Soudelor passed Taiwan, and was heading toward mainland China, rain was expected to lash the island until Sunday morning.
"This is one of the worst typhoons I have ever seen," said a sewage station engineer surnamed Jiang, who was inspecting pumping stations early on Saturday in eastern Taiwan.
"My car was shaking when I was driving. There are too many trees down, and I even saw six downed power poles."
In the capital, Taipei, large steel sheets and rods were blown off a half-constructed stadium and city authorities shut down much public transport.
"The metal roof of the house next door to mine was completely blown away," said resident Jack Lin. "I saw a car crushed to bits."
Authorities issued flood and mudslide alerts and television showed mud trapping people and murky water nearly covering the roofs of cars in some areas.
Among the dead was one person who drowned in his flooded home and another who was killed by a falling tree.
Earlier, authorities said one adult and one child had drowned at sea, while a foreign worker was killed by a falling sign and a rescue worker was hit by a car and killed while clearing downed branches from a road.
Taiwan Power, the island's main power company, said 3.62 million households had lost power. While some supplies had been restored, 1.5 million households were still without power on Saturday afternoon, it said.
Fears that Soudelor would be as devastating as Typhoon Morakot in 2009 were unfounded. Morakot cut a path of destruction over southern Taiwan, leaving about 700 people dead or missing and causing $3 billion worth of damage.
The Tropical Storm Risk website downgraded the typhoon to a category 1 storm by Saturday afternoon, on a scale of 1 to 5, and indicated it could weaken as it moves toward the Chinese province of Fujian, which it is due to hit late on Saturday.
Authorities there have evacuated people on the coast and begun canceling flights and trains. Fujian has issued its highest typhoon alert, media reported.
Typhoons are common at this time of year in the South China Sea and Pacific, picking up strength from warm waters but losing it over land.
(Additional reporting by Taipei newsroom; Writing by J.R. Wu; Editing by Robert Birsel)
Photo: People hold umbrellas in heavy rain as Typhoon Soudelor approaches, in Hangzhou, Zhejiang province, Taiwan, August 7, 2015. REUTERS/Stringer