The President Who Never Combed Gray Hair Turns 100
@JamieStiehm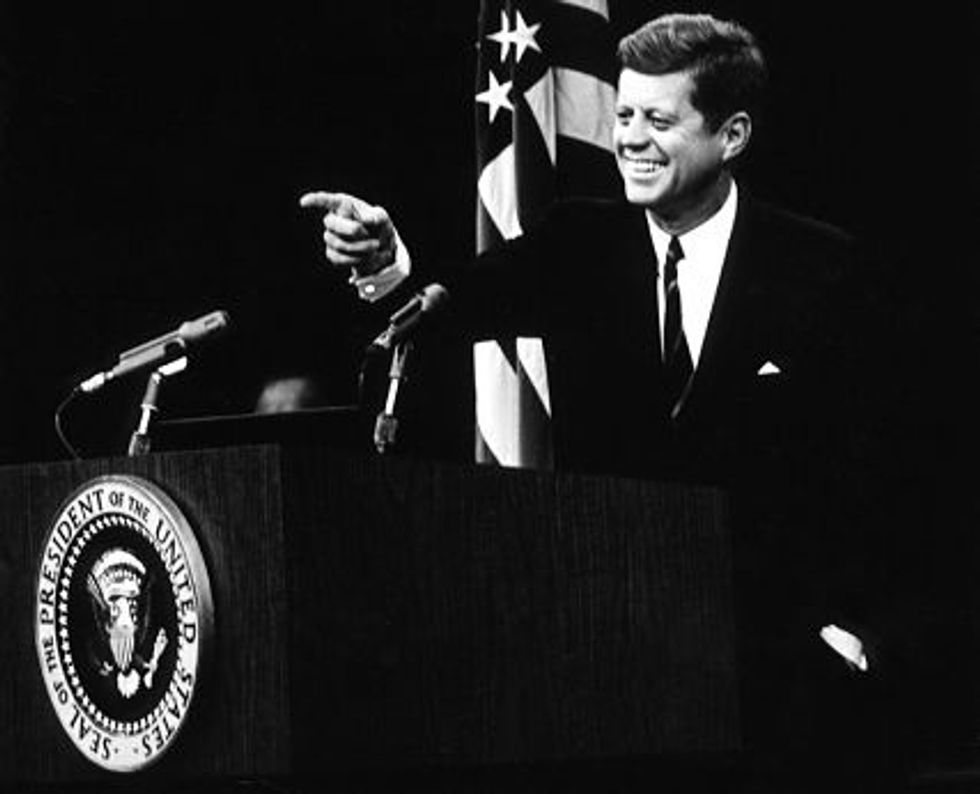 Reprinted with permission from Creators.
"An idealist without illusions," John Fitzgerald Kennedy once defined himself. Note the cut of his jib, a few words to express an elegant thought. He sailed like that in life.
The president who tragically died at 46 never combed gray hair, as the Irish say about dying young. His 100th birthday is upon us Monday, May 29. Yo-Yo Ma, the great cellist, played at the Kennedy Center for the Performing Arts to honor his memory. So I must do my part. I hope you don't mind if I call him Jack.
I went to see the house where he lived when he was a senator in the 1950s. Kennedy, his wife, Jacqueline, and their daughter, Caroline, lived in a handsome brick New England-style dwelling, no fuss, its front door opening right up to N Street, NW in Georgetown. I walked to Martin's Tavern, where he often came on Sundays to read the newspapers in the single "rumble seat" after Mass. I sat where he sat and felt a sweet refuge from 2017.
In search of learning more of the soul in the White House for only a thousand days, I conjured his late brother Edward M. Kennedy, the Massachusetts senator known for his exuberance and zeal for social justice. The incandescence was a shared Kennedy trait, but Jack had a certain cool, keeping an ironic distance, while his youngest brother (by 15 years) exuded a roar of human warmth.
Born to the best of American wealth and education, Jack also knew his way around London as a young man. His father was the American ambassador. War was brooding on the horizon. His big brother, Joe Jr., was first to go and got shot out of the sky. He was the one destined for high office. With Joe's death, Jack, the bookish second brother, was elected president in his own family, by his hard-driving father first.
"We all have our fathers," Jack deadpanned once. In the Navy, he became a war hero himself, when his PT-109 boat was rammed by a Japanese destroyer. He rescued some of his injured crew, swimming to safety on an island in the Pacific. Asked later how he became a war hero, he liked to say, "It was involuntary. They sank my boat."
About climbing to the summit of American politics, Kennedy said, "I have a nice home, the office is close by and the pay is good."
What he didn't say: After the drab Eisenhowers in the '50s, let's live large. Let the candlelight burn bright on poets, musicians and late-night dinner dance parties.
Disarming breezes of wit characterize the president for whom "vigor" was a watchword (or in his Bostonian accent, "vigah."). Simply put, Kennedy wore privilege lightly and had a common touch. Multitudes loved him for being no snob, for not talking down to them, for lifting aspirations for America as high as reaching the moon — a bold goal he set in his first spring as president.
Things didn't go well at first. The Bay of Pigs invasion of Cuba, an attempt to overthrow Fidel Castro, failed miserably. The Berlin Crisis of 1961 resulted in the wall rising to cut through that capital. The ugliest sign of the Cold War. In 1962 and 1963, Kennedy showed a sure footing in foreign policy by resolving the Cuban Missile Crisis and giving his greatest speech abroad in West Berlin ("Ich bin ein Berliner.") Tears salted the cheers. Founding the Peace Corps was an outstretched hand to Africa and Latin America.
His approval ratings stayed high through the learning curve and maybe this is why: Kennedy didn't take himself so seriously, though he took the office very seriously. He also mastered the mass medium, taking television tips from Walter Cronkite, who nearly wept on CBS News when he told the nation the bulletin from Dallas.
On the November day he died, the president said, "Mrs. Kennedy is organizing herself. It takes longer, but, of course, she looks better than we do when she does it." She emerged, looking like a bright rose.
Hours later, Kennedy was gone in the world's wake of broken hearts.
To find out more about Jamie Stiehm and read features by other Creators Syndicate writers and cartoonists, visit creators.com