Press Advocates Appalled By Trump's Reported Call To Jail Journalists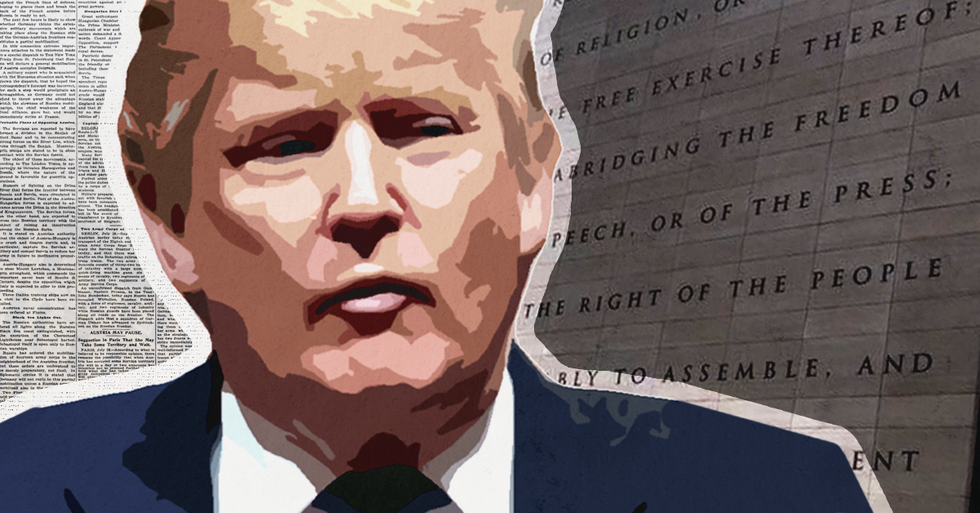 Reprinted with permission from MediaMatters.
Media law experts and journalism advocates are sounding the alarm about President Donald Trump's reported call to jail journalists for publishing classified information, saying the move amounts to "threatening to take away the right of free speech."
The New York Times reported that former FBI Director James Comey said Trump told him that he "should consider putting reporters in prison for publishing classified information, according to one of Mr. Comey's associates." The request reportedly happened during the now-infamous February meeting where Comey also claims he was asked to shut down the investigation into former national security adviser Michael Flynn. Trump's alleged call to jail journalists is just the latest in his administration's ongoing and vicious war on the press.
Several journalism veterans and legal experts expressed alarm over Trump's reported comments, which they say go against decades of legal practice.
"We never like to hear words like that coming out of the mouth of the leader of our country. It is an attack against the freedoms that are guaranteed in our country," said Lynn Walsh, president of the Society of Professional Journalists. "By saying you want to lock up journalists, you are threatening to take away the right of free speech, which is guaranteed in this country."
George Freeman, executive director of the Media Law Resource Center and former vice president and assistant general counsel for The New York Times, said such an action would be unprecedented.
"That would be a game changer because that has never happened before," Freeman said. "That would change the whole balance between the government and the press in incalculable ways. It would be criminalizing behavior that goes on every day."
Lucy Dalglish, former executive director of the Reporters Committee for Freedom of the Press and current dean of the journalism school at the University of Maryland, said most prosecution of reporters has related to their refusal to reveal sources rather than the content of what they publish.
"The government has never actually charged a journalist for publishing secrets, publishing national security information. They have always gone the route of charging the leaker, not the reporter," Dalglish said. "It would have a dramatic and instant stifling effect on the flow of information about what is going on in that administration to the public. It would be almost instantaneous."
Freeman cited two historic examples of previous administrations seeking to stop the publication of information in The New York Times over what they considered to be classified or protected, the 1971 Pentagon Papers and the 2005 warrantless wiretapping story.
"Bush and Cheney publicly said the Times should be prosecuted, but it never happened," Freeman recalled of the 2005 issue. "It was so unprecedented."
He also pointed out that in the case of the Pentagon Papers, the U.S. Supreme Court ruled that publishing the secret report on the Vietnam War was not a violation of law.
"The Supreme Court has said you can't be punished for publishing something that's truthful, that's newsworthy, and that you did nothing illegal to obtain," Freeman said.
Freeman and other journalism veterans said that distinction, between prosecuting reporters for what they publish and not just their failure to reveal sources, is a key element of journalistic protection that Trump's suggestion would destroy.
"The uncertainty and the context in which these threats are made or attempted makes it a little more uncomfortable for journalists," said Phil Bronstein, executive chair of The Center for Investigative Reporting and former editor of the San Francisco Chronicle. "We ought to pay close attention to anyone who threatens the ability of reporters to do their job."
Bronstein recalled when two of his former Chronicle reporters, Lance Williams and Mark Fainaru-Wada, faced jail time in 2006 for failing to reveal sources in their exposé of BALCO, a Bay Area firm that was illegally distributing performance-enhancing drugs.
The duo had reported on leaked testimony from the secret grand jury testimony of former San Francisco Giant Barry Bonds in which he admitted using banned substances. They were held in contempt of court and faced 18 months in prison for refusing to reveal the source of the leak. But the order was removed when the source came forward.
Bronstein stressed that even in that case, the paper faced no punishment for reporting the leaked information, a standard Trump's request would change drastically.
"I think we have to be prepared for those things to happen," Bronstein said. "Have good lawyers. Have great lawyers."
Bill Church, president of the Associated Press Media Editors, said Trump's approach would actually hurt the public good: "Protecting the First Amendment shouldn't be a felony. Jailing journalists for looking after the public's interests makes as much sense as requiring Superman to get FAA clearance before saving the world."
Trump's suggestion also brought condemnation from Bruce Brown, executive director of the Reporters Committee for Freedom of the Press, who issued this statement:
"The comments attributed to President Trump cross a dangerous line. But no president gets to jail journalists. Reporters are protected by judges and juries, by a congress that relies on them to stay informed, and by a Justice Department that for decades has honored the role of a free press by spurning prosecutions of journalists for publishing leaks of classified information. 

"Comments such as these, emerging in the way they did, only remind us that every day public servants are reaching out to reporters to ensure the public is aware of the risks today to rule of law in this country. The president's remarks should not intimidate the press but inspire it."
Two of the top newspaper editors in the U.S. also spoke out against Trump's idea.
Washington Post Executive Editor Martin Baron told the Times, "Suggesting that the government should prosecute journalists for the publication of classified information is very menacing, and I think that's exactly what they intend. … It's an act of intimidation."
Times Executive Editor Dean Baquet, meanwhile, told the Post that Trump "doesn't understand our role. He wants 'Fox & Friends' coverage instead."