The Press Never Stopped Blaming Obama For Radical GOP Obstruction
@EricBoehlert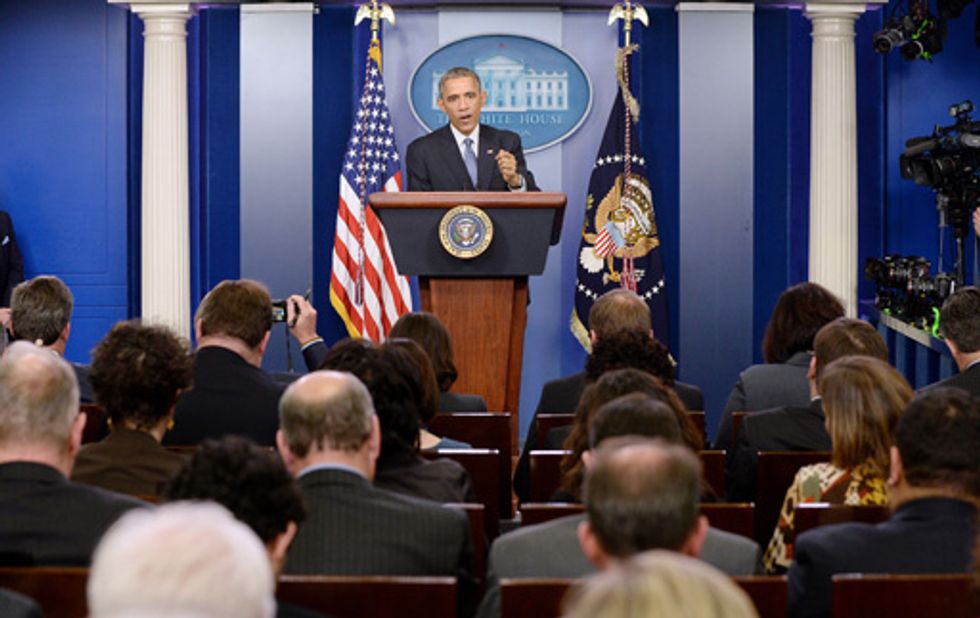 Reprinted with permission from Media Matters for America.
Right on cue, as President Obama readies his exit from office, The Washington Post's Chris Cillizza this week published a misguided critique of the Democrat's two terms. His analysis focused specifically on Obama's broken "promise" and parroted a favorite Beltway media talking point: Both sides are to blame for the federal government being mired in "partisan gridlock" during his eight years, and it's largely Obama's fault he didn't "fix" politics. Obama didn't create "a government that worked for all of us"; he failed to create "something new, different and better," wrote Cillizza.
Cillizza acknowledges that "Democrats immediately point to the fact that congressional Republicans, almost from the first day of Obama's time in the White House, made opposing him a political strategy," but dismisses it as being the primary cause for the partisan mess. (In Cillizza's view, it's both sides' supposed culpability for the failed "grand bargain" in 2011 that serves as the key event.)
The erroneous analysis represents a safe refrain that's been repeated by journalists for years, as they've collectively convinced themselves that Obama's culpable for the radical Republican obstruction that partly defined his two terms. They're comfortably certain that if Obama had just reached out earlier, or more aggressively, or more sincerely (or "schmooz[ed]" a bit harder), things could have played out more smoothly and Obama could have written a different Beltway script where harmony and progress reigned.
It's pure fantasy, of course.
Fact: When Republican leadership adopted the radical position that they'd refuse to even hold hearings for Obama's next Supreme Court nominee, the GOP systematically shred more than 100 years of protocol in the process. That's what Obama faced for much of the last eight years, and the press's messaging has helped Republicans every step of the way.
Still, the bipartisan fantasy endured: Republicans wanted to work with Obama and make serious, good-faith deals, it's just that Obama wasn't savvy enough to read their signals (i.e. Why won't he just lead?).
What's so bizarre about this parallel universe that the press concocted is that by the end of Obama's second term, Republicans weren't even trying to hide their radically obstructionist ways in closed-door strategy sessions. They bragged about refusing to work with Democrats. (Today, they insist that Trump, who lost the popular vote, somehow secured a "mandate" that Democrats must respect.)
Yet here's Cillizza in the face of Republican obstructionist boasts, still pretending Obama's largely at fault for screwing things up and that he passed up a great chance to forever fix partisan rancor. So desperate is the media's need to portray the Republican Party as a mainstream institution that has not drastically veered toward the fringes in recent years, that journalists are willing to blame the victim. And they've been willing, and eager, to normalize Republican behavior.
Just logically, why would the president who's had his agenda categorically obstructed be the one blamed for having his agenda categorically obstructed, and not the politicians who purposefully plotted the standoff? It doesn't make sense, other than because the Beltway press is opting to give in to Republicans and downplaying the party's radical ways — in an apparent effort to maintain the preferred media mirage that "both sides" are to blame when the government doesn't function.
When Republicans obstructed Obama's agenda, the president was responsible for not changing the GOP's unprecedented behavior. And if it wasn't entirely Obama's fault, then "both sides" were to blame for the GOP's extremist actions and the grand gridlock it purposefully produced.
And the media blame game started from essentially day one for Obama. On January 29, 2009, the Los Angeles Times reported, "As the House on Wednesday gave President Obama the first big legislative victory of his term, it was clear that his efforts so far had not delivered the post-partisan era that he called for in his inauguration address."
Meaning, nine days after first being sworn in, Obama was being blamed for not having ushered in a shiny, new "post-partisan era." (Loved that Times headline, too: "Newpolitical era? Same as the old one.")
But no, Obama didn't usher in a new bipartisan era, because Republicans wouldn't let him — and that's according to Republicans. "If he was for it, we had to be against it," was how former Republican Ohio Sen. George Voinovich once explained the GOP's knee-jerk response to Obama proposals.
Given a path by the press to obstruct Obama and to also be rewarded for scoring victories over him in the process, Republicans seized every opportunity and soon defied historic norms.
We saw it with the sequester obstruction, government shutdown obstruction, paid leave obstruction, cabinet nominee obstruction, Hurricane Sandy emergency relief obstruction, the consistent obstruction of judicial nominees, the Clay Hunt Suicide Prevention for American Veterans Act obstruction, and of course the 2013 gun bill obstruction.
That was the expanded background check bill featuring a centerpiece proposal that enjoyed nearly 90 percent public approval, including overwhelming support from Republican voters and gun owners. But Obama couldn't get most Republican senators to budge. "There were some on my side who did not want to be seen helping the president do something he wanted to get done, just because the president wanted to do it," explained Sen. Patrick Toomey (R-PA), who was one of just four Republicans who voted for the compromise bill.
But most of the context was left out of the gun vote coverage in 2013, as pundits and press rushed in to blame "Obama and his allies" for the actions of obstructionist Republicans.
For the record, there were some lonely voices in the Beltway wilderness who specifically debunked the "both sides" meme and placed the gridlock responsibility squarely on the shoulders of activist Republicans.
"We have been studying Washington politics and Congress for more than 40 years, and never have we seen them this dysfunctional," scholars Thomas Mann and Norm Ornstein wrote in The Washington Post in 2012 in an essay adapted from their then-new book. "In our past writings, we have criticized both parties when we believed it was warranted. Today, however, we have no choice but to acknowledge that the core of the problem lies with the Republican Party."
Perhaps not surprisingly, the Sunday morning broadcast network political talk shows and much of the media at large wasn't interested in their analysis, which Ornstein told The Washington Post's Greg Sargent was unfortunate given the fact that their assessment "focused on press culpability — it would be hard to find a more sensitive issue for the media than the question of whether they're doing their job."
That simply wasn't the preferred story the Beltway press wanted to tell during the Obama years.
IMAGE: President Obama speaks at a news conference in the Brady Press Briefing Room on Friday, Dec. 19, 2014, in Washington, D.C. (Olivier Douliery/Abaca Press/TNS)