Pretending To Defend Free Speech, Trump Backs Conspiracy Mongers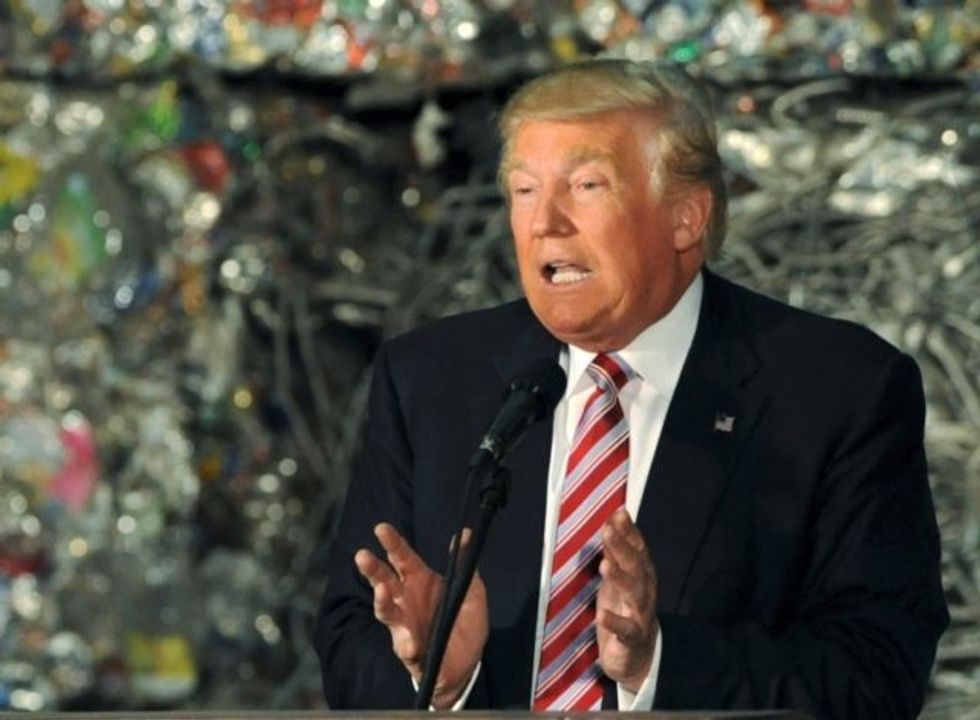 Reprinted with permission from Shareblue.
Trump is an enemy of free speech, arguing in favor of laws that would help him sue the press and repeatedly declaring the press is the "Opposition Party" and "the enemy of the people." But now, as his allies face consequences for spreading hate on social media, Trump is posturing as a free speech supporter.
In a series of tweets, Trump falsely claimed that "Social Media is totally discriminating against Republican/Conservative voices." He said, "They are closing down the opinions of many people on the RIGHT, while at the same time doing nothing to others."
He went on to write, "Too many voices are being destroyed, some good & some bad, and that cannot be allowed to happen."
The new comments come about news reports that some social media services decided that they would finally ban several prominent hatemongers, who also happen to be Trump supporters and allies.
Most prominently, conspiracy theorist Alex Jones was removed from Facebook, YouTube, and Apple's iTunes.
Jones is the most well known "9/11 truther," named for the absurd conspiracy that asserts that the U.S. government caused the 9/11 terrorist attacks. He has also promoted conspiracy theories that the Sandy Hook school shooting was a hoax, which led to parental survivors being harassed by Jones fans.
Jones is also an ally of Trump's. During the campaign, Trump appeared on Jones' show and praised his "amazing reputation." Jones has said that even since being elected, he and Trump have kept in touch and strategize on politics.
Trump's long-time political adviser Roger Stone is deeply involved in Jones' "Infowars" broadcasts and hosts programming on Jones' streaming platform.
The Proud Boys, a pro-violence group led by media personality Gavin McInnes, have also been banned from social media. McInnes, like Jones, has promoted Trump as well. McInnes has furthered the conspiracy that "political correctness" contributes to suicide and promoted a fake sign trying to connect anti-racist protesters to pedophilia.
Social media has been widely criticized for dragging its feet in policing its networks for harmful and threatening content. The recent developments have largely only come about because the press has highlighted how social media companies have not followed their own guidelines for allowable conduct.
Trump is no free speech warrior. For years, Trump has crusaded against the press for exercising its First Amendment rights. And Trump has said he wants to "open up our libel laws" so he can sue outlets that report negative stories about him.
From the presidency, Trump decreed that the press is "the enemy of the people," and his underlings amplify his attacks on reporters in this vein. As part of a cynical strategy to deflect from critical news stories, Trump calls those reports "fake news," a term his supporters, like Jones, echo constantly.
Trump isn't defending free speech — he's always against it if it means people speaking out against him and exposing his abuses and lies.
Instead, he's using his huge platform to make a disingenuous argument on behalf of his biggest fanboys. He will only defend free speech if it means helping out the cranks and bigots who support him the most.
Published with permission of The American Independent.