Draining The Swamp? Trump's Health Pick Accused Of Insider Trading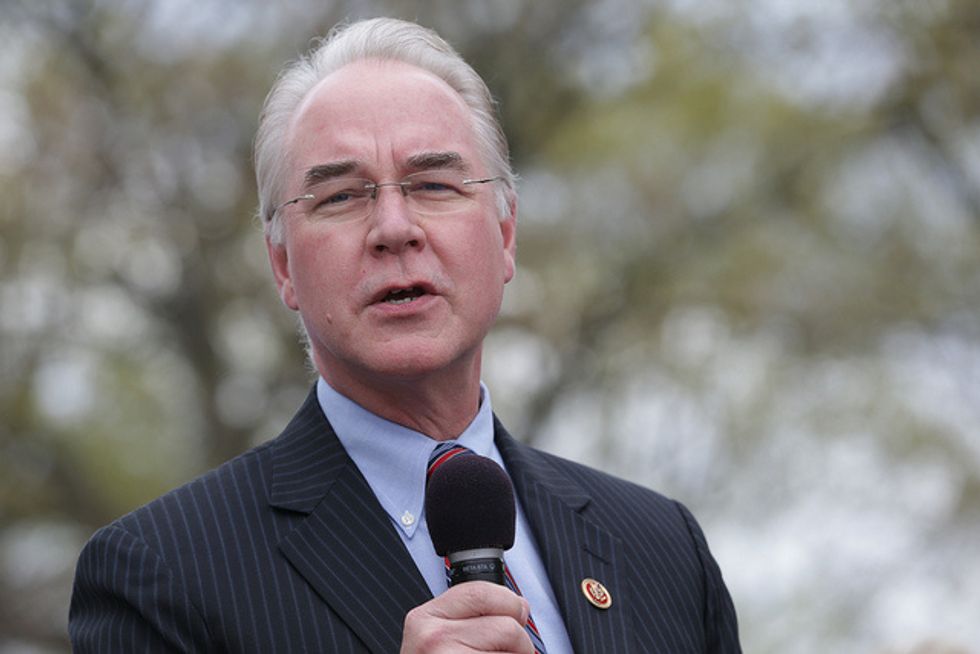 WASHINGTON (Reuters) – U.S. President-elect Donald Trump's transition team defended his nominee for health and human services (HHS) secretary, Tom Price, from charges that he bought shares in a company days before introducing legislation that would have benefited the firm.
A Senate confirmation hearing is scheduled for Wednesday for Price, a Republican congressman from Georgia who, if confirmed, would be a lead agent in carrying out Trump's plans to overhaul President Barack Obama's signature health care law.
CNN reported on Sunday that Price bought between $1,001 and $15,000 worth of shares last March in Zimmer Biomet Holdings Inc, a medical device manufacturer.
Days later, he introduced legislation to the House of Representatives that would have delayed a regulation that could have ultimately damaged the company, CNN said.
The Trump transition team said late on Monday that the stock purchase was directed not by Price but by a broker and that Price himself did not become aware of the stock buy until well after the legislation was introduced.
"Any effort to connect the introduction of bipartisan legislation by Dr Price to any campaign contribution is demonstrably false," said transition spokesman Phil Blando.
"The only pattern we see emerging is that Senate Democrats and their liberal media allies cannot abide by the notion that Dr. Tom Price is uniquely qualified to lead HHS and will stop at nothing to smear his reputation," he said.
Senator Chuck Schumer of New York, the leader of the Democratic minority in the Senate, called on the Office of Congressional Ethics to investigate whether Price had violated the 2012 Stock Act, a law designed to combat insider trading.
"The President-elect claims he wants to drain the swamp, but Congressman Price has spent his career filling it up," Schumer said in a statement.
Price is one of eight Trump Cabinet nominees who will face Senate confirmation hearings this week, starting on Tuesday with Ryan Zinke, a Republican Montana congressman pegged as interior secretary, and Republican philanthropist Betsy DeVos who is the education nominee.
Trump's presidential inauguration is on Friday and his team is hoping to have as many of his nominees as possible, perhaps as many as seven, confirmed by then.
(Reporting By Steve Holland; Editing by Randy Fabi)
IMAGE: markn3tel via Flickr.com