Prince William, Kate Expecting Second Child: Palace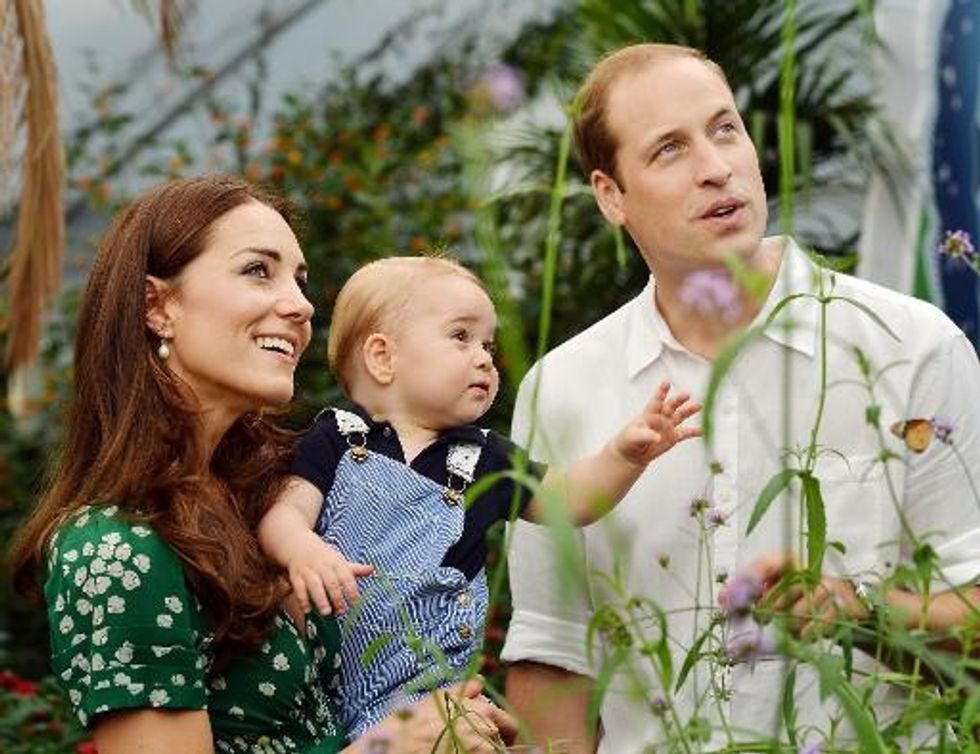 London (AFP) — Britain's Prince William and his wife Kate are expecting their second child, Kensington Palace announced on Monday less than 14 months after the birth of Prince George.
The couple, known as the Duke and Duchess of Cambridge, are "very pleased" and William's grandmother Queen Elizabeth II is "delighted", a spokesman said.
Kate, 32, is again suffering from hyperemesis gravidarum, a form of very acute morning sickness that caused her to be hospitalized when she was pregnant with George.
She is currently being treated by doctors at the couple's London home in Kensington Palace, the spokesman said.
The duchess was due to attend an official engagement in Oxford on Monday but cancelled because of her illness and William, also 32, attended alone.
"Their Royal Highnesses The Duke and Duchess of Cambridge are very pleased to announce that The Duchess of Cambridge is expecting their second child," the palace announced.
"The Queen and members of both families are delighted with the news."
Prime Minister David Cameron was among the first to offer his congratulations to the couple, saying he was "delighted by the happy news that they're expecting another baby".
– Heir and spare –
William and Kate's first child, George Alexander Louis, was born on July 22, 2013 in London's St. Mary's Hospital, weighing eight pounds and six ounces (3.8 kg).
As third in line to the throne and the first child of a celebrity couple, George's arrival sparked a media frenzy and prompted messages of goodwill from around the world.
The new baby will be fourth in line to the throne, pushing William's younger brother Prince Harry down the line of succession into fifth place.
William and Kate made no secret of wanting another child and it is the convention in aristocratic and royal families to have at least two.
One is the heir and the other a "spare" who can inherit the family title and estate in case the heir dies.
"Congratulations. I hope it's a girl. An heir and a spare! So he's sorted, isn't he," remarked one well-wisher outside Kensington Palace.
– Solo trip in question –
Kate's morning sickness raises questions about whether she will be able to attend her first official solo trip abroad to Malta later this month.
She was due to represent the queen on September 20 and 21 as the Mediterranean islands celebrate the 50th anniversary of their independence from Britain.
A Kensington Palace spokesman said the duchess's plans would be decided on a "case by case" basis.
Kate has been increasing her public profile since she married Prince William in a lavish ceremony in April 2011 that was watched by an estimated two billion TV viewers.
A "commoner" by birth who met the prince at university in Scotland, she appears to have moved effortlessly into her royal role and has become hugely popular with the public, as well as a global style icon.
But the couple have worked hard to keep their family life private, after the press intrusion that dominated the final years of William's mother Diana, who was killed in a car crash in Paris in 1997 as her car was chased by paparazzi.
Kensington Palace did not say when the new baby was due, although experts say hyperemesis gravidarum usually occurs in the first three months of pregnancy.
Hyperemesis gravidarum is the Latin name for a severe form of morning sickness and affects around one in 200 pregnant women, according to Britain's National Health Service (NHS).
Symptoms can include persistent vomiting, dehydration, tiredness and dizziness, and hospitalization may be needed in severe cases to treat dehydration with intravenous fluids for a few days.
The royal couple currently live in London after several years spent in Wales while William worked as a Royal Air Force (RAF) search and rescue helicopter pilot.
William's office announced last month that he was taking on a new full-time role next year with the East Anglian Air Ambulance (EAAA), a charity which provides emergency helicopter cover across eastern England.
AFP Photo/John Stillwell
Interested in world news? Sign up for our daily email newsletter!