Prison Worker Helped 2 Escape By Smuggling Tools In Raw Meat, Prosecutor Says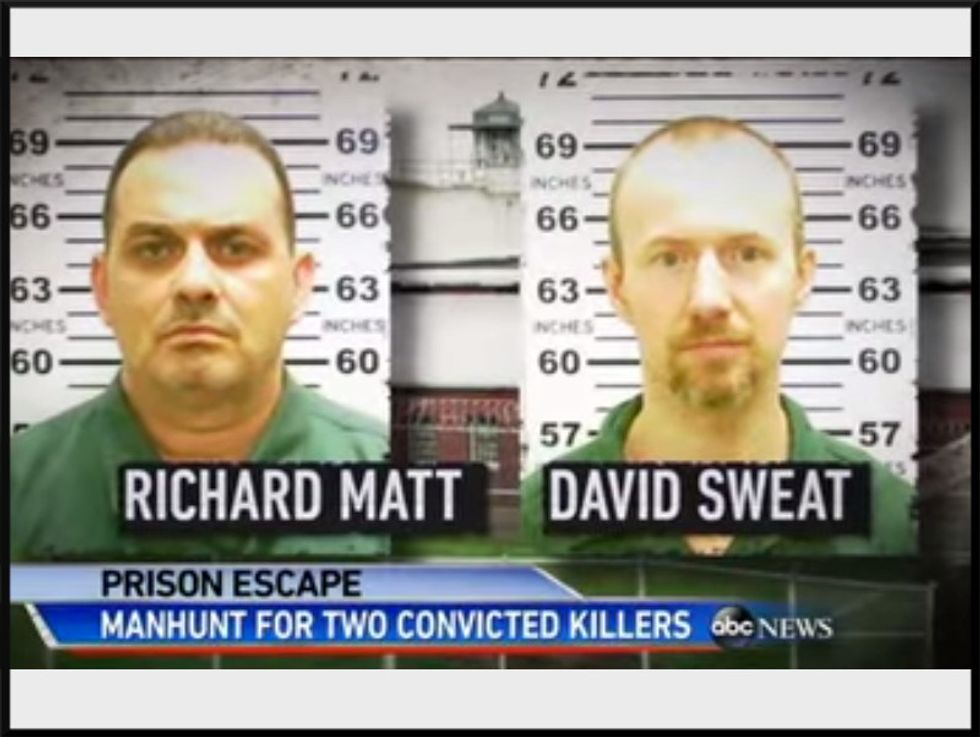 By Christine Mai-Duc, Los Angeles Times (TNS)
The New York prison worker accused of helping two convicted murderers escape from a maximum-security facility smuggled tools to them by freezing them in raw hamburger meat, prosecutors said.
Joyce Mitchell, 51, hid hacksaw blades, drill bits and a hole punch in the meat before bringing it into the Clinton Correctional Facility in Dannemora, N.Y., Clinton County District Attorney Andrew Wylie told the Los Angeles Times on Tuesday evening.
Richard Matt, 48, and David Sweat, 35, were discovered missing from the prison June 6 and have been on the lam for more than two weeks. Officials said they used power tools to cut through cell walls and navigated their way through a maze of tunnels and pipes on their way to freedom.
Mitchell "just stuffed it into the hamburger and snuck it in," Wylie said of the contraband. Once the illicit meat was inside the prison, Wylie said, Mitchell stored it in the refrigerator of the tailor shop where she worked.
According to Wylie, corrections Officer Gene Palmer then retrieved the meat from Mitchell and delivered it to Matt and Sweat in their cells. It's unclear why Palmer would have made the deliveries, which Wylie said were done under Matt's direction.
Palmer, who was placed on administrative leave last week, has passed polygraph tests as part of the investigation, Wylie said. He has not been charged with any crime. According to Wylie, Mitchell has told investigators she doesn't believe Palmer knew about the tools hidden in the ground beef.
Matt and Sweat were living in an "honor block," and their cells included televisions, lockers and hot plates, which inmates often use to cook extra food gleaned from the commissary or family packages.
Normally, any such food items brought into the prison would need to go through metal detectors, Wylie said. He said authorities are still trying to figure out why that didn't happen.
Typically, Wylie said, longer-term inmates can apply to live in an honor block after a period of good behavior. Neither Matt nor Sweat had cellmates at the time of their prison break.
Mitchell has been charged with colluding with the inmates and bringing them contraband. She has pleaded not guilty and is being held in a county jail.
According to police, she also plotted with the escapees to murder her husband.
On Tuesday morning, Mitchell's husband, Lyle Mitchell, said that his wife had gotten "in too deep" with the inmates' plot to break free, and that they later threatened her when she wanted to back out of the plan.
In an interview with NBC's "Today" show, Lyle Mitchell, who also works at the prison, said his wife was manipulated by the "attention" the inmates gave her. She realized things had gotten "out of hand" when the pair began threatening to kill or hurt him, he said.
"When it came down to her hurting me, that's when she said something was wrong," Lyle Mitchell told "Today" host Matt Lauer. "She said she was in too deep, she didn't know how to get out of it."
Lyle Mitchell said that his wife denied having a sexual relationship with either of the inmates, but that she was drawn to the attention Matt paid her and "did not believe I loved her anymore."
He said she told him the inmates had planned to have her pick them up in the couple's Jeep. Instead, he said, she checked herself into a hospital, complaining of chest pains.
As the Mitchells were leaving the hospital, he said, she turned on their cellphone, which lit up with messages from family and investigators.
"She said, 'Oh my God … Matt and Sweat escaped,' " Lyle Mitchell recalled, adding that she looked shocked.
After speaking to police, he said, investigators told him his wife had been more deeply involved than she was letting on. They called asking about a "package," he said, and afterward his wife admitted that part of the plan was to kill him.
When his wife tried to back out, Lyle Mitchell said, one of the inmates threatened that someone inside the prison might kill him if she didn't stick to the getaway plan.
Matt and Sweat often spoke to Lyle Mitchell inside the prison as well, according to his attorney, Peter Dumas. Dumas said he thinks the two inmates were going "from person to person" to see whom they could enlist to help with the escape.
Lyle Mitchell said he doesn't know what to think at this point — or whether he can stand by his wife.
"Do I still love her? Yes. Am I mad? Yes," he told Lauer. "How can she do this? How can she do this to our kids?"
(c)2015 Los Angeles Times. Distributed by Tribune Content Agency, LLC.
Screenshot: ABCNews/YouTube