Privatized For-Profit Immigrant Detention Centers Are A 'Living Nightmare,' Investigation Shows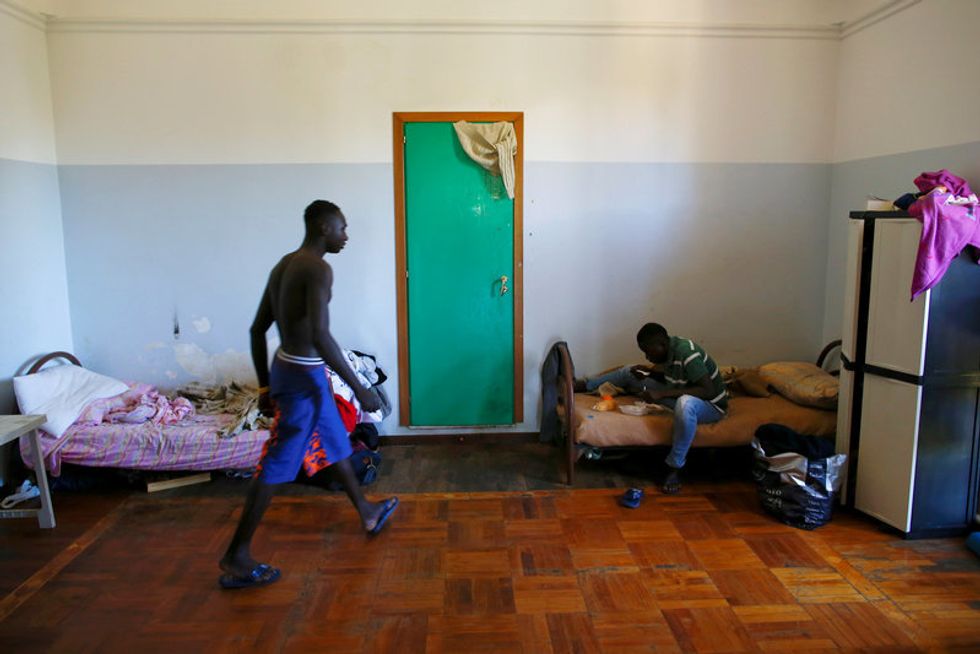 Reprinted with permission from Alternet.
A new investigation provides a chilling glimpse into the nightmarish conditions in privatized, for-profit immigrant detention centers in the U.S. Migrants fleeing violence and poverty, some of whom have unsuccessfully tried to apply for asylum, are forced to eat rotten food and drink contaminated water. They endure arbitrary solitary confinement, have little or no access to medical care and are denied their rights to legal counsel.
Moreover, to make money to afford extra food or phone calls, many detainees have no option but to work for $1 per day. They are ruthlessly exploited by corporations looking to make a profit.
"Overall, the conditions are prison-like," a detainee stated bluntly.
These are the findings of a new report, titled, "Imprisoned Justice: Inside Two Georgia Immigrant Detention Centers." The study looks at the detention centers Irwin and Stewart, in southern Georgia, two facilities that have consistently been rated as some of the worst in the country. The report notes both "have a history of human and civil rights violations."
Stewart is the second largest detention center in the U.S., and Irwin is among the biggest. Stewart is run by the Corrections Corporation of America, with food and phone services outsourced to other for-profit companies. Irwin is run by the corporation LaSalle Corrections.
"Detaining human beings in this civil detention center is a very profitable business," the report notes. "Detained immigrants at Irwin and Stewart are treated as though they do not have any rights."
Immigrants from all over the world are held at the facilities. Many migrants have fled violence in Central and South America. Other detainees have come from parts of northern and central Africa, including Nigeria, Somalia and Cameroon, along with China and India.
A 25-year-old Somali refugee, one of the dozens of migrants interviewed for the report, recalled escaping "horrific violence." He was separated from his family, and his father died, leaving him alone. "I traveled to America for asylum, but I had no idea I would be detained," the man explained. "I didn't think they would detain asylum-seekers. I just asked to apply for asylum and I didn't know I would be imprisoned. I was hospitalized in South Africa because I was tortured. I take medication now for the trauma. But, I have no hope of asylum now."
Horrific Conditions
The living conditions in these detention centers violate both the international standards of detention and the national detention standards of U.S. Immigration and Customs Enforcement (ICE), the "Imprisoned Justice" report indicates. And their remote locations prevent families and legal counsel from consulting with detained immigrants.
"The list of concerns regarding living conditions is lengthy," the report notes. The food and water offered to detainees are not hygienic. Food is stale, spoiled or contaminated, and even then not enough of it is served. Any additional food available for purchase is "excessively expensive."
One migrant recounted, "The food is rancid and I've lost seventy pounds since being here. I found a worm in the ground beef once. On top of all of that, the water smells like feces and the showers are covered in mold."
A Mexican immigrant detained at Irwin observed that "the reason why the facility gives the detainees so little food is so we will have to buy food from the commissary."
"Everything in the commissary is expensive," he said, noting he spends $80 per week just on extra food.
Detained immigrants at these for-profit facilities who hope to make some money for food or phone calls have the option of working, but are paid just $1 per day. Their families often have to send money to make sure they can purchase enough food to survive.
An attorney recalled going to a water fountain to get a drink of water at Stewart, and being told by a guard not to drink the water, as it was not safe.
"The shower water is green and anytime I drink any water, I get headaches," a detained migrant said. "I've lost about twenty pounds since I've been here."
Abuse and Isolation
Detained immigrants at Stewart have gone on hunger strike in protest of the conditions. An immigrant from India said he attempted suicide because the conditions were so bad.
Authorities at Stewart put immigrants in solitary confinement as punishment for minor concerns. Detainees with mental health problems are also segregated in lieu of receiving treatment.
"Segregation is like hell. It is total isolation," recalled an immigrant from Nigeria with mental illness.
"The unhygienic environment and poor living conditions not only take a toll on the detained immigrants' health, but also have a negative and disturbing impact on the minds of the individuals being held in detention," the report notes.
It adds, "The lack of adequate access to medical care is alarming."
A migrant from Nigeria explained, "They are not treating my medical condition. I need to leave to receive surgery. I am in so much pain. I don't understand why they will not let me leave."
A male immigrant from El Salvador recalled witnessing and being a victim of rape. He was unconscious for three days after the attack, and tried to get medical assistance, to no avail. When he tried to contact his embassy, authorities at the detention facility would not give him the contact information for any consulates.
"I heard wails in the middle of the night in the male dorms, and I believe other men were being raped," the man said. "Everyone knew what was going on, but they just made louder sounds to cover the noise up."
Despite these violent abuses, detainees are not guaranteed their right to legal support. "The staff do not seem to understand that the clients detained at Stewart have a right to counsel," an attorney recalled. "The staff seem to arbitrarily make up or ignore policies to best serve the conveniences of the facility."
A woman from an indigenous group in Guatemala, whose family fled threats by gangs and the U.S.-backed government, told of her suffering at the detention center. "My family is afraid to visit me because they don't want to be detained too, so I haven't seen them," she noted. "I often miss my family and friends, and my high school doesn't know that I am here at Stewart. When I think too much about all of these things I get sad and I cry."
Symptomatic of Widespread Problems
The report notes that these problems seem "to be inherent in the profit-making motive of the prison corporations that run these detention centers."
AlterNet spoke via email with Azadeh Shahshahani, legal and advocacy director for the Georgia-based nonprofit organization Project South, which oversaw the study. She said the abuses at Stewart and Irwin are much more widespread.
"The issues we documented at these two facilities are symptomatic of the larger immigration detention system that is rife with human rights abuses," Shahshahani explained.
"And given Trump's fondness for private prison corporations and his plans for a large scale crackdown on immigrants, I think we can expect the overall situation to get even worse for immigrants," she added.
"Imprisoned Justice" was conducted by Project South along with PennState Law's Center for Immigrants' Rights Clinic, Georgia Detention Watch and the Georgia Latino Alliance for Human Rights. The study spanned from April 2016 to March 2017. Researchers interviewed 31 detained immigrants at Irwin and 40 detainees at Stewart, along with a dozen migrants who were deported to Guatemala after detention at these facilities. Both men and women were interviewed. (Stewart detains just men; Irwin detains men and women.) They also spoke with 14 lawyers who had experience working with clients at Irwin and Stewart.
The report calls for the Stewart and Irwin detention centers to be shut down and recommends that ICE cancel its contracts with companies that violate national and international detention standards.
Shahshahani previously worked with the ACLU of Georgia, which released a report in 2012, Prisoners of Profit, detailing similarly abusive conditions in immigration detention centers. She said the new report is a followup to the 2012 study.
"Unfortunately we found that little has changed and life in these facilities is still a living nightmare for detained immigrants," Shahshahani told AlterNet.
Growing Private Detention Industry
Since the September 11, 2001 attacks, immigrant detention has exploded. Under the Obama administration, the report notes, "there was a significant increase in the number of people detained." The number of beds in migrant detention facilities jumped up to 34,000.
The Obama administration deported nearly 3 million people, more than any other administration. The Trump administration has pledged to top this.
The U.S. has "the largest immigration detention operation in the world," the report points out. ICE detained more than 352,000 people in 2016 alone, an average of 31,000 to 34,000 people per day. This system is not only inhumane; it is expensive. The average cost to detain tens of thousands of immigrants is $127 per person per day.
"Much of the high cost of immigration detention is due to its privatization," the report indicates. "Private prison corporations have played an increasingly dominant role in immigration detention in the United States."
Corrections Corporation of America (now known as CoreCivic) is the largest detention contractor with ICE. CCA owned or controlled 66 facilities and managed another 11, with a total of 88,500 beds in 20 states, as of the end of 2015.
The three main corporations with most ICE detention contracts spent at least $45 million on campaign donations and lobbyists from 2002 to 2012, the report notes. Nearly three-fourths (72 percent) of beds in U.S. immigration detention facilities in 2015 were operated by for-profit prison corporations.
Ben Norton is a reporter for AlterNet's Grayzone Project. You can follow him on Twitter at @BenjaminNorton.
This article was made possible by the readers and supporters of AlterNet.