Pro-Russia Militants Wage Deadly Offensive As Ukraine Election Nears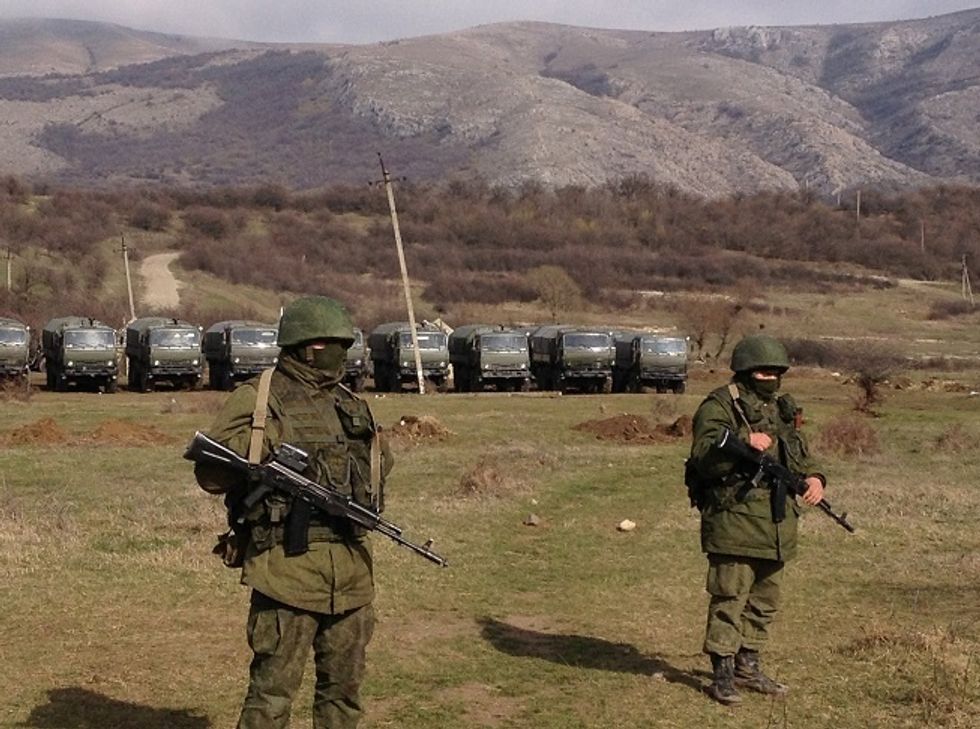 By Carol J. Williams, Los Angeles Times
KIEV, Ukraine — Pro-Russia separatists vowing to disrupt Sunday's presidential election in Ukraine launched a fresh attack Thursday against the Kiev government's beleaguered forces, killing at least 13 soldiers but failing to take control of more territory in the eastern regions, Ukrainian officials reported.
The assault by armed rebels on a checkpoint in the village of Blahodatne, about 20 miles southeast of militant-occupied Donetsk, also left at least 30 people wounded, the Defense Ministry and acting President Oleksandr Turchinov told journalists in Kiev.
The attack coincided with an attempt by at least 60 heavily armed militants in a convoy of trucks to enter Ukraine's Luhansk region from Russia via the Krasnodon border crossing, said Andriy Parubiy, head of the National Security and Defense Council.
"This was a huge operation prepared for today, but there and everywhere else the enemy was repelled," Parubiy said of the blocked convoy and another attempted incursion that brought gunmen from Russia to Ukraine's border by train.
"I can't imagine that these operations can be taking place without the approval of the highest authorities in Russia," Parubiy said.
Russian President Vladimir Putin, whom Ukrainian officials and their Western allies accuse of instigating the separatist violence in an attempt to destabilize Ukraine, has denied involvement in the unrest since it began more than two months ago. In recent days he has insisted that Russia won't interfere with Sunday's election, even expressing hope that it leads to resolution of the conflict.
Ukrainians are going to the polls to choose a new president. The country has been ruled by an interim government since President Viktor Yanukovich, a key Moscow ally, fled to Russia in February following months of protests against his rule.
Putin said during a visit to China this week that he had ordered Russian troops to pull back from Ukraine's border on Monday to "create additional, favorable conditions" in which Ukrainians can vote for a new president.
NATO officials, who have estimated Moscow's troop buildup at 40,000, said they had seen no sign of a withdrawal underway as of Wednesday. On Thursday, an alliance general said there was some evidence of a pullback in the works but said the Kremlin's presence remained intimidating.
"The force that remains on the border is very large, and it's very capable and remains in a very coercive posture," U.S. Air Force Gen. Philip Breedlove, the supreme allied commander for Europe, told a news conference in Brussels.
The checkpoint attack Thursday brought the highest death toll suffered by the Ukrainian troops in a single incident since Kiev launched its "anti-terrorist offensive" in early April in an attempt to retake government buildings, police stations and broadcast facilities occupied by the separatists.
The militants' moves in March to seize territory in the largely Russian-speaking east and south of Ukraine followed a Russian military invasion of Ukraine's Crimean peninsula in late February and its annexation to Russia on March 18 after a dubious referendum.
The armed separatists control more than a dozen venues in two eastern Ukrainian regions — Luhansk and Donetsk — and have blocked and threatened election workers trying to set up polling places for Sunday's presidential vote. But they don't fully control the two regions, which are home to 6.5 million people, or about 15 percent of Ukraine's population, noted Parubiy.
Monitors from the Organization for Security and Cooperation in Europe, who are in Ukraine to report on security issues and election preparations, agree.
Veteran German diplomat and OSCE special envoy Wolfgang Ishinger expressed hope that polling places can operate in as much of Donetsk and Luhansk regions as possible on Sunday and urged the separatists to cease interference with the vote.
"I have to say I haven't met a single serious person who believes Donbass (the Donetsk mining and industrial basin) would be better off cut off as a separate entity," Ishinger said, adding that it was his personal impression that the gunmen's control of the region has less popular support than the militants contend.
Matthew Schofield/MCT