Does Professor Obama Need A Dash Of Cowboy Bush?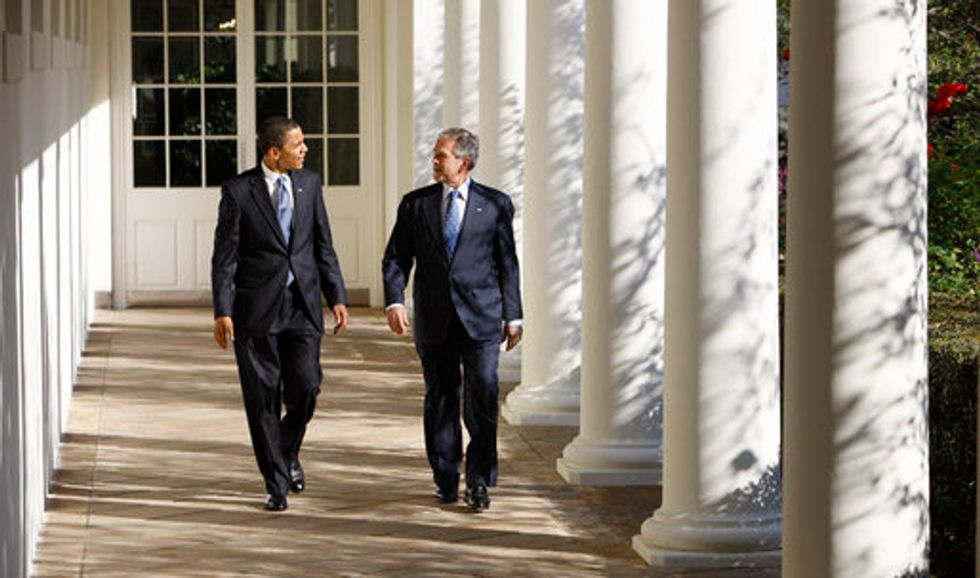 Before there was Leon Panetta, there was the protester outside the 1992 Democratic convention. "The reason we are here in New York is we're afraid that we might get another lawyer as president," he shouted through a bullhorn in the film The War Room.
Panetta, the former defense secretary and CIA director, is the latest onetime Washington insider to critique a president he once served. "Too often, in my view," he writes in his new book, Worthy Fights, President Obama "relies on the logic of a law professor rather than the passion of a leader."
Thanks for reminding us who we elected. Now we need to remember why.
George W. Bush had the passion of a leader, so much so that he led us into the Iraq tragedy and massive debt. John McCain had the passion of a leader, so much so that he tried to halt the presidential race during the 2008 Wall Street meltdown and rarely lets a week go by without demanding U.S. military intervention somewhere (this week he wants us to "remove" Syrian president Bashar Assad).
Back in 2007, in a political environment driven by testosterone and tunnel vision, I wrote a USA Today story about how the next president was likely to be a lawyer — but hold the jokes, because that might be a good thing. Lawyers, you see, are trained to analyze, negotiate and consider things from every angle. They have to, in order to avoid being blindsided in a courtroom or conference room.
Obama's very caution and deliberative nature were key to his 2008 victory. He seemed unlikely to wage a war of choice based on a faulty premise. He seemed unlikely to panic — and in fact did not appear to be panicking in real time — in the face of a frightening financial collapse and a brutal recession.
The downsides of Obama's temperament were obvious during his two campaigns. There were delays and missteps and blown chances that caused liberals to lose sleep. There was the first 2012 debate against Mitt Romney, an epic whiff that reinforced the milquetoast law professor persona. There was the 2008 New Hampshire primary that could have nailed down the nomination for Obama after his historic Iowa win, but instead gave Hillary Clinton a second wind that lasted through six months of hard competition.
So we all know what Panetta means when he notes that too often, Obama "avoids the battle, complains, and misses opportunities." Still, one man's dismay at a battle avoided is another man's decision that a battle is too risky or not worth fighting. One man's missed opportunity is another's judgment that his country can't afford or tolerate another quagmire or stalemate or defeat. "Will Syria Be Obama's Vietnam?" asked a headline this week in The New York Times. A commander in chief like Obama gives us better odds of avoiding that.
Washington Post columnist Dana Milbank calls Panetta's book an act of "stunning disloyalty." But there is stiff competition from other tell-alls over the years, topped perhaps by former White House press secretary Scott McClellan's What Happened
, published in 2008 during Bush's second term.
McClellan's chilling chapter on "Selling the War" describes how Bush wanted to oust Saddam Hussein and turn Iraq into a democratic model for the Middle East, but his aides knew the public wouldn't support a war for those reasons. So they used what McClellan calls "propaganda" — questionable intelligence about weapons of mass destruction and the even shakier notion of nuclear capacity — to paint Iraq under Saddam as a "grave and gathering danger." McClellan is sharply critical of the administration's "permanent campaign" mentality, Bush's "lack of inquisitiveness and his detrimental resistance to reflection," his advisers' utter failure to compensate for those deficits and a passive press.
Americans were exhausted by Bush's gut-driven, adventurist presidency. Still, I get that Obama, with what Panetta calls his "frustrating reticence," has turned out to be exhausting to many in his own cerebral, lawyerly way. Looking to 2016, is there a Mr. or Ms. Just-Right somewhere between Bush and Obama on the temperament spectrum? The two dynastic prospects come to mind. Hillary Clinton is a lawyer, of course. But she's also earthy and grounded and more action-oriented than Obama. On the Republican side, could Jeb Bush be the one? More passionate than his dad, less visceral than his brother?
Panetta, in his unsparing assessment of Obama, has set the table for the 2016 hopefuls in both parties. All of them will be trying to prove they are bold "deciders." But they should be warned: Just because many Americans are weary of Obama, that doesn't mean they yearn for the second coming of George W. Bush.
Follow Jill Lawrence on Twitter @JillDLawrence. To find out more about Jill Lawrence and read features by other Creators Syndicate writers and cartoonists, visit the Creators Syndicate website at www.creators.com.
White House Photo via Wikimedia Commons
Want more political news and analysis? Sign up for our daily email newsletter!