Profits And Profiteering Part Of Caucus Capitalism In Iowa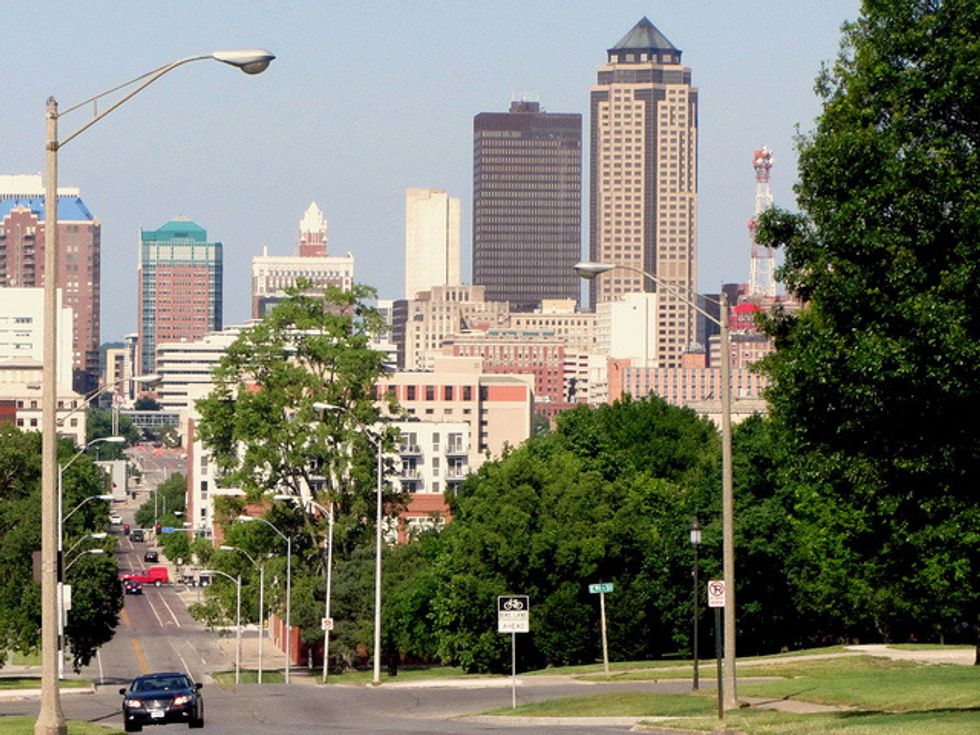 By John McCormick, Bloomberg News (TNS)
CHICAGO — For some Midwesterners, the presidential campaign brings the kind of New York values they can appreciate.
Later this month, Manhattan hotel prices will arrive in downtown Des Moines, part of the financial windfall Iowa enjoys every four years as host of the first-in-the-nation presidential caucuses.
During the final week before the Feb. 1 caucuses, when thousands of reporters, campaign staff, volunteers, and others will flood the state's capital city, rooms that would normally rent for $200 or less have, in some cases, fetched $600 or more.
"Every four years, this is the Super Bowl for Des Moines," said Andrew Hollen, director of operations at the downtown Marriott, a top hotel for both media and candidates that's sold out the week before the caucuses.
The spending influx extends beyond hotel rooms and includes television ads, event production, office space, rental cars, restaurants, and more.
New Hampshire, which hosts the nation's first primary eight days after Iowa's caucuses, also gets an economic boost from presidential campaigns. That financial windfall is one of the reasons both states fight vigorously every four years to maintain their early slots on the political calendar.
Years like this one, when there's no incumbent president running for re-election and Democratic and Republican parties have competitive contests, are especially good for business. That hasn't happened since 2008.
The Greater Des Moines Partnership — essentially the area's chamber of commerce — estimates that year's caucuses brought 2,500 members of the media and $25 million in visitor spending to the state's biggest metropolitan area.
In 2012, when the caucuses were only competitive on the Republican side because incumbent President Barack Obama didn't face a serious challenge, the partnership estimates the final week before the caucuses brought in 1,500 media representatives and $17 million in visitor spending, just to the Des Moines area.
In smaller ways, the economic reach of the caucuses touches almost every corner of the state. Many of this year's Republican candidates are making it a point to visit all 99 of the state's counties, meaning their campaigns will spend at least something virtually everywhere.
Tina Hoffman, the marketing and communications director for the Iowa Economic Development Authority, said she's never seen a comprehensive statewide study that spells out the caucus campaign's full economic impact.
"There is no doubt that it has a huge economic impact for our state, in terms of hotel rooms, restaurants and television advertising," she said. "It puts an international spotlight on our state and it gives us an opportunity to talk about issues important to Iowa."
Using Federal Election Commission data in 2008 to track expenses directly paid to Iowa recipients, an Iowa State University economist found that the major presidential campaigns had a direct economic impact of $15.5 million in the six months that preceded the January 2008 caucuses.
That was about one-hundredth of 1 percent of the state's $130 billion gross domestic product in 2007, the report found. Still, for individual businesses the windfall can be significant.
At the 801 Chophouse — arguably the top expense-account eatery in Des Moines — presidential election years are almost always tops for sales, said Damon Murphy, the restaurant's general manager. "It's typically our best," he said. "The last week is always super crazy."
With fewer reporters traveling because media organizations are more closely watching expenses, Murphy says there's been less business than typical in the weeks leading up to the caucuses. "It's a nice extra bonus," he said. "But it's not as big as it was eight years ago."
Some of the biggest spending in the state lands in the coffers of the state's television stations, mostly owned by conglomerates based outside Iowa. During 2015, more than $23 million in presidential campaign advertising ran on broadcast television in Iowa markets and those adjacent to the state, according to estimates from Kantar Media's CMAG.
Federal Election Commission records are filled with spending — small and large — by the presidential campaigns in Iowa.
Hillary Clinton's campaign paid an Iowa-based company, Elite Productions Services LLC, more than $234,000 during the second quarter of 2015 to produce staging, seating, and sound for her events.
Billionaire Donald Trump, the national Republican front- runner, paid $8,114 in June to rent Hoyt Sherman Place, a theater on the edge of downtown Des Moines, for his first appearance in the state as a declared presidential candidate.
The campaign for Florida Sen. Marco Rubio spent $200 for food and beverage at Alba, a trendy restaurant west of the state capitol in Des Moines.
©2016 Bloomberg News. Distributed by Tribune Content Agency, LLC.
Photo: David Wilson via Flickr