Promising New Partnership Seeks To Reduce Incarceration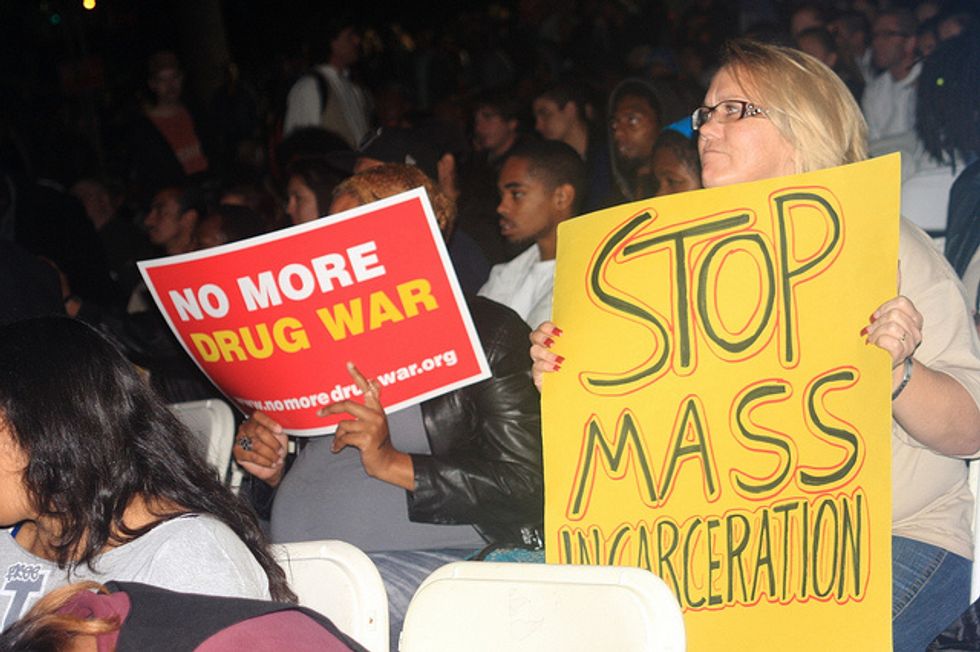 Eric Garner. John Crawford III. Michael Brown. Tamir Rice. Eric Harris. Walter Scott. Freddie Gray.
You know their names; you've heard them countless times in newscasts and read them in newspaper headlines. They make up a police dishonor roll: unarmed black men who've been killed by law enforcement officials or who've died in their custody.
Yet, the controversy that has attended those deaths owes more to a quiet and slow-running civic revolution than to the attention of journalists, the passions of activists, or the decisions of higher authorities.
If crime rates were still high, if the numbers of murders, armed robberies, and violent assaults were still vaulting to new records, many people wouldn't care what happened to Rice or Garner or Gray. They'd believe they deserved what they got. Such is the power of police officers when crime seems out of control.
But crime rates have fallen sharply over the last few decades — down, in 2013, to 1978's levels. Let's hope the relative safety of our streets allows us to reconsider not only police brutality but also the prison-industrial complex.
The United States locks up a larger proportion of its citizens than any other nation in the world. While we have about 4.4 percent of the world's population, we house about 22 percent of its prisoners, according to researchers. That's simply, well, criminal.
And mass incarceration has exacted a terrible cost — on state budgets, on black neighborhoods, on economic and social justice. According to federal statistics, one in three black men can expect to be imprisoned in their lifetimes.
The misnamed War on Drugs has probably done more to exacerbate black poverty and destroy black families than any other force of the last 50 years. Countless black men have been incarcerated for nonviolent, drug-related offenses. They leave prison burdened by felony records that make them unemployable.
Some conservative criminologists continue to insist that crime rates have fallen because we lock up so many of the bad guys. They're likely wrong.
To be fair, no one knows for sure why crime is down and keeps falling. But it's happening throughout the developed world — including in countries, such as Canada, where authorities don't lock up nearly as many citizens.
Leading politicians — including one or two brave Republicans — have already called for criminal justice reform. Last month, Democratic presidential contender Hillary Clinton gave a major address in which she outlined proposals that included alternatives to mass incarceration.
"There is something wrong when a third of all black men face the prospect of prison during their lifetimes. And an estimated 1.5 million black men are 'missing' from their families and communities because of incarceration and premature death," she noted.
Among Republicans, Sen. Rand Paul of Kentucky, who is seeking the GOP presidential nomination, has joined with Sen. Cory Booker (D-NJ) to author a bill that would help nonviolent offenders seal their records. And Sen. John Cornyn (R-TX) has reached across the aisle to co-author a bill with Sen. Sheldon Whitehouse (D-RI) to help eligible prisoners reduce their time.
But the truth is that any substantial progress will have to come through governors and state legislatures; federal authorities have jurisdiction over only about 6 percent of prison inmates. The vast majority of criminal activity is governed by state and local courts.
That's why a new partnership between ultra-conservative groups and liberal activists who want to reduce the incarceration rate, the Coalition for Public Safety, is so promising. Its backers include the Koch brothers and the American Civil Liberties Union. That sort of alliance ought to prove powerful.
And it will need to be. Most statehouses are controlled by Republicans, who still reflexively play to a conservative base easily whipped up by fear of crime. Few politicians want to face an opponent who accuses them of being soft on murderers or rapists.
But the drop in crime is real, and it provides an opportunity for any thinking legislator to reconsider mass incarceration. We are locking up too many of our citizens and paying too high a price.
(Cynthia Tucker won a Pulitzer Prize for commentary in 2007. She can be reached at cynthia@cynthiatucker.com.) 
Photo: Neon Tammy via Flickr