Prospects Fading For 'NBC Nightly News' Anchor Brian Williams' Return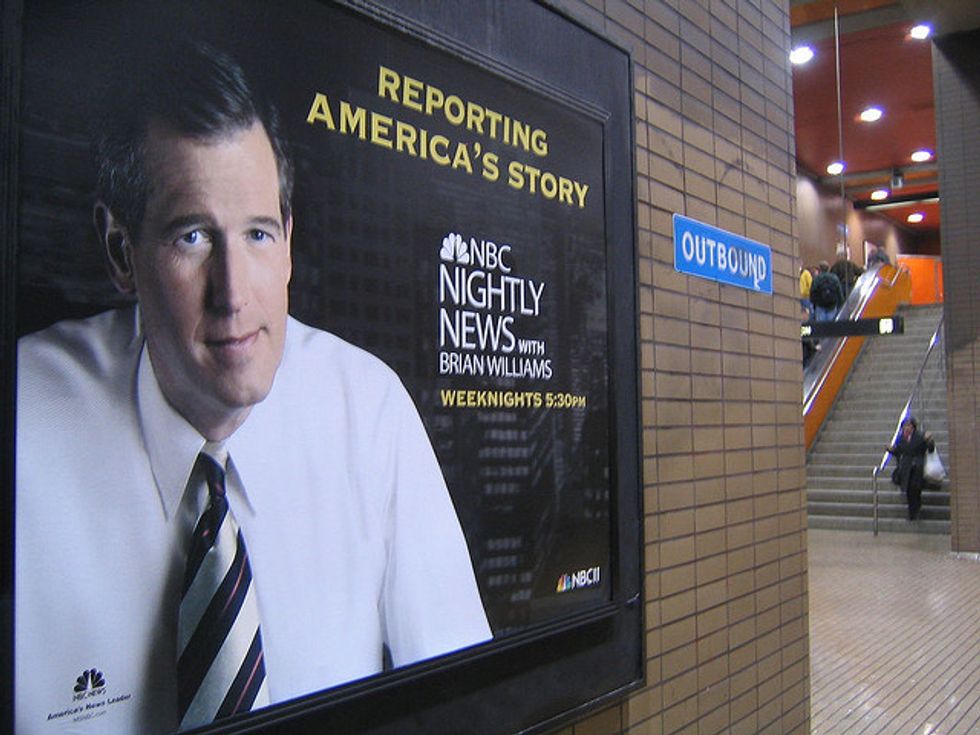 By Stephen Battaglio, Los Angeles Times (TNS)
WASHINGTON — Many in the media business believe that the future looks bleak for suspended NBC Nightly News anchor Brian Williams.
NBC News executives are in the midst of an internal review into Williams' reporting, and it will be at least five more weeks before a decision is made on whether he returns. Williams was benched in February after falsely stating that he was in a helicopter that was hit by a rocket-propelled grenade during the 2003 U.S. invasion of Iraq.
Speculation that Williams is a goner heated up last weekend after several reports based on unnamed sources said NBC's review found numerous situations in which the anchor publicly embellished statements about his reporting. Some competitors even suggested that NBC was behind the leaks as a pressure tactic to get Williams to resign and let the network reduce or get out of its contractual obligation to pay him more than $50 million over the next five years.
But NBC News Chairman Andy Lack still hasn't given up on the idea of bringing Williams back. Lack is also in no rush to decide, according to executives close to NBC News who were not authorized to speak publicly.
As NBC News president in the 1990s, Lack groomed Williams to be the successor to Tom Brokaw and remains close friends with him.
"If there is a path back, he is going to want to find it," one of the executives said.
NBC declined to comment.
The chatter among members of the TV news industry — many of whom were in Washington, D.C., this weekend for the annual White House Correspondents's Association dinner — was that it was difficult to see that path. "If there was, don't you think we'd be hearing about it by now?" an NBC News veteran said.
One possible scenario is that Lack vouches for Williams because of their long relationship, puts him back in the anchor chair but strips him of his managing editor title. Lack would then assure the public that he would keep a close watch on Williams. However, no one is betting on that happening.
Lack does have to be mindful of his bosses at NBC parent Comcast Corp., who have little patience for sustained bad news and are not afraid to cut their losses. Comcast demonstrated that last week when the cable giant decided to kill its proposed $54-billion acquisition of Time Warner Cable amid heavy criticism from consumer advocates.
However, there is no truth to reports that suggested NBC wanted to get the Williams issue resolved before upfront ad sales for the 2015-16 season begin next week, people in the industry said.
Advertisers who spend about $450 million a year on the network evening news are going to base their commercial buys on pricing and ratings guarantees no matter who is in the anchor chair, the people said. Many of the products advertised on the broadcasts are found in medicine cabinets, and their media buyers are not particularly sensitive about program content.
Under the terms of his suspension, Williams is muzzled by NBC and cannot respond to the negative stories about further alleged problems with his reporting.
Those issues, according to the leaked accounts, all have to do with exaggerated and inaccurate statements Williams has made about his coverage on talk shows, interviews, or the banquet circuit. An NBC News executive said there was no word of any falsehoods that appeared on his newscast.
Even if the results of the review leave an opening to bring Williams back, Lack also will have to consider the effect on his organization's morale.
There has been no public statement from anyone at NBC News calling for Williams to return to the anchor chair. His support among rank-and-file employees in the division is said to be thin.
There is also the issue of unseating current anchor Lester Holt, who has become the first solo African-American network evening news anchor because of Williams' suspension.
Aside from the historic aspect of Holt's status, his colleagues hold the veteran of the news division in high esteem.
Since Holt took over, NBC Nightly News ratings have slowly eroded at a rate that one evening news competitor said should have the network "moderately" concerned. The broadcast has slipped into second place in total viewers behind ABC World News Tonight With David Muir while remaining about even in the advertiser-favored 25-to-54 age group.
But it has not been the full-out ratings collapse that could have happened when a popular anchor is yanked from a program.
Perhaps another sign that Williams' prospects for coming back are fading is that he came up twice in Saturday Night Live cast member Cecily Strong's monologue at the White House Correspondents' Association dinner.
Up until then, NBC's late-night hosts and comedy programs, all under the supervision of executive producer Lorne Michaels, had steered clear of making light of Williams' situation. The anchor had been a popular guest on The Tonight Show Starring Jimmy Fallon, once hosted SNL and is friendly with the host of Late Night With Seth Meyers.
Photo: Steve Rhodes via Flickr