Pruitt's $43,000 'Phone Booth' Broke Federal Law
@EricBoehlert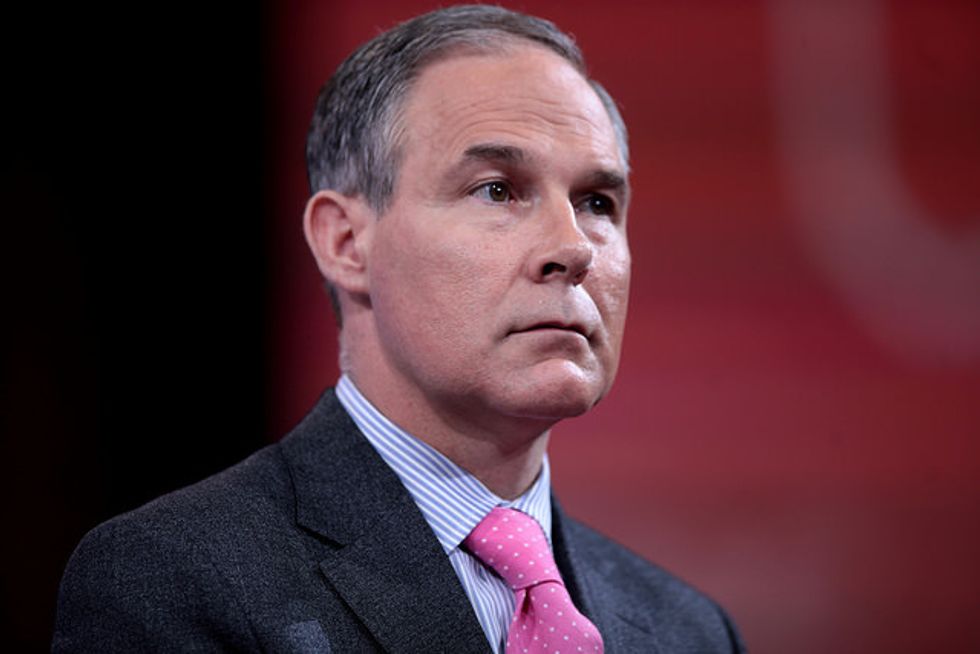 Reprinted with permission from Shareblue.com
The madness of EPA chief Scott Pruitt's runaway spending has now reached a new, law-breaking level.
Pruitt's demand that his office be fitted with a $43,000 "secure phone booth," even though the EPA headquarters already had two such booths, violated federal spending laws, as detailed in a new government  report.
"According to the Government Accountability Office, the EPA did not comply with the Financial Services and General Government Appropriations Act by spending more than $5,000 on the phone booth without notifying Congress," ABC News reports. "By failing to provide such advance notice, EPA violated section 710 of the Financial Services and General Government Appropriations Act."
Pruitt previously told a congressional committee that he needed to secure booth so he could call the White House.
The independent, nonpolitical GAO also found that the EPA violated the Antideficiency Act by spending more than the amount approved by Congress for office renovations.
Indeed, the EPA violations aren't just about "Get Smart"-type phone booths. Pruitt has also spent lavishly on furniture for his office, and an elaborate, around-the-clock security detail for himself.
He currently has a 20-person security detail, which is more than three times the amount of protection Obama's EPA chief received.
Pruitt requested tens of thousands of dollars for a bulletproof desk for the security guard outside his office and a bulletproof sport utility vehicle. He's also spent a staggering amount of money on travel.
"Two weeks of travel for him and his aides cost taxpayers more than $120,000 last June," the New York Times reports, "and in December he took aides on a five-day, $40,000 trip to Morocco."
Pruitt has repeatedly billed taxpayers for his constant flights home Oklahoma on the weekends. He also regularly demanded that his flights be booked on Delta airlines — even when the federal government didn't have a government carrier contract with Delta — because Pruitt wanted to bank as many frequent flyer miles as possible.
Despite his consistently corrupt behavior, Pruitt continues to enjoy the support of Trump, who recently called his EPA chief "very courageous."
In contrast, the GAO says Pruitt broke the law.