Pruitt's EPA Security Assaults Reporters At Briefing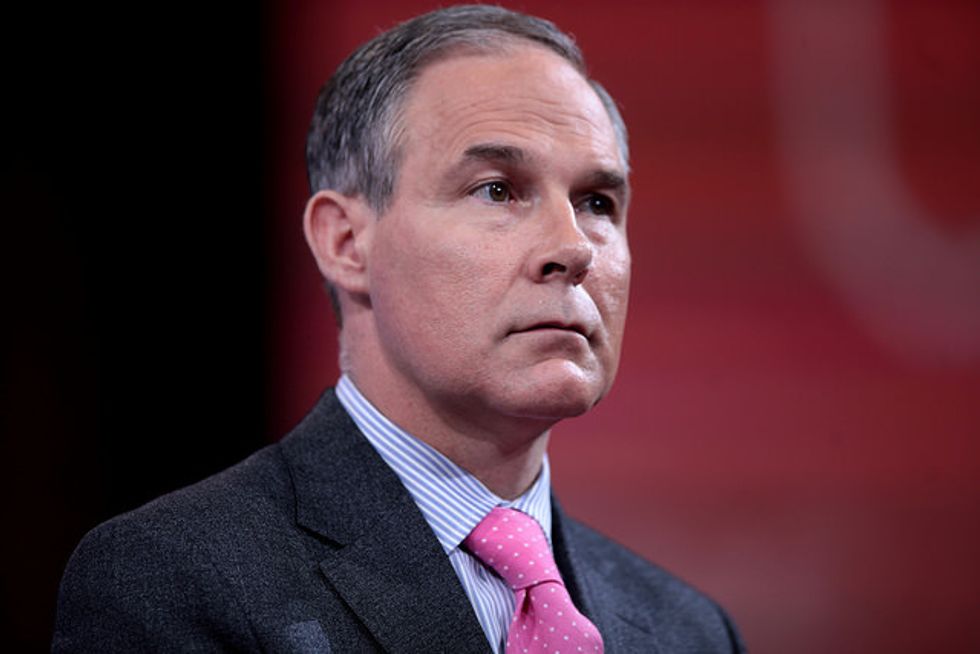 Reprinted with permission from Shareblue.com
Guards at an Environmental Protection Agency summit roughed up reporters attempting to cover the agency's latest scandal and physically removed them from the room.
The summit covered newly revealed details about high levels of toxic chemicals in the U.S. water supply. This was just the latest black eye for the agency, as reports indicate the EPA and the White House tried to suppress the study.
Apparently, the cavalcade of scandals at the agency under administrator Scott Pruitt led top officials to think covering up this horrific report was better than trying to do something to solve the problem.
And the cover-up continued at the summit, as the EPA tried to bar reporters from the Associated Press, CNN, and E&E News from attending.
Jahan Wilcox, an EPA spokesperson, told reporters there was no space for them at the event. But other reports indicate there were many empty chairs at the venue.
At a security checkpoint, an AP reporter tried to speak to a public affairs representative. AP reportsthat "security guards grabbed the reporter by the shoulders and shoved her forcibly out of the EPA building."
AP executive editor Sally Buzbee said in a statement that it's "particularly distressing that any journalists trying to cover an event in the public interest would be forcibly removed."
And CNN said the EPA "selectively excluded CNN and other media outlets." The network added, "We understand the importance of an open and free press and we hope the EPA does, too."
After a public outcry from reporters about the agency's tactics, it announced that journalists could cover the second half of the summit.
Suddenly, they had room to accommodate them that they didn't have before.
The Trump administration tried to hide the details of an important public health issue so that the scandal-plagued EPA could save face this time around. Then they lied again to attempt to keep reporters from getting to the truth.
But all that did was somehow manage to make the disaster that is Trump's EPA look even worse.