Purdue Attacks Low-Income Families On Tax-Funded Podcast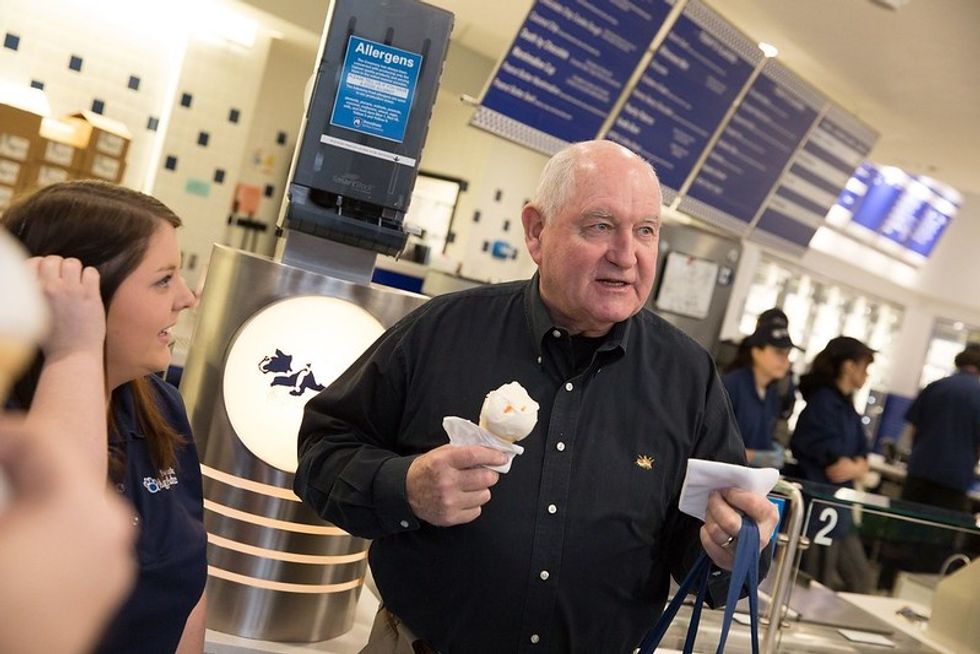 Reprinted with permission from MediaMatters
Department of Agriculture Secretary Sonny Perdue and guest Newt Gingrich painted a disparaging picture of welfare recipients during the latest episode of the USDA's taxpayer-funded podcast, The Sonnyside of the Farm. Perdue's comments came as the USDA effectuated a rule change that will kick nearly 700,000 people off of the Supplemental Nutrition Assistance Program and cut the number of children who can receive free lunch at school. 
While Perdue advocates for limiting government assistance for people struggling to eat, he has used his positions in government to benefit himself, his friends, business associates, and family members throughout his political career. 
Launched in October, Perdue's monthly podcast purports to discuss "the issues facing America's farmers, ranchers, producers and foresters today." The third installment of The Sonnyside of the Farm, released on December 5, focused on low-income Americans who receive government assistance. Perdue opened the show by saying, "Today, we're going to talk about the transformational power of work" before claiming that "sometimes the helping hand can become an indefinitely giving hand, creating government dependency on programs like the food stamp program, which we administer here at USDA." 
Perdue was joined by Fox News contributor Newt Gingrich, who, as Perdue noted, was a driving force in Congress behind the 1996 Personal Responsibility and Work Opportunity Reconciliation Act. The law, which was enacted by President Bill Clinton, is credited with contributing to the increase in Americans who live in extreme poverty. Like the 1996 law, USDA's SNAP rule change limits the ability of people who are not working to receive benefits. 
During his appearance, Gingrich offered several negative characterizations of low-income Americans who receive assistance from the government. According to Gingrich, without strict work requirements, "you begin to reshape the mind of the welfare worker because they begin looking for the loopholes that enable you to stay dependent on the government." He added that without a work requirement, government assistance recipients are dependent, passive, and "waiting for the next government check." He also said, "A generation that watches their parents do nothing learns that it's OK to do nothing."
Perdue suggested that people on food stamps don't contribute to society and have no self-worth, saying to Gingrich, "You've done a great job articulating how working and contributing to society increases personal self-esteem [and] self-worth. Sadly, what do you see today? We still have 36 million people [on food stamps], up from 17 [million] prior to the recession." Gingrich responded, "I think there is a subculture of people who think they are really clever if they avoid work."
During the podcast's discussion of government assistance, Perdue did not mention USDA payments to farmers. In July, the USDA announced that an additional $16 billion would be paid to farmers impacted by Trump's disastrous trade war with China. As The Washington Post reported, an analysis conducted by the nonprofit Environmental Working Group "found that the top one-tenth of recipients received 54 percent of all payments" from the $8.4 billion that had been distributed as of July from a previous 2018 subsidy and noted, "The top 1 percent of recipients of trade relief received, on average, $183,331. The bottom 80 percent received, on average, less than $5,000." 
Perdue, who was the governor of Georgia from 2003 to 2011, often used his position to benefit himself and his associates. A 2017 investigation published by Politico "found more than a dozen instances when he gave positions to business associates and campaign donors, and other occasions when he rewarded his state staff with opportunities in his agriculture and shipping empire after he left office." As governor, Perdue gave himself a $100,000 tax break by signing into law a bill that "gave land buyers temporary relief on capital gains tax in Georgia if they sold land in Georgia and purchased land in another state." While the bill was being considered, a state legislator — who was also Perdue's lawyer — successfully amended it to apply the tax break retroactively, meaning it would cover a Florida land purchase Perdue had made within the last year. 
Perdue has also personally financially benefited from federal government rule changes. In 2017, while he was under consideration for the USDA secretary position, Perdue was one of the beneficiaries of an executive action taken by President Donald Trump that eliminated an Obama-era environmental regulation. Perdue was personally involved in litigation challenging the regulation through his grain company AGrowStar. 
While The Sonnyside of the Farm bills itself as a podcast about farming issues, the inaugural episode of the podcast instead largely consisted of Perdue and his guest, Fox News contributor Sarah Huckabee Sanders, lavishly praising Trump.