Pursuing Happiness In Philadelphia
@JamieStiehm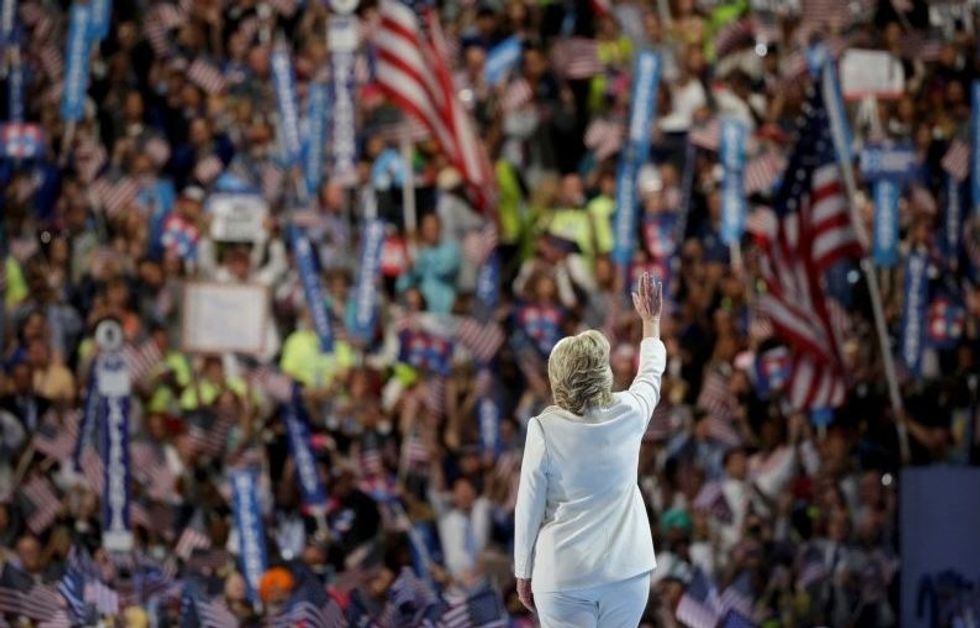 Philadelphia — Few in the Democratic Convention multitude knew, but Philadelphia, the City of Brotherly Love is known for Sisterly Affection.
I wonder if Hillary Clinton, the first woman nominee, knows the city's Quaker name. We shall see round midnight after an exhilarating but grueling four days.
I saw three young black women delegates dance in the hot sun, to a sidewalk drummer's beat. And then a white male Philadelphia police officer joined them for a moment that left me gobsmacked at the joyful revival, given the racial police violence other cities have suffered recently.
Philadelphia has gone all in embracing colorful diversity — that of those gathering in this American rite of passage, and also its own. If you love history and Monopoly, try the bustling Reading Terminal Market on 12th and Arch Street.
Yes, it's the old Reading Railroad on the Monopoly board. This is the heartbeat of the city, many people told me, where everything from fudge, orange strawberry lemonade, fresh fruit, donuts and jambalaya dishes were there for the taking.
A little treat for me when I washed ashore from Washington: fresh eggs from Amish country served at the counter by an Amish woman in a cap. My, they were good for the strength required to walk the miles out to the convention arena — right by the Phillies ballpark.
At least it feels like miles, longer every day under the white tents.
Not that I'm complaining about the modern security state.
For fun, you can go to political gabfests. The Atlantic's Steve Clemons asked an artful question of Mark Penn: Is Clinton the queen of convention? So impressed was I at the question that I forgot the answer.
Penn, Clinton's 2008 presidential campaign manager, is an acerbic pollster who reads cultural cues, told us that Americans are a rough and tumble society. He knows this because of a game named "Angry Birds" and a dark reality show where people get fired all the time. Most relevant, he said Clinton has got a lot of work to do in her victory speech. Her polls numbers are low, a long way to go from here.
The disarming Bill Clinton, the former president so ready to be first man, explained his wife better than she has explained herself out on the trail. He started out, "I met a girl," which television pundits gushed over as brilliant.
To get away from inane present moments, I visited the plush National Constitution Center where a political trivia contest was raging. But I had a date with Alexander Hamilton, still smoldering among the life-size statues of the framers. To be truthful, I have a soft spot for the intriguing Aaron Burr, who slew him, but he was not in the room. Only Burr, of the whole Revolutionary bunch, would be truly thrilled to see an American woman president.
Many women delegates are dressed beautifully today. Young or old, this is a day to remember. A volunteer, Eleanor Watson, wore a shirt with sparking silver letters: End of Story. It's a quieter vibe — "I'm With Her" — than Barack Obama's triumphal speech in 2008, when he made history at the Denver Democratic Convention, but it is there.
The Philadelphia landmarks and institutions are singing in concert. The majestic pillared 30th Street Station is lit up in red, white and blue like a huge art object. The famed river Boathouse Row is outlined in red, white and blue lights, twinkling along their Victorian design. Even an ornate old department store is in the lights game. The bonhomie of every police officer is refreshing. Ink-stained wretches at The Philadelphia Inquirer has been all over the event with excellent reporting and the best front pages.
After the ugliness of Cleveland's Republican gathering, Philadelphia is shining a different light, a classy beacon of Liberty that doesn't engage in political demagoguery (like chanting "Lock her up.")
The country's choice could not be clearer. Two presidents have given her a public benediction, but Hillary Clinton has earned this historic honor with her own life story.
On a personal note, I was born in Philadelphia in July. Chestnut Hill was our lovable neighborhood. And I am staying with friends in Chestnut Hill now. Revolutions come in all sizes here.
Photo: Democratic presidential nominee Hillary Clinton waves as she arrives to accept the nomination on the fourth and final night at the Democratic National Convention in Philadelphia, Pennsylvania, U.S. July 28, 2016. REUTERS/Gary Cameron