Pussy Riot Band Members Detained In Sochi Suburb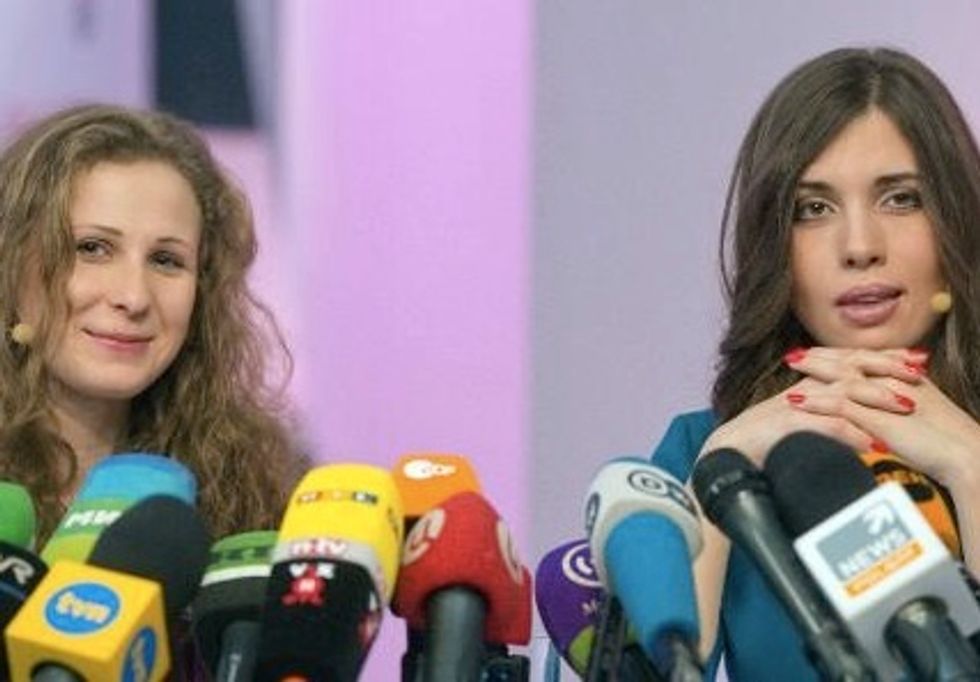 By William Douglas, McClatchy Washington Bureau

SOCHI, Russia — Two members of the controversial Russian punk band Pussy Riot were detained for three hours Tuesday and questioned by Russian police about an alleged theft near the 2014 Winter Olympics.
Band members Nadezha Tolokonnikova and Maria Alyokhina, and at least seven activists and journalists, were picked up at a McDonald's in the Sochi suburb of Adler around 2 p.m. by plainclothes officers, according to Amnesty International's Moscow office.
The group collectively was accused of a theft that allegedly occurred in a nearby hotel, said Damely Aitkhozhina, an Amnesty International researcher in Moscow. She said Tuesday's detention was the third time in three days that the band members, migrant and environmental rights activists and journalists from Russia's independent Rain TV, were held by Russian authorities.
"We were detained on the 16th at 7:00, spent 10 hours with FSB (Russia's Federal Security Service) on the 17th, and today (we are) in a paddy wagon, accused of theft," Tolokonnikova wrote on her Twitter account.
Pussy Riot was in Sochi to shoot a video for a song they wrote for the Winter Olympics called "Putin Will Teach You to Love Your Motherland."
"Police claimed that in the hotel there was a theft. They were detained in connection with the theft," Amnesty's Aithozhina said. "We don't know if they will be charged with anything, but the theft gave them (police) cause for detention."
The Pussy Riot members were freed from prison in January under amnesty granted by Putin prior to the start of the Winter Games. The Russian president had been under fire from international activist groups for alleged free speech, labor, and environmental abuses surrounding the construction of venues for the games.
The band members had been serving two-year terms for "hooliganism" related to an anti-Putin song performed in February 2012 at Moscow's main cathedral.
Tuesday's detention comes on the heels of Russian officials ejecting a transgender former member of Italy's parliament after she demonstrated against a law Putin signed last June that prohibits individuals from promoting "homosexual behavior" and "spreading propaganda of non-traditional sexual relations" among minors.
Vladimir Luxuria, an ex-politician-turned television host, was held by police on Sunday and briefly held on Monday after she walked around Olympic Park in a rainbow-colored outfit, loudly declared that it's "Okay to be gay," and tried to enter a women's hockey game.
Police escorted Luxuria outside the Olympic security zone and took away her spectator's identification pass. International Olympic Committee officials defended the action Tuesday.
"I understand that she was in the park for a good hour, maybe even two hours, walking around, talking to spectators," said Mark Adams, an IOC spokesman. "Some people were pro, some people were against, some people were very against, but I know her stated aim was to demonstrate in a venue."
Adams added that the Olympic venues aren't "the place for demonstrations, whether sympathetic or not, and this one does split opinions around the world."
"We would ask anyone to make their case somewhere else and not in the Olympic Park and the Olympic venues," Adams said.
AFP Photo/Yevgeny Feldman