'Putin In Underwear' Artist Seeks Asylum In France
@AFP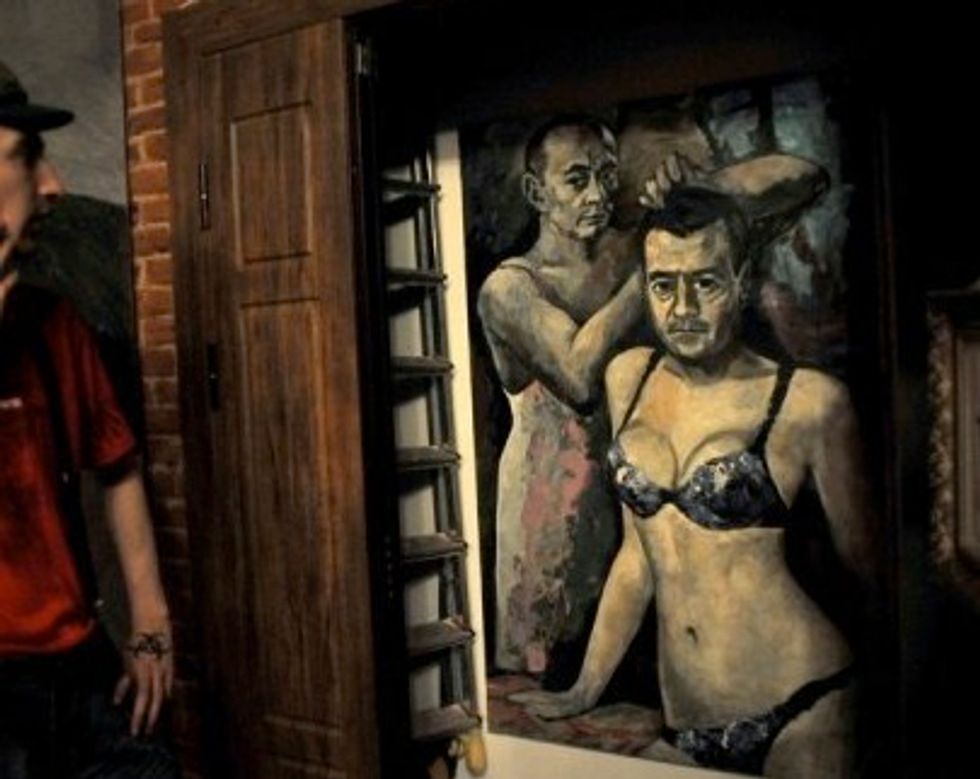 SAINT PETERSBURG (AFP) – A Russian artist said Thursday he has fled to France and is applying for asylum after police seized his painting of Russian President Vladimir Putin and Prime Minister Dmitry Medvedev in women's underwear.
Police on Tuesday raided an exhibition in the northwestern city of Saint Petersburg, which next week hosts the G20 summit, and confiscated works including a painting of Putin in a strappy nightie and Medvedev in a bra and skimpy knickers.
The artist, Konstantin Altunin, 45, said by telephone from Paris that he had requested political asylum and was now gathering the necessary documents.
"Yesterday I went to the prefecture in Paris… and made this request. I now need to go through the procedure and bring written confirmation of where I am staying," he said.
Altunin said he flew out of Russia as soon as he heard that the exhibition had been shut down on Tuesday evening and the organizers had been detained by police and questioned into the night.
He said that the police had described the exhibition at the newly opened Museum of the Authorities as extremist and he feared criminal charges.
"They have already said directly that my exhibition is extremist — that's a very serious charge," he said.
The exhibition also included paintings of Lenin and Stalin.
Altunin said he had expected the authorities would view the works with humor and was shocked by their reaction.
"They just said 'We don't like it' and sealed up the doors and that was it. I don't think there is such backwardness in any other country."
Altunin said he had created the painting of Putin and Medvedev when they announced in 2011 a job swap with Putin returning to the Kremlin and Medvedev becoming prime minister.
"It is absolutely innocent irony," he said.
Police also confiscated a painting of local lawmaker Vitaly Milonov, known for his backing of a controversial law banning the promotion of homosexuality to minors that Putin signed into law this summer.
Altunin said the organizers of the exhibition had commissioned him to paint the portrait, which shows Milonov with the rainbow flag of the gay pride movement.
The director of the Museum of the Authorities, Alexander Donskoi, told AFP that Altunin had not yet been charged with any crime.
"He is not charged with anything, but if the authorities confiscated the paintings, they could do anything."
Photo Credit: AFP/Olga Maltseva