Putin Makes Appearance After Ten-Day Absence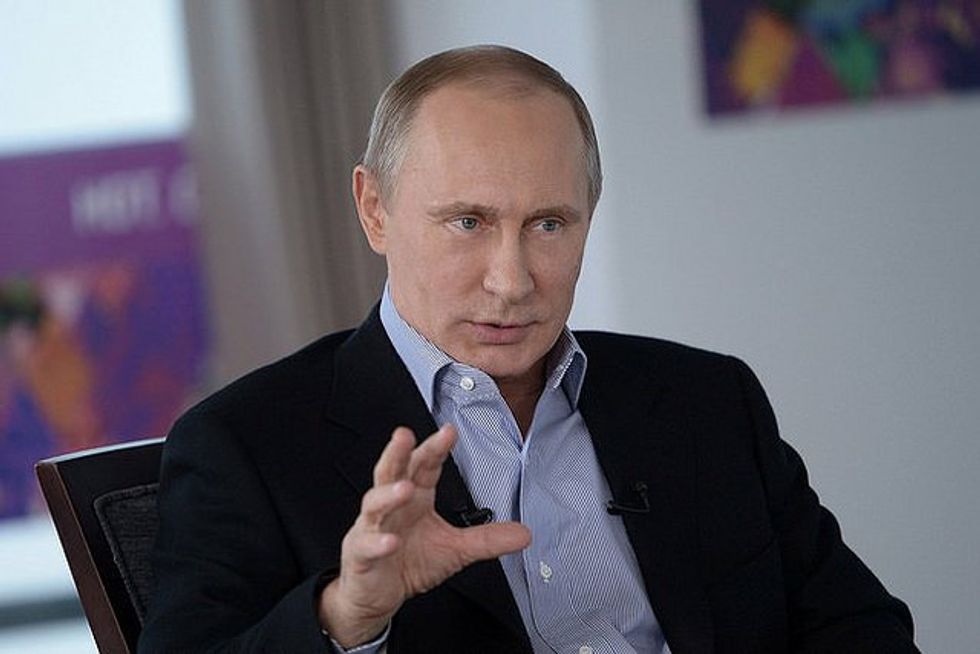 By Carol J. Williams, Los Angeles Times (TNS)
Russian President Vladimir Putin put to rest wild speculation about his health and his hold on the Kremlin leadership Monday with his first public appearance in ten days to receive the visiting Kyrgyzstan leader in St. Petersburg.
State-run Rossiya-24 television showed Putin greeting Kyrgyzstan President Almazbek Atambayev in his home city and the imperial capital, a keenly watched public encounter after his unusually long absence from the public eye.
Putin looked relatively fit as the international press corps gathered for his first sighting since March 5, a clatter of motor-driven camera shutters nearly drowning out his remarks about the emerging Eurasian Economic Union that he is building to coordinate trade with other former Soviet republics.
The Sputnik news agency reported that he joked when asked about the rampant speculation over his health and whereabouts: "It would be boring without gossip," Putin replied.
Sputnik, formerly the RIA Novosti news agency, also carried a story about the "five most ridiculous theories" of Putin's whereabouts. They included that he died, was gravely ill, attending the birth of his love child with a former gymnast, that he'd been overthrown and that he was binge-watching "House of Cards."
Kremlin efforts to quash rumors about his absence backfired when pictures released last week were determined by hawk-eyed analysts to have been taken days earlier than suggested by their presentation.
Putin's last appearance before foreign journalists was a March 5 meet-and-greet with visiting Italian Prime Minister Matteo Renzi in Moscow. When a week went by without the 62-year-old president being seen at a public event, Kremlin media managers released brief film clips of Putin meeting with the Russian high court president on Friday and with the regional governor of Karelia two days earlier – both shots reportedly recorded before the Renzi visit.
Putin appeared Sunday in a two-and-a-half-hour film titled Crimea: Path to the Motherland, a combination documentary and dramatic re-enactment of the seizure and annexation of Ukraine's Crimean peninsula a year ago. Although the film's interview with Putin was obviously recorded earlier, the Kremlin leader's ardent defense of the action that has plunged Russian-Western relations to a post-Cold War low served to present him as hale and defiant.
Russian officials have fostered an air of intensified security with the approach of Wednesday's anniversary of the Crimea annexation. Defense Minister Sergei Shoigu announced on Rossiya-24 television at noon Monday that Putin had ordered full-scale readiness exercises for 40,000 troops and sailors of the Northern Fleet and airborne forces.
A threat of violence has also remained palpable since the Feb. 27 assassination of one of Putin's harshest critics, Boris Y. Nemtsov. The former first deputy prime minister and opposition leader was gunned down gangland-style as he walked home from a late dinner across a bridge in the shadow of the Kremlin, spurring accusations that Putin was at least complicit in creating an atmosphere of impunity for political murders.
Five men of Chechen origin from the restive Caucasus region of southern Russia have been arrested in the case, two of them charged with killing Nemtsov. One of the accused, Zaur Dadayev, is a former Chechnya police commander and a close ally of Putin's appointed Chechnya overlord Ramzan Kadyrov, which has spurred rumors of a breach or power struggle between the Kremlin leader and his Chechen lieutenant.
Photo: theglobalpanorama via Flickr