Putin Is The Overlooked Billionaire In The Elections Club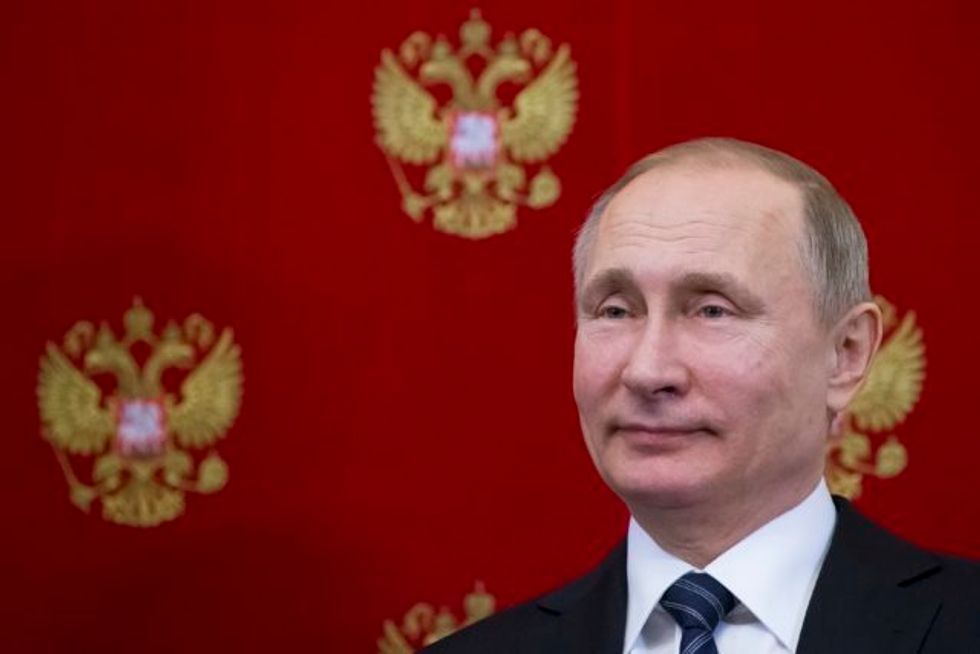 Reprinted with permission from USAToday.
Since Citizens United and related Supreme Court decisions burst open the fire hose of unlimited, anonymous money that can be spent on American elections, the left has fixated on the outsized influence of the donor network run by the billionaire Koch brothers, which was planning to spend close to $1 billion to elect a Republican in 2016.
Likewise, the right has fixated on George Soros, giving the billionaire credit for everything from controlling your Facebook feed to personally slipping a C-note into the pocket of almost everyone who has come out to protest Donald Trump.
But the billionaire who turns out to be the most successful at influencing our elections may also be the richest billionaire ever to billionaire — Vladimir Putin.
The FBI, CIA and NSA all believe that Putin ordered an "influence campaign" aimed at the 2016 U.S. election. The FBI and CIA have "high confidence" the Russian president was trying to elect Donald Trump. Putin's antipathy for Hillary Clinton is so well documented that it's difficult to argue that he wasn't at least pleased by the result.
Trump's upset, in which the loser and her allies outspent the winner, could be taken to prove that money in politics isn't as overwhelming as "so-called" reformers argue. But more than meets the eye was spent on Trump, and the spending we know about was highly effective.
In 2012, famously, many of Mitt Romney's rich funders were angry about the wad they'd blown. Rebekah Mercer was one of those backers and she was "particularly infuriated" by the failings of the GOP campaign, according to a profile of her father Robert Mercer by The New Yorker's Jane Mayer. That loss reportedly inspired the Mercers to "double down" on a new brand of conservative populism that would make Putin proud, or vice versa.
"The Mercers laid the groundwork for the Trump revolution," Steve Bannon, White House chief strategist, told Mayer. "Irrefutably, when you look at donors during the past four years, they have had the single biggest impact of anybody, including the Kochs."
This hearty endorsement comes from a grateful employee. Bannon, according to new disclosures, earned $545,000 in 2016 from four different ventures backed by the Mercers.
So maybe Robert Mercer is the billionaire the left should have focused on?
Mercer's net worth is described by Rolling Stone as "undisclosed billions." But he's almost surely a piker compared to Putin, whose fortune has been estimated at $200 billion. And Mercer doesn't have an army, a navy and an array of intelligence agencies — or at least he didn't until recently.
The scope of Russia's involvement in the 2016 is just beginning to come under scrutiny by the Senate Intelligence Committee, which held its first public hearing on the subject last week. Sen. Mark Warner, the senior Democrat on the panel, said that "There were upwards of a thousand paid internet trolls working out of a facility in Russia, in effect taking over a series of computers which are then called a botnet, that can then generate news down to specific areas."
Warner noted that investigators were looking at indications that these trolls targeted Wisconsin, Michigan and Pennsylvania, three states that just happened to match Trump's improbable path to victory. A days before he spoke, an Oxford University study of 22 million tweets showed that Michigan in fact had been inundated with "junk news" from Nov. 1-11 last year.This discussion is replete with irony. Liberals are placing great faith in the "deep state" after so recently wanting bury FBI Director James Comey in patchouli and kale. And Noam Chomsky notes that it's a "just a joke" for the U.S. to fret about outside involvement in our elections, considering our own long history of meddling.
But what made Putin's interference so consequential is that was seemingly embraced by the man who now lives in the White House, at least on weekdays.
Former FBI agent Clinton Watts told the Senate Intelligence Committee that "part of the reason active measures have worked in this U.S. election is because the commander-in-chief [Trump] has used Russian active measures at times, against his opponents." He detailed a series of examples of the Trump campaign echoing Russian propaganda, sometimes within minutes of it first appearing online.
Reports suggest that similar "active measures" are being used to influence the ongoing French national elections. And our president doesn't seem troubled by that meddling either.
"It's going to be a very interesting election," Trump told TheFinancial Times. "But you know some outside things have happened that maybe will change the course of that race."
It makes you wonder what he knows that we don't.