Putin Softer Over Syria, Obama Gains Support For Strike
@AFP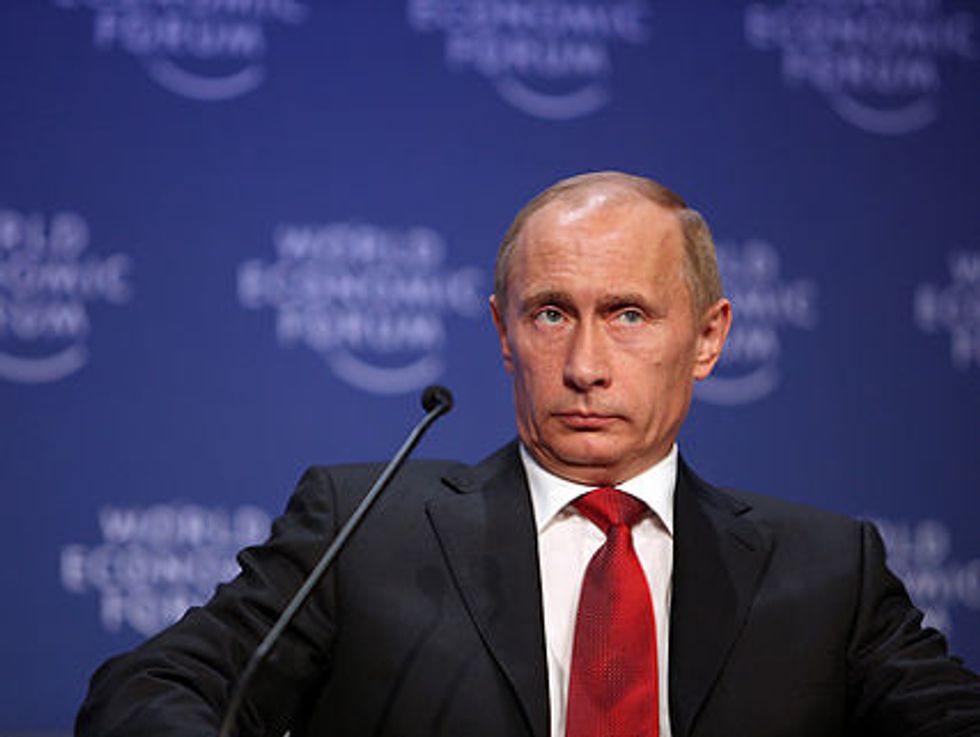 DAMASCUS (AFP) – Russian President Vladimir Putin on Wednesday struck a more conciliatory tone ahead of this week's G20 summit, saying Moscow would take "decisive" action if the West proved who used chemical weapons in Syria.
Putin's comments came as U.S. lawmakers begin rallying behind President Barack Obama's plan to launch military strikes against Syria over a suspected poison gas attack outside Damascus that killed hundreds.
And as Obama seeks to cobble together an international coalition to back his plans for military intervention, France was Wednesday to hold an emergency parliamentary debate on the Syrian crisis.
Putin, in an interview apparently aimed at presenting a more pragmatic face to the world ahead of the G20 summit in Saint Petersburg, said he did not exclude Russia agreeing to U.S.-led military strikes if it was proven Syria's regime had carried out the August 21 attack.
But, he told state-run Channel One television, the West still needed to put forward watertight proof of the circumstances of the attack, which some Russian officials have blamed on rebels.
If there was clear proof of what weapons were used and who used them, Russia "will be ready to act in the most decisive and serious way," Putin said.
Asked whether Russia would agree with U.S.-led military strikes if it was proven that the Syrian regime had carried out the attack, Putin replied: "I do not exclude that."
But he said it would be unacceptable for the West to go ahead with military action against the regime of Bashar al-Assad without the assent of the UN Security Council, where Russia has veto-wielding permanent membership.
Since the start of the Syrian conflict, the United States has frequently lamented Moscow's support for President Bashar al-Assad and its decision to block any UN Security Council action to censure him or to use military action against his regime.
With relations between the Kremlin and the White House considered as brittle as they have been since the end of the Cold War, there are no plans for Obama and Putin to meet on the sidelines of the G20 summit.
But the Russian leader's latest comments may at least help the leaders maintain a modicum of cordiality when they are forced to interact at leaders' meetings and public photo ops.
Obama's aides have said the U.S. leader will use the summit to try to lobby international support for his strategy for a "proportional" military response.
Since British lawmakers voted down a bid to take any military action against Assad's regime, Washington has found a strong partner in France but is seeking other allies.
Paris backs punitive military strikes against the regime and has urged its European Union partners to unite in response to the Syria crisis.
French President Francois Hollande can order military action without parliamentary approval but a poll Tuesday showed nearly three quarters of French people want parliament to vote on the issue.
Prime Minister Jean-Marc Ayrault however has ruled out a vote as he insisted there was no doubt that Damascus was behind the deadly chemical attack.
Launching his international foray, Obama headed for Sweden on Wednesday for a two-day visit likely to revolve around Syria, before travelling on to Russia.
His trip comes after he made important political headway at home when top Republican leaders firmly backed his plan to punish Assad for the suspected chemical weapons attack.
After a passionate plea by U.S. Secretary of State John Kerry not to succumb to "armchair isolationism", lawmakers on Monday drafted a bipartisan measure imposing a 90-day deadline for any US military intervention.
It would also ban the deployment of any U.S. troops on the ground in the war-torn nation, where fighting now in its third year has claimed more than 110,000 lives.
"This is not the time for armchair isolationism. This is not the time to be spectators to a slaughter. Neither our country nor our conscience can afford the cost of silence," Kerry told the Senate Foreign Relations committee.
His words were echoed by Defence Secretary Chuck Hagel, who said a U.S. refusal to act after Obama had clearly set chemical weapons use as a "red line" would undermine America's credibility abroad.
Obama has deferred any military action in Syria, seeking Congressional approval at a vote scheduled for September 9.
The U.S. Senate committee, after a nearly four-hour hearing, re-worded the resolution put forward by the White House to restrict it to "limited and tailored" use of the United States Armed Forces against Syria, according to a copy of the draft obtained by AFP.
It did "not authorise the use of the United States Armed Forces on the ground in Syria for the purpose of combat operations."
The Syrian opposition meanwhile said it feared a fresh chemical attack by the Assad regime after spotting three convoys of vehicles believed to be filled with such arms.
The Syrian army had also retaken control of the strategic town of Ariha in northwest Syria after 10 days of intense bombing and clashes, the Syrian Observatory for Human Rights said.