Putin Threatens Gas Shutdown Amid Ukraine Standoff
@AFP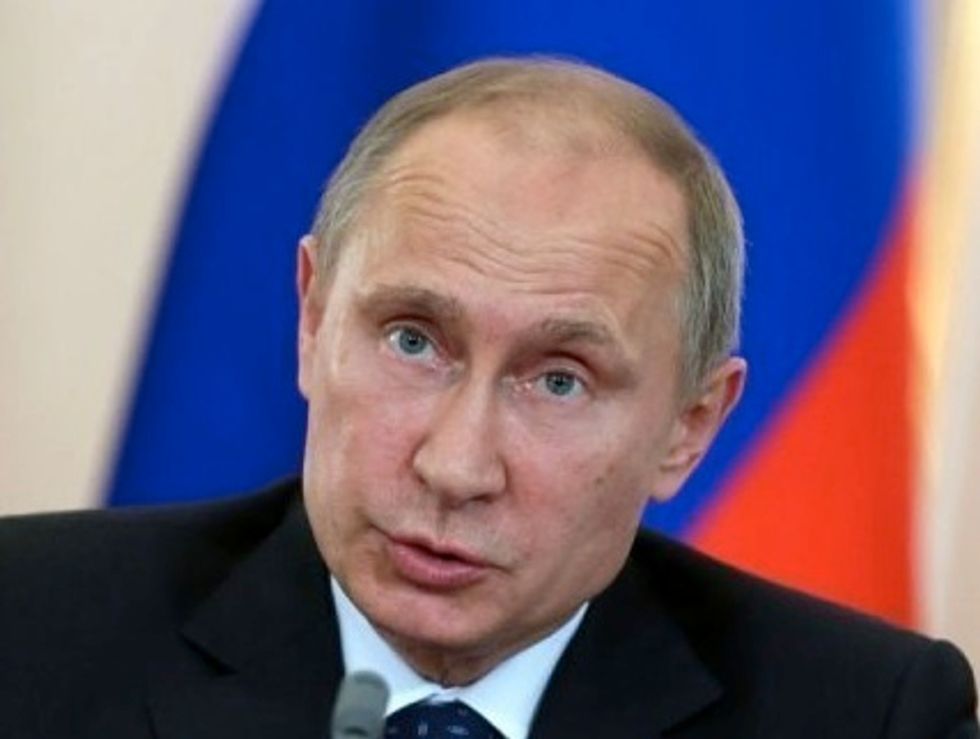 Donetsk (Ukraine) (AFP) – Russian President Vladimir Putin threatened on Thursday to cut off Ukraine's gas unless Europe drummed up the cash to cover its debts and ensure its own supplies in a flaring standoff over the splintered ex-Soviet state.
The veteran strongman's most direct warning about deliveries on which EU nations' economies depend came with Ukraine facing a new secession crisis following its loss of Crimea and relations between Moscow and the West plumbing new post-Cold War lows.
Ukraine's embattled leaders tried to keep what was left of their nation of 46 million people whole by vowing to amnesty pro-Russian separatists occupying eastern state buildings if they laid down their arms and halted a four-day siege.
The militants' demand to join Russia has added extra urgency to the first round of direct talks that EU and U.S. diplomats have managed to convince both Moscow and Kiev to attend in either Geneva or Vienna on April 17.
But Putin did not appear to be in a conciliatory mood as he dispatched a note to 18 EU nations warning that his energy-rich country was tired of accruing debts from a Western-backed leadership in Kiev whose legitimacy it did not recognize in the first place.
A copy of the letter distributed by the Kremlin showed Putin warning that Russia's state gas firm Gazprom would be "compelled to switch over to advance payment for gas deliveries, and in the event of further violation of the conditions of payment, (to) completely or partially cease gas deliveries" if Ukraine failed to settle a $2.2 billion (1.6 billion euro) debt.
Putin added that "Russia is prepared to participate in the effort to stabilize and restore Ukraine's economy" but only on "equal terms" with the European Union.
About 13 percent of the gas consumed by the bloc's 28 countries transits through Ukraine — a Russian neighbor whose two previous supply interruptions in 2006 and 2009 also came during efforts to build closer EU ties.
The threat of a Russian gas cutoff is a worry for Europe and a longer-term problem for cash-strapped Ukraine.
But the team that toppled Kremlin-backed president Viktor Yanukovych in February is more immediately anxious about regions where the ousted leader held sway breaking away to join Russia.
A group of armed assailants who stormed the state security building in the eastern city of Lugansk and the seat of government in nearby Donetsk want to hold independence referendums like the one that led to Crimea's annexation last month.
Ukraine's interior minister had earlier set a Friday morning deadline for the separatists to end their siege or face the possible use of force.
Acting President Oleksandr Turchynov tried to stave off the possibility of a bloody confrontation whose repercussions would be difficult to predict by offering to amnesty everyone who voluntarily gave up to the police.
"We can solve this problem today," Turchynov told lawmakers.
The two building occupations have drawn only small rallies of supporters and some polls show the region's majority would actually prefer not to join the Russian Federation.
But there were few signs the fighters were willing to cede ground.
The Donetsk separatists had earlier proclaimed the creation of their own "people's republic" and called on Putin to push the tens of thousands of troops now massed along the border into Ukraine's eastern industrial heartland.
They were busy on Thursday fortifying their barricades with razor wire and old tires that could be set on fire in case of a police assault.
Someone had painted a huge sign reading "Russia" on the side of the imposing building, while a small group of elderly people handed out fliers under the drizzling rain claiming "Nazis are in power" in Kiev.
"We do not need an amnesty — we need freedom," 40-year-old Katerina said while standing next to the barricades. "They want to kill us."
The negotiations in Donetsk — a blue-collar coal mining region where Yanukovych once served as governor — have involved some of Ukraine's most powerful security officers as well as its richest tycoon.
Officials said businessman and Shakhtar football club owner Rinat Akhmetov and the region's governor have both joined Kiev's efforts to tone down the militants' demands.
"They are working on a peaceful solution, and this fills us with optimism," said First Deputy Prime Minister Vitaliy Yarema.
Akhmetov — his wealth estimated by Forbes magazine at $11.4 billion — was a key financial backer of Yanukovych and still wields tremendous influence throughout Donetsk.
But Akhmetov is believed to be trying to establish closer relations with the new pro-Western leaders who are likely to prevail in snap May 25 presidential polls.
AFP Photo/Maxim Shipenkov