Putting Online Cooking Tips To The Test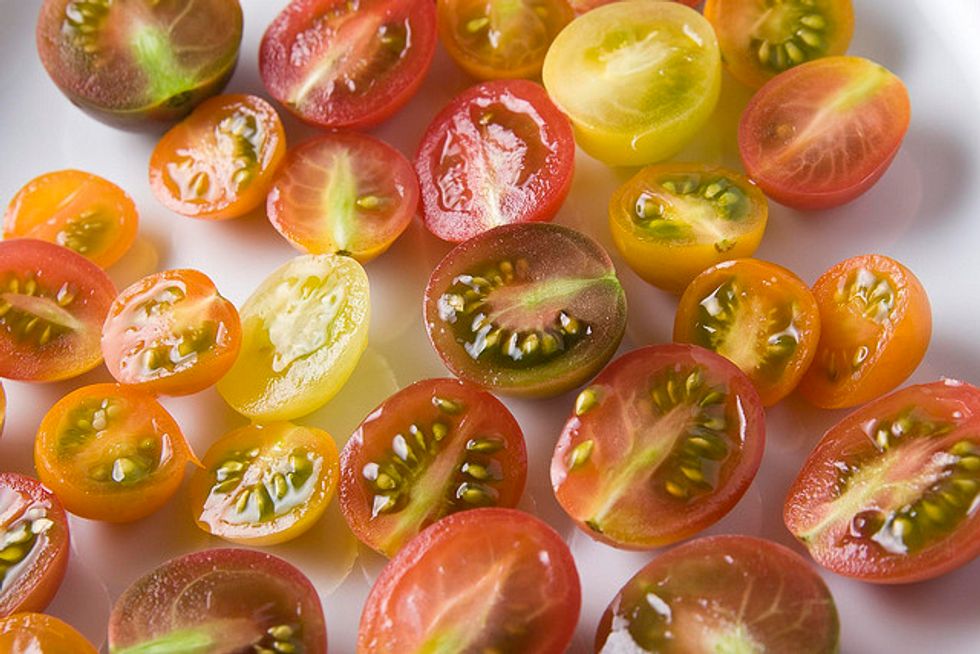 By Nancy Stohs, Milwaukee Journal Sentinel (TNS)
Nobody likes to be wrong.
But if you believe the Internet, you've been doing many things wrong YOUR WHOLE LIFE.
Packing your suitcase, removing a trash bag, untying knots, breaking in shoes, even breathing. And, of course, so many of those tasks you perform every day in your kitchen.
Perhaps you've felt the humiliation (or had an "aha" moment or two) watching videos about some of these ubiquitous little "we know better" posts on Facebook.
I'd been saving links to a few of them — who doesn't love a good time- or mess-saver? — when I decided, heck, I should put them to the test. Here are the thumbs-up and thumbs-down results from my morning of research:
THUMBS UP
Muffin-Poached Eggs: This one worked like a dream and couldn't be easier. Just break an egg into a muffin cup, place in a 350-degree oven and "poach" for 10 to 15 minutes.
I did mine in a nonstick, standard-size muffin pan (no greasing needed), and at 15 minutes the whites were firm and the yolks were part runny, part set — and of course, shaped in a perfect circle.
If you want your egg to fill out an English muffin for a breakfast sandwich, you'll want to use a jumbo muffin pan; adjust the baking time accordingly.
Halving Cherry Tomatoes En Masse: No more one at a time for me! Here's how this works: Arrange the tomatoes close together in a single layer on the flat side of a plastic lid (stem end down keeps them in place and assures nice cross-cuts). Cover with a second plastic lid, flat side down. (You could also use plates.)
Applying gentle pressure on top with one hand, horizontally slice between the lids with a sharp knife through all the tomatoes. Keeping the knife level is the only tricky part.
The Bacon Weave: This is fun. You might want to watch the Food & Wine video on this one or at least check out our step-by-step photos.
Basically, you cut a package of bacon strips in half crosswise, and then, on a parchment-lined baking sheet, weave six of those strips at a time into a tight square. Make as many squares as you want, then place a metal cooling rack on top to keep them in place.
Place in a 350- to 400-degree oven and bake 15 to 20 minutes, depending on temperature and how crisp you want your bacon. (I did mine at 375 degrees 20 minutes but might try 400 degrees next time.)
Then just blot off the grease, and it's sandwich ready.
Peeling A Banana: Ha — who can't do this? Well, if you're still peeling from the stem end, you're doing it all wrong. Not only is peeling from the bottom easier (once you've pinched the end), you don't have any of those pesky "strings" to deal with.
And according to the many know-it-alls who post this trick, it's how the monkeys do it.
Eating A Cupcake Neatly: Basically, you twist the cake part to produce two halves. Then you place the bottom half on top of the frosting to create a cupcake "sandwich." Result: frosting in every bite, and no frosting mustache.
I was skeptical that this method would work with cupcake-shop cupcakes, with their mile-high caps of frosting, but lo and behold, it did. (But it's still too much frosting!)
THUMBS DOWN
Stemming A Strawberry: This called for inserting a skewer into the strawberry from the bottom and poking out the leafy stem through the top.
I used a short wooden skewer. You need the pointed end to get into the berry, but to force out the stem, you need to then re-insert the skewer flat end first. Hassle.
Other tips, I noticed later online, call for using a drinking straw. That didn't work any better. I'll stick to my handy little stemmer. Or a good sharp paring knife.
Peeling Kiwi (Avocado, Mango) On The Edge Of A Glass: The sped-up video I watched online made it look so easy. Just cut the kiwi or avocado in half, or slice off the mango on both sides of the pit, then run it down the side of a glass drinking glass to remove the flesh in one piece.
Ha! Perhaps after lots and lots of practice.
I tried one kiwi half, then another, and another, each time leaving at least half the fruit inside the skin. I finally took a spoon to the last kiwi half — much easier.
After that I wasn't about to risk messing up a perfectly good mango or avocado.
Photo: Young Sok Yun via Flickr