Quarterly Fundraising Adds Up To GOP Catastrophe
@EricBoehlert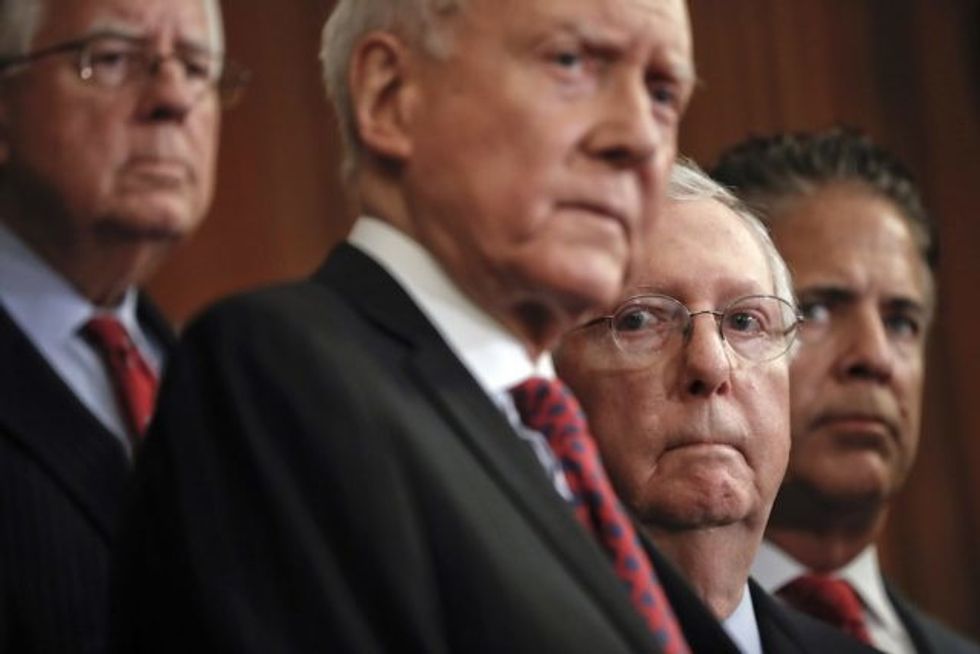 Reprinted with permission from Shareblue.com
With lots of Republican House incumbents getting buried by their opponents in fundraising, more and more Republican strategists are denouncing their party's prospects for the upcoming midterms, and acknowledging they may be facing the worst possible outcomes.
"Thanks to a map that puts more Democratic than Republican seats at risk, our party will still cling to control of the Senate, but GOP House members lack insulation: They will crawl out from the smoking rubble of a 40- to 50-seat pounding to find they have lost their majority," writes longtime GOP operative Alex Castellanos.
Democrats have to flip 24 seats to take control of the House next year. Meanwhile, 43 House Republicans raised less money than Democratic challengers in the first three months of 2018. And 16 Republican incumbents have less cash on hand than Democratic challengers, counting total fundraising amounts from this year and last year.
For instance, Abby Finkenauer, the Democratic candidate running in Iowa's 1st Congressional District, has raised $482,000, compared to $303,000 raised by her Republican incumbent opponent, Rep. Rod Blum.
And in Minnesota's 2nd Congressional District, Democrat Angie Craig has raised $531,316 compared to $285,669 for her opponent, Rep. Jason Lewis.
That pattern is being repeated across the country.
Why does the fundraising matter so much? Because for House races, there's a clear correlation between the incumbent party failing to raise money and the incumbent party being voted out of power.
"It's a mirror image of this time in 2010, seven months before Republicans picked up 63 House seats during President Barack Obama's first term," Politico noted. "At this point in the 2010 election cycle, 35 Democratic incumbents were outraised by Republican challengers, and more than a third lost their races in November."
Increasingly, Republican campaign pros are lashing out at House members.
"It's inexcusable for an incumbent to be outraised," said Corry Bliss, executive director of the Congressional Leadership Fund, the super PAC aligned with House Speaker Paul Ryan. "We're not investing in any more Rick Saccones."
He's referring to the underwhelming Republican who recently lost the Pennsylvania special election in the 18th District, just one year after Trump won it by 20 points. Saccone was badly outraised by his Democratic candidate, Conor Lamb.
As one Republican consultant concedes to Politico, while looking ahead to November and the anemic fundraising, "Some people just can't be saved."