Questioning Pence's Loyalty, Trump Disturbs Advisers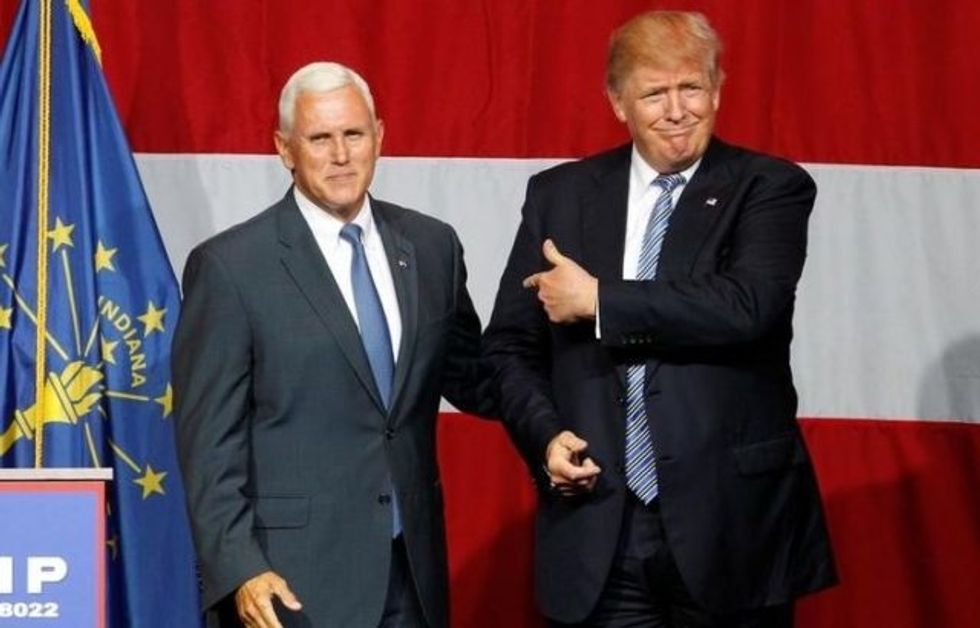 Reprinted with permission from AlterNet.
Despite publicly asking Vice President Mike Pence last week to be his running mate in 2020, President Donald Trump is secretly harboring doubts about the man first in line to the Oval Office, according to a new report from the New York Times.
Citing nearly a dozen White House aides and Trump allies, reporters Maggie Haberman and Katie Rogers find that Trump has been repeatedly asking many of his advisers about Pence's loyalty. The question has come up so much, they say, that some of his advisers have become "alarmed.'
The marriage of Trump and Pence's public images was always one of convenience — for both sides. Pence was initially critical of Trump's bid for the presidency, though he was careful to hedge his bets. Reports suggest that, after picking Pence to be his running mate in 2016, Trump had regrets about not picking Chris Christie.
But Pence turned out to have significant upsides. His credentials with the evangelical community helped solidify Trump as a candidate committed to the right-wing Christian cause, and it may have well have played a decisive role in securing his victory.
And yet, despite his public performance as a devoted sycophant, Pence's allegiance has not been unwavering. When the "Access Hollywood" tape that captured Trump talking about his casual abuse of women in October 2016, Pence put out a disappointed statement — which the Times reports the president has never forgotten about.
Some of Trump's advisers reportedly believe that Pence has become expendable after Trump proved his own fealty to evangelicals by appointing their preferred judges and showing his commitment to defending their values — at least in policy, if not in his personal life. Others suggest that Trump's questions about Pence's loyalty are simply a proxy for questions about Nick Ayers, the vice president's chief of staff who could potentially replace White House Chief of Staff John Kelly, according to the report.
Cody Fenwick is a reporter and editor. Follow him on Twitter @codytfenwick.