Rachel Maddow Closes 2017 By Beating The Pants Off Sean Hannity
@EricBoehlert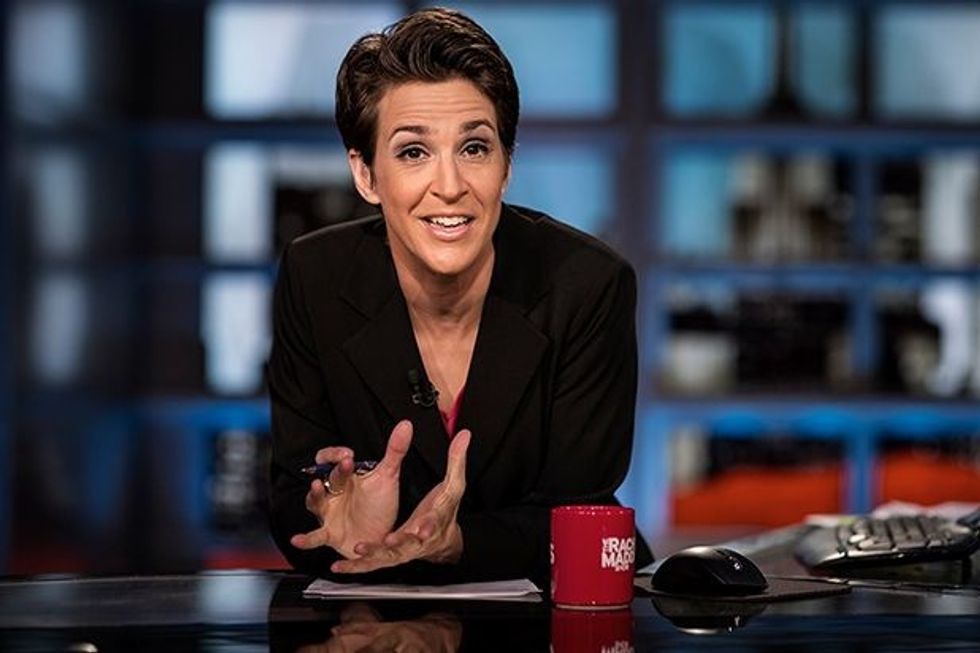 Reprinted with permission from Shareblue.com
MSNBC's unabashed liberal primetime lineup produced a stunning ratings success for the network in 2017, boosting its viewership by nearly 50 percent compared to the 2016 campaign cycle. MSNBC finishes the year with its largest daily audience since the network debuted in 1996.
The primetime home of Chris Hayes, Rachel Maddow, and Lawrence O'Donnell posted the biggest ratings gain in 2017 of any of the all-news cable channels.
And in terms of the entire cable television spectrum, "MSNBC finished 2017 as the third-most-watched basic cable network," Adweek reports. "Only behind powerhouses Fox News and ESPN,"
Last year, MSNBC ranked as the 8th most-watched basic cable channel.
MSNBC averaged 1.6 million primetime viewers this year. For context, that compares to the 900,000 viewers MSNBC averaged in 2011, and the paltry 385,000 viewers the network claimed in primetime during 2006 when the channel was barely a blip on the cable ratings screen.
Overall, Donald Trump was very good to MSNBC, CNN, and Fox News this year. All three boasted big audiences gains as viewers scrambled to keep pace with the chaotic news events surrounding the historically unpopular president. But MSNBC posted the largest gains over last year.
And it wasn't just primetime. Shows hosted by Nicolle Wallace, Ali Velshi and Stephanie Ruhle, Ari Melber, and Joy Reid all recorded big numbers in 2017.
Heading into 2018, MSNBC's Maddow is riding a ratings momentum wave. Pitted against Sean Hannity in the 9 p.m. time slot, Maddow in recent weeks has moved ahead of Trump's favorite cheerleader and has been regularly beating Hannity among viewers 25-54, the demographic most sought after by advertisers.
During the first three weeks of December, Maddow bested Hannity on 10 of the 15 weekday broadcasts.
Hannity remains Fox News' most valuable and longest-running primetime property. If he falls into a permanent second place position in 2018 as Trump's Russia scandal likely grows and viewers clamor for Maddow's analysis, that would be a major professional embarrassment for Fox News, and a personal humiliation for Fox News' Trump-worshipping host.
Looking back on 2017, the cable news ratings turning point came in May when Trump fired FBI Director James Comey and basically all hell broke loose on the Russia election story. Filled with endless revelations that rocked the Trump White House, the month of May motivated MSNBC fans to tune into their favorite programs.
Suddenly Fox News, which hadn't been in a serious ratings fight for at least a decade, was challenged nightly by MSNBC.
Electorally, all signs are pointing to a Democratic wave in 2018. Will the same be true for cable news?