Racial Pain That Just Won't Quit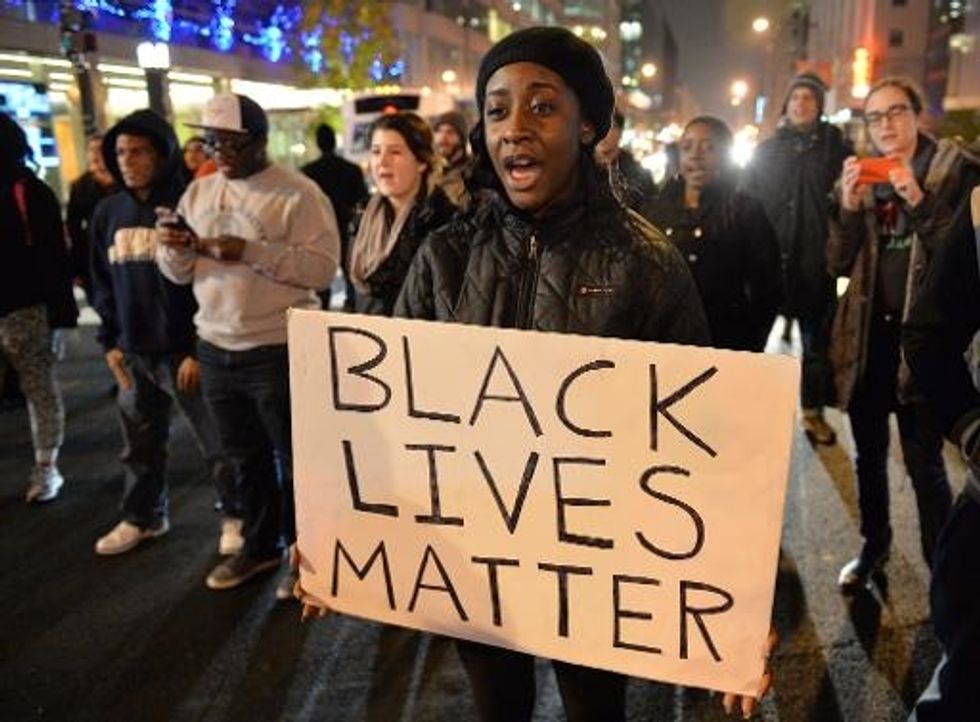 The good news in race this week is that after a municipal election in roiling Ferguson, Missouri, the six-member city council now has three black members instead of one. But the bad news, on the 150th anniversary of Gen. Robert E. Lee's surrender at Appomattox Court House, is beyond tragic.
In North Charleston, South Carolina, a white police officer was charged with murdering a black man after a video shot by a bystander showed that the man was running away from him. And in Princess Anne, Maryland, carbon monoxide from a generator was found to be the cause of death for a divorced black father and his seven children.
This is the week that the Confederacy, and slavery, suffered permanent defeat. Yet the back stories in these cases are reminders of both the nation's original sin and the prejudices, pathologies, and policy failures that continue to haunt us.
Walter Scott, 50, the South Carolina victim, was stopped for a broken taillight and shot eight times. Officer Michael Thomas Slager's detailed account of the incident was contradicted by the video, leading to the murder charge. Scott had four children, a fiancée, and a job. He had been arrested 10 times, according to the Charleston Post and Courier, mostly for failing to pay child support and show up at court hearings. The only indicator of violence, the newspaper said, came 28 years ago when he was convicted on an assault and battery charge.
Rodney Todd, 36, the Maryland man, was trying to keep his children warm after the local utility removed a stolen electrical meter from his rental home late last month. According to The Washington Post, Todd had a troubled, violent history with his ex-wife, the children's mother, and served a year in jail. But friends and relatives said he had turned his life around, gotten a job at the University of Maryland Eastern Shore, and become a proud, conscientious father.
Before Scott and Todd, there was Ferguson — not so much the killing of Michael Brown, but the devastating Justice Department report about police and court bias against poor black residents of the two-thirds black town, who were fined constantly for offenses like jaywalking and then jailed when they couldn't pay those fines, producing cascading effects such as lost jobs and fury at the police and power structure.
Before Scott and Todd, there was also Eric Garner, the Staten Island, New York man put in a chokehold by police who were trying to arrest him for selling untaxed cigarettes. The chokehold was the main cause of death, aggravated by obesity and asthma.
Our history and our failures are flashing before our eyes in all of these cases. The statistics don't lie. From the Congressional Research Service: Children living with single mothers are four times as likely to be poor as those in married households. From the Kids Count Data Book of 2014: Two-thirds of black children live in single-parent families, nearly twice the national average; one in three live in high poverty areas, more than twice the national average; and nearly one-third don't graduate from high school on time, compared with 19 percent nationally. From the Pew Research Center: In 2010, black men were six times as likely as white men to be behind bars. And in 2013, after the Great Recession, white households had 13 times the median wealth of black households — the largest gap since 1989. From Gallup: Obesity and asthma are much more common among poor people.
Now add the shocking Justice Department reports on police violence and bias against black residents of Cleveland and Ferguson, and the reports to come from the agency's continuing investigations of other police departments. And finally, if you are white, think about your white friends and family, your white self. How many of us have been stopped for a broken taillight or an expired inspection sticker and were — or pretended to be — surprised by that news? And not having missed child support payments or court dates, not fearing jail, we did not flee. And having the money and job flexibility to fix the problem, we simply promised to get it done. And instead of being killed or even ticketed, we were let off with a warning.
The North Charleston police chief says all officers will now wear body cameras. That's progress, but not enough. It's time for policymakers to put ideology, fixed ideas and electoral concerns aside, look at the data on what works, and start disentangling a Gordian knot that only seems to have gotten tighter and more toxic since that defining moment 150 years ago.
Follow Jill Lawrence on Twitter @JillDLawrence. To find out more about Jill Lawrence and read features by other Creators Syndicate writers and cartoonists, visit the Creators Syndicate website at www.creators.com.
AFP Photo/Mladen Antonov