Racist Trump-Inspired Campaign Flyers Viciously Target Indian-American And Chinese-American Candidates In NJ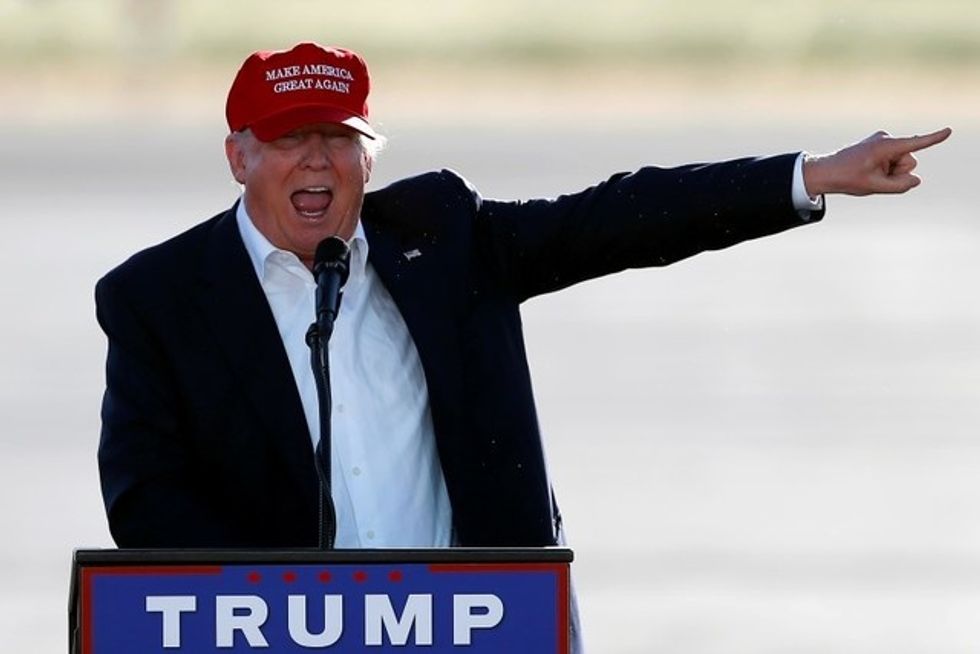 Reprinted with permission from AlterNet.
As the first elections post-Trump approach next week, his campaign slogans—and hatred—are seeping into election materials in Edison, New Jersey. Campaign flyers, received on Wednesday and sent out by an unknown group, target two school board candidates using racist and anti-immigrant language.
The flyers center the slogan "Make Edison Great Again," a variation of Donald Trump's campaign slogan "Make America Great Again." It also stamps the word "deport" underneath the photos of the candidates and reads, "Stop Jerry Shi & Falguni Patel From taking over our School Board."

Photo Credit: Submitted photo/ NJ 101.5
Falguni Patel is a Democratic committeewoman and an immigration lawyer. NJ 101.5 reported that Patel said she "was born and raised in New Jersey. To see the word 'deport' on my picture—where are you going to deport me to? Really, it's just outrageous."
The other side of the flyers feature a large stop sign with six statements including "Stop the overcrowding!" and "Stop the outsiders!" above the larger-print statement "Let's take back our Edison & our Schools."

Photo credit: NJ 101.5
This wording also mirrors that of Trump's campaign, when he also used the phrase "Time to take back our country."
LETS GO AMERICA! Time to take back
our country, and #MakeAmericaGreatAgain
Watch video & go#VoteTrump! https://t.co/lsKdqGFyvQ

— Donald J. Trump (@realDonaldTrump) April 19, 2016
The Southern Poverty Law Center's Hatewatch blog, which gathers reports of incidents of "bias-related harassment and intimidation around the country," reported that in the month after the 2016 election, "the total number has surpassed the 1,000 mark."
Edison Township, which is less than 40 miles away from New York City, is diverse—NJ.com reports that according to the U.S. census, "nearly half of Edison's approximately 102,000 residents are Asian… About 45 percent of the town's residents are foreign born."
The flyer also explicitly mentions "Chinese school," "Indian school" and "Cricket fields" as examples of "Chinese and Indians are taking over our town."NJ 101.5 reports that "a Chinese community group pays the school district rent to hold Chinese language classes in classrooms" during the weekend. In a 2014 feature published on MyCentralJersey.com about cricket and Indian immigrants in New Jersey, it reports that there are only "about 20 to 25 cricket fields in Central Jersey."
NJ 101.5 reported that Patel said though she "wasn't always being received so well" while campaigning, in regard to the flyers she "didn't expect anything like that. We live in such a diverse town, it's very shocking somebody would put that in writing."
The mayoral candidates, incumbent Democrat Tom Lankey and Republican Keith Hahn, decried the campaign flyers, saying they are "despicable" and "shameful and disgraceful," respectively. Both also called for those behind the materials to be discovered. The flyers violate New Jersey election law as they do not say who funded them.
In a statement to NJ 101.5, Lankey said:
"It has become a sad reality that in our polarized political atmosphere, some people suddenly feel empowered to publicly express these vile nativist ideas. Make no mistake, we will do everything we can to expose the shameful people behind this."
With the rise in hate incidents following the 2016 election and the distribution of materials like the flyers in Edison, it is crucial to monitor next week's elections for more incidents of racial hatred and report them if they occur.
Emily C. Bell is a news writer at AlterNet.