Advertising
Start your day with National Memo Newsletter
Know first.
The opinions that matter. Delivered to your inbox every morning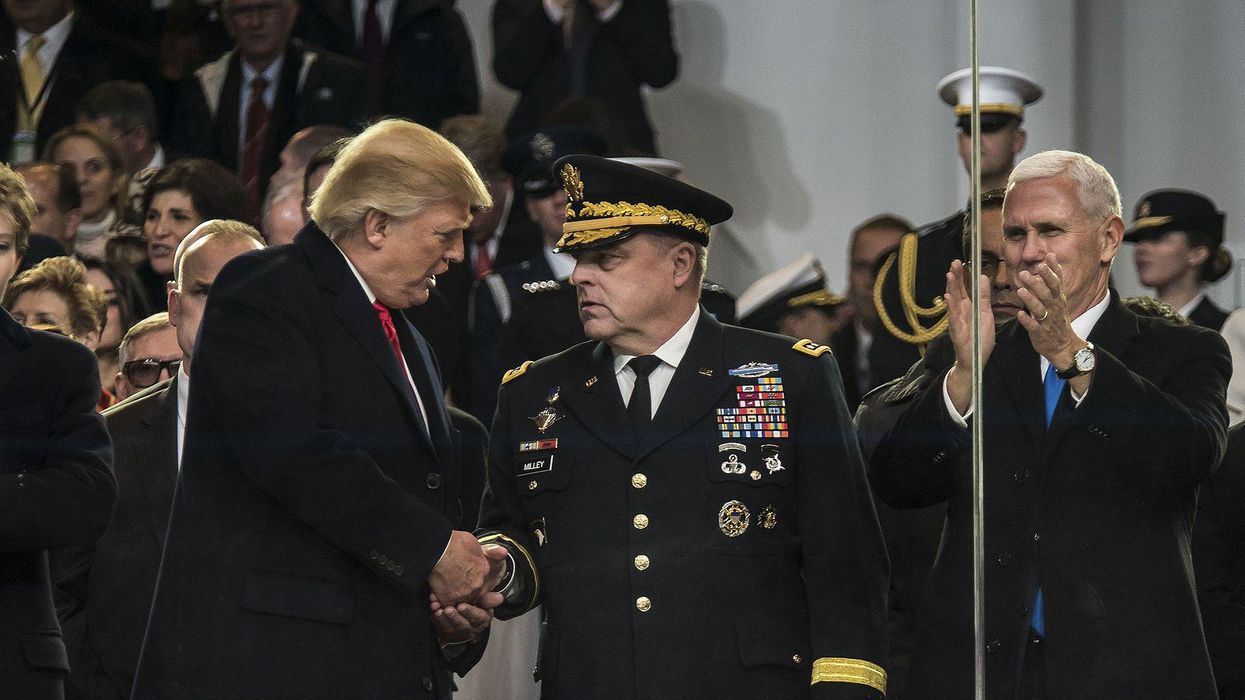 We've long known who Donald Trump is: narcissistic, impressed with authoritarian displays, contemptuous of anyone he sees as low status, a man for whom the highest principle is his own self-interest. It's still shocking to read new accounts of the moments where he's most willing to come out and show all that, to not even pretend to be anything but what he is—and holy crap, does The Atlantic's Jeffrey Goldberg have the goods in his new profile of outgoing Joint Chiefs of Staff Chair Mark Milley, which focuses on Milley's efforts to protect the military as a nonpartisan institution under Trump.
Two moments stand out for Trump's casual cruelty. In one, a severely wounded Army captain had sung "God Bless America" at the welcome ceremony for Milley as the new Joint Chiefs of Staff chair:
After Avila's performance, Trump walked over to congratulate him, but then said to Milley, within earshot of several witnesses, "Why do you bring people like that here? No one wants to see that, the wounded." Never let Avila appear in public again, Trump told Milley.
It's a moment that echoed Trump mocking a disabled reporter, or reportedly refusing to visit a cemetery for World War II dead in France, saying "Why should I go to that cemetery? It's filled with losers" and calling dead Marines "suckers." That cruelty was not how Trump's reaction to Capt. Mark Avila was reported at the time.
It's too much to hope that the media will learn its lesson here, of course.
While Trump sees members of the military who are injured or killed as "losers," "suckers," and people "no one wants to see," he is a big fan of those who commit war crimes in a macho way. Goldberg also recounts Milley's efforts to keep Trump from returning a Navy SEAL pin to Eddie Gallagher, a SEAL found guilty of posing with the corpse of a prisoner who, witnesses testified, Gallagher had stabbed in the neck. Milley argued to Trump that it was up to the SEALs to decide whether Gallagher would keep his pin.
Trump called Gallagher a hero and said he didn't understand why he was being punished."Because he slit the throat of a wounded prisoner," Milley said.
"The guy was going to die anyway," Trump said.
Milley answered, "Mr. President, we have military ethics and laws about what happens in battle. We can't do that kind of thing. It's a war crime." Trump answered that he didn't understand "the big deal." He went on, "You guys"—meaning combat soldiers—"are all just killers. What's the difference?"
"You guys are all just killers" is a statement breathtaking in its simultaneous characterization of what service members are supposed to do and its dismissal of "war crime" as a meaningful category.
Soldiers are supposed to kill indiscriminately, as far as Trump is concerned. That's what he wants to see from them. Goldberg also describes how Trump elevated both Milley and former Defense Secretary James Mattis because they fit his mental model of a general. "Trump picked [Milley] as chief because he looks like what Trump thinks a general should look like," Sen. Angus King told Goldberg. Trump wanted burly old white men who seemed like they'd killed a lot of people and would be happy to do it again, in part because he thought they'd be more likely to go along with whatever he wanted to do.
"The president couldn't fathom people who served their nation honorably," John Kelly, a retired Marine general who served as Trump's White House chief of staff told Goldberg of Milley, but it applies to Trump's blank response to the concept of a war crime, as well. And, Goldberg reports, Milley more than once had to steer Trump away from committing his own war crimes.
The anecdotes as reported by Goldberg are stunning in their embrace of military violence and disdain for anyone who has been left disabled by it. The picture that emerges of Trump—a picture consistent with everything we've seen from him—is of a child playing with toy soldiers, an unquestionable dictator over his little inanimate figures, whose every decision is righteous and who throws the broken soldiers away, angered by their very existence. The problem, of course, is that here we are talking about actual people, and very real war crimes.
Reprinted with permission from Daily Kos.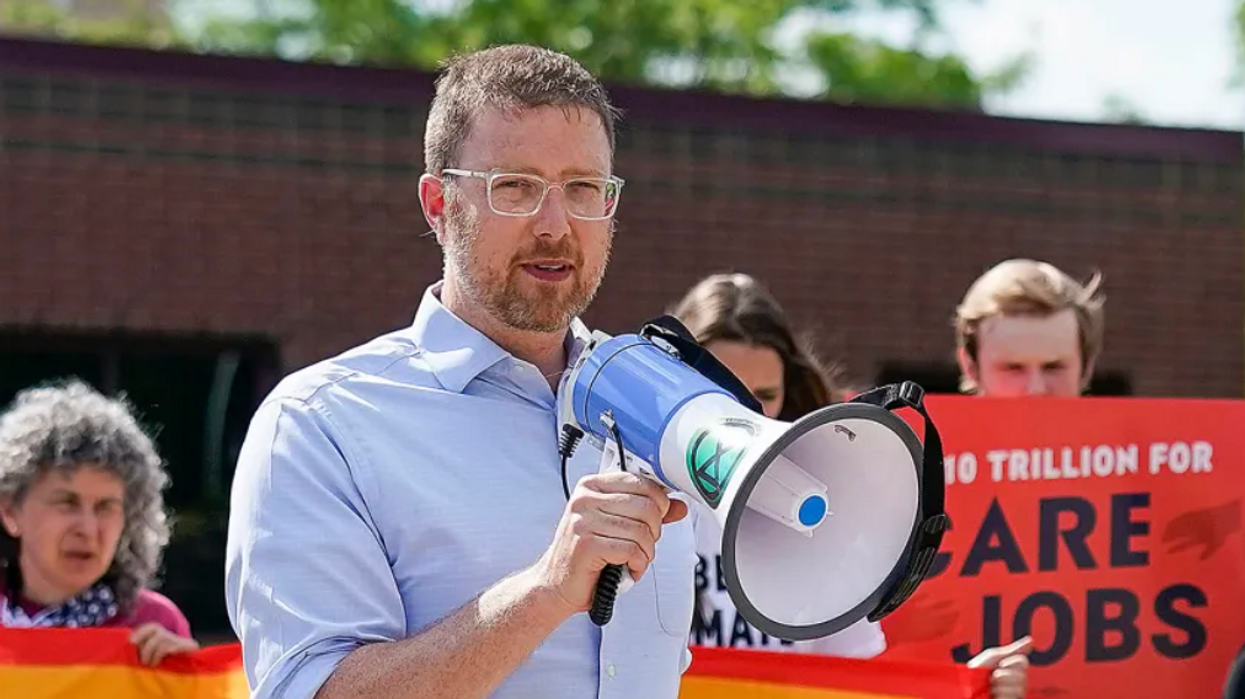 White House
From Alabama Republicans' blatantly discriminatory congressional map, to the Wisconsin GOP's ousting of a the states' top election official and attempt to impeach a liberal Supreme Court justice, to North Carolina's decision to allow the majority-Republican legislature to appoint state and local election board members, News from the States reports these anti-democratic moves have all recently "generated national headlines" and stoked fears ahead of the 2024 presidential election.

"If they can impeach someone successfully to stop them from ruling in a way they don't like, what will they do after the 2024 election?" Ben Wikler, the chair of the Wisconsin Democratic Party told the news outlet, referring to state Republicans' "threat to impeach" state Supreme Court Justice Janet Protasiewicz. "It was one vote in our state Supreme Court that prevented the 2020 election from being overturned in Wisconsin. And they know who the justices were, so they could just suspend them. This would open the door to monsters that I don't think they'd be able to control."
News from the States points out other states like Ohio and Florida, which are also pushing anti-democratic legislation, have "flown further under the radar."
According to the report, "In Ohio, the Supreme Court has ruled five times that the state's current legislative maps are unconstitutional gerrymanders favoring Republicans. But the bipartisan commission that's supposed to draw fair maps hasn't met since May 2022."
Furthermore, "Lawmakers' goal appears to be to run out the clock and ram through skewed maps with little public scrutiny. Because the Supreme Court now has a conservative majority, it's expected to green-light whatever lawmakers come up with."
In the Sunshine State, "Acting on a request from the speaker of the House, the state Supreme Court last month created a commission to study changing the way prosecutors and judges are elected," the news outlet notes, which one advocate warned "would almost certainly be a near-fatal blow against the reform prosecutor movement in the state."
The report notes while these types of "power grabs" within state legislatures are not new, "advocates say, these efforts are even more dangerous for democracy. That's because, by giving lawmakers more power over elections or over their state's judicial system, many of these schemes strengthen and reinforce the ultimate threat of outright election subversion."
Joanna Lydgate, Chief Executive Officer of pro-democracy group States United Action emphasized, "We should call this what it is: an effort to lay the groundwork to subvert the will of the voters in future elections. While the focus is often on the national picture, our elections are run by the states. That means we need to keep shining a light on state-level efforts that undermine our democracy. It's the only way to shut it down."
Reprinted with permission from Alternet.