Ramble On: At CPAC, Trump Rants Until Auditorium Starts To Empty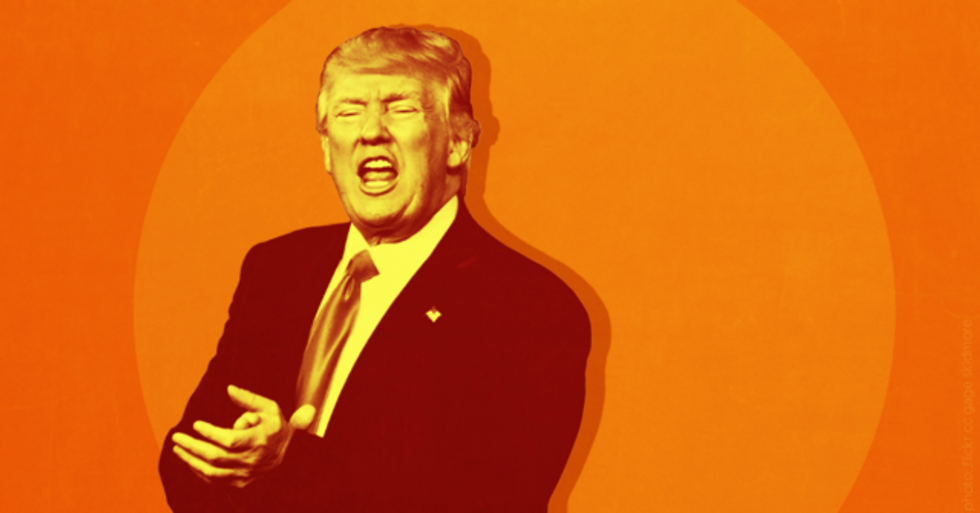 When Donald Trump showed up for his annual appearance at the Conservative Political Action Conference outside Washington on Saturday afternoon, he must have anticipated a happy ending to a very bad week. Here seated before him were thousands of buzzing cult followers, eager to rise and applaud repeatedly even as he rambled on inanely for hours. Scheduled to speak for 50 minutes, according to the CPAC schedule, Trump just couldn't tear himself away from the "love" in that big hotel ballroom, as he put it. So he just didn't stop for a long, long time.
Well before he finally did stop, however, people started to stream out of the ballroom — just around the moment when his meandering remarks turned to crowd size, one of his favorite topics. It was amazing to hear him boast that nobody had left while he spoke, even as he watched them walking out the doors — and then to hear him predict that the media would report people had left, as if it were untrue. (At that point, someone in the rear yelled, "Fake news!")
That scary little moment showed again how Trump gaslights his base and how susceptible they are to his tricks. No doubt those who walked out while he was talking would later agree with the president that nobody had out. Anyone who laments the loss of presidential dignity would find no agreement among these fine people, bless their hearts. They jump up and cheer when they hear him scream "Bullshit!" and "We kicked their ass!"
As for the speech itself, we've all heard most of this guff before. Trump remains obsessed with many of the same matters that have preoccupied him for years, from the number of rubes who attended his inauguration to his theory that tariffs can make America rich. At first, the speech text focused on trade policy — with Trump hilariously claiming that he personally had "found" several dusty US statutes that justified his tariffs — but soon veered "off script." He had won the presidency by going off script, he gibed, and he isn't about to change.
Perpetually self-indulgent, Trump just lets it all hang out. And in recognition of that stream-of-consciousness style, let's not pretend that he delivered a coherent speech at CPAC — and instead, simply note a series of moments:
Early on he reminded us that his election in 2016 "was the greatest of all time."
He reasserted the wisdom of firing FBI director James Comey, a "bad cop" who "did a horrible job…Everybody hated him."
He wanted to be sure we know all the reasons why Robert Mueller should not be investigating him, including that he wanted to be FBI director, that "Comey is his best friend…and those are a few of the conflicts."
When the Supreme Court overturns Obamacare, he promised, "we will get together with the Democrats" to bring America "really great health care." (That sounds very familiar.)
Blasting the "socialist" Democrats, he explained: "Socialism is only about one thing. Socialism is about power for the ruling class." (But obviously it's not socialism to appoint a cabinet of billionaires.)
He renewed his ridiculous claim that Mexican drug cartels flourish because ICE "doesn't have a border wall behind them."
Mocking Senators, including Republicans, he lispingly noted that they're "concerned about precedent" set by his national emergency declaration. Well, he's concerned about murderers and rapists flooding across the border.
By the way, we have to fix "our broken immigration system," especially "chain migration." Please don't tell Grandpa Drumpf — or Melania's parents.
He complained that media saw midterm election as "a humiliating defeat" for him, when it was truly a great victory. "I wasn't running!" he cries. (Although he told everyone to vote as if he was.)
Never ever call those other people "the Democratic party," Trump instructed. Always call them "the Democrat party" — because "it sounds bad." (He's really a "conservative" now, see?)
There can be no collusion, he argued, because Melania once said: "You never spoke to anyone from Russia, darling!" (OK, forget collusion. Does anyone believe she called him "darling"?)
The failed summit with Kim Jong Un was "very productive…And we haven't given him anything yet." (Except for exactly what the dictator wanted.)
We should feel sorry for Trump, not the Warmbier family, according to the president. Although he lampooned their suffering, he loves the Warmbiers, including their late son Otto. But he needed to suck up to Kim, whose regime tortured Otto to death. "I'm in a horrible position," Trump said.
You can read the whole thing here, if you have those tendencies.