Paul Faces Bipartisan Backlash For Delaying Ukraine Military Aid
@next2godwin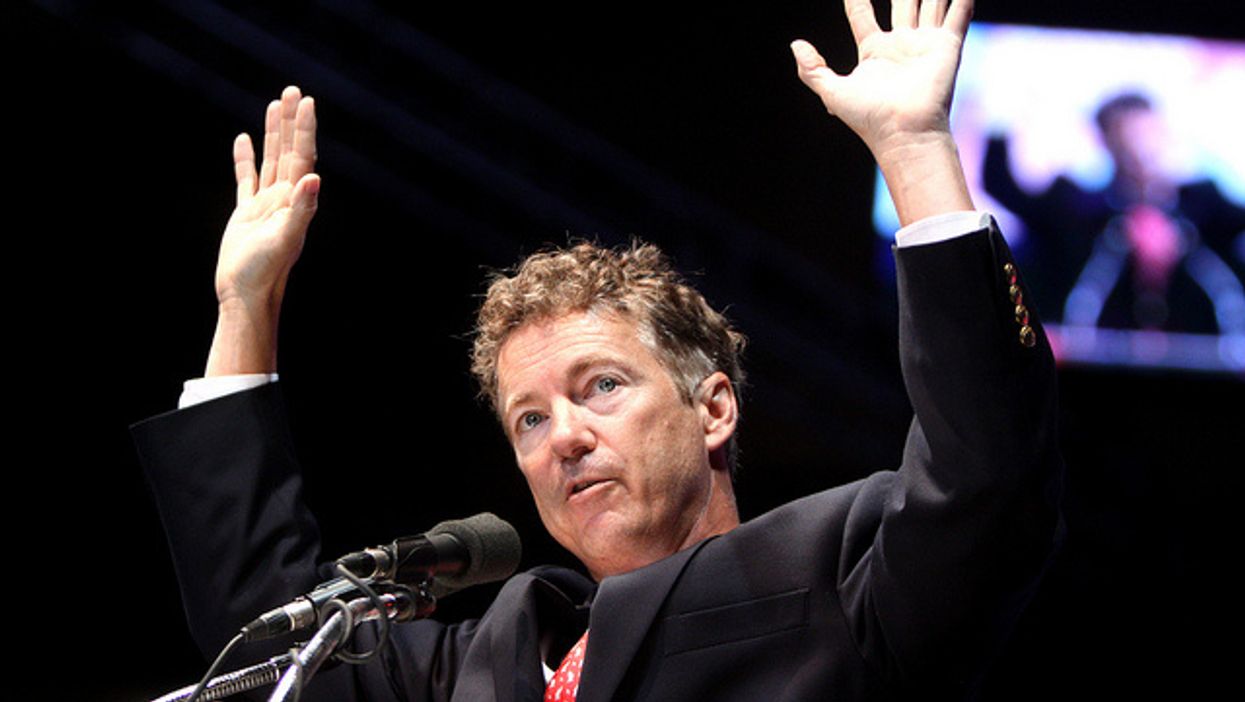 On Thursday, a bipartisan effort to facilitate the speedy passage of a $40 billion aid bill for Ukraine in the Senate was stymied by a Republican who has parroted Putin's talking points and blamed President Joe Biden for Russia's invasion of Ukraine: Senator Rand Paul (R-KY).
Paul denied the leaders of both parties the unanimous consent needed to expeditiously debate and vote on the bill, which would send much-needed economic, humanitarian, and defense aid to Ukraine.
"My oath of office is to the U.S. Constitution, not to any foreign nation," Paul told his 3.8 million Twitter followers on Thursday evening, defending his opposition to the bill that had broad bipartisan support in the House and Senate.
"This is the second spending bill for Ukraine in two months. And this bill is three times larger than the first," Paul said on the Senate floor. "Congress just wants to keep on spending, and spending."
Paul went on to demand that the bill be amended to include language that would authorize the installation of an Inspector General to oversee the spending. However, this late change would be time-consuming, causing delays at a time when Ukraine's southern and eastern regions face relentless Russian bombardments.
Exasperated, the Senate majority and minority leaders, Senators Chuck Schumer (D-NY) and Mitch McConnell (R-KY), offered to let senators vote on the amendment Paul proposed, which would need 60 votes to succeed, but Paul refused.
"If Senator Paul persists in his reckless demands ... all he will accomplish is to single-handedly delay desperately-needed Ukraine aid," Schumer railed against the lone holdout.
Indeed, the Kentuckian's adamance delayed the bill's passage into next week, as the Senate must now take the lengthy procedural steps outlined in the chamber's rules.
The delay could pose problems for a far-reaching Western effort to bolster Ukraine in its bid to fend off an aggressive Russia.
"Ukraine is not asking us to fight this war. They're only asking for the resources they need to defend themselves against this deranged invasion. And they need this help right now," said McConnell, Paul's fellow senator from Kentucky.
Paul faced intense backlash for his unimpressive attempt at political theater, even from top Ukrainian government officials.
Mykhailo Podolyak, an adviser to Ukrainian President Volodymyr Zelensky, tweeted, "We all saw a @CNN video where [Russian] soldiers shot civilians in the back just for fun. How many such crimes are happening at the moment in the east and south of? Price of delay per day – hundreds killed and raped. Price per week – thousands. Have a nice morning coffee, @RandPaul."
"We could have already started using the new U.S. assistance package to more effectively save lives of Ukrainians who defend the democratic world," tweeted Ukraine's Foreign Minister, Dmytro Kulbea, "and @RandPaul delayed so much needed support."
Schumer further assailed Paul's selfish demands in his floor speech. "The junior senator from Kentucky is preventing the swift passage of Ukraine aid because he wants to add at the last minute his own changes directly into the bill."
"His change is strongly opposed by many members of both parties. He is not even asking for an amendment [vote]. He is simply saying my way or the highway," he added.
Paul dismissed the collective rebuke in a Friday interview with a conservative radio talk show. "We don't need to be the sugar daddy and the policemen of the world that we have to do everything," he told the hosts.
The Ukraine aid package wasn't the only bill Paul stalled on Thursday. He also blocked the Senate from passing a bill that would protect federal judges from harm by scrubbing their personal information from public records and databases, according to CNN.
His reason? The bill didn't include similar protection for lawmakers.