Rand Paul Clarifies 'Hyperbole': Okay, My Fellow GOPers Don't Want Another Terrorist Attack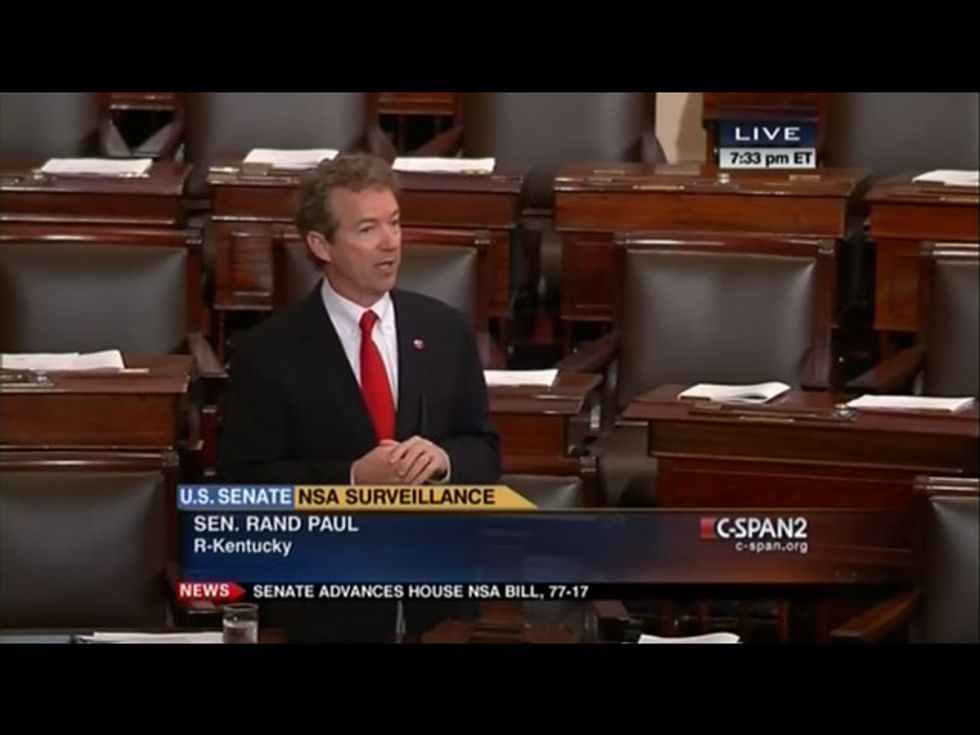 Senator Rand Paul (R-KY) has made huge headlines — and gotten some traction for his presidential campaign — with his successful delay of the renewal for the PATRIOT Act. But he may have kicked up some additional trouble for himself when he issued one particular attack on his fellow Republicans during his Sunday night filibuster on the Senate floor.
"People here in town think I'm making a huge mistake. Some of them, I think, secretly want there to be an attack on the United States, so they can blame it on me," Paul said. "One of the people in the media the other day, came up to me and said, 'Oh, when there's a great attack, aren't you going to feel guilty that you caused this great attack?' And it's like — the people who attack us are responsible for attacks on us."
But by Monday morning, while he was still touting the delay of the PATRIOT Act as a great victory, he did figure out that he should back off that rhetorical turn.
Paul appeared Monday Morning on Fox News. The key moment below comes at the 3:50 mark:
"I think sometimes going after people's motives, and impugning people's motives, is a mistake. And in the heat of battle, I think sometimes hyperbole can get the better of all of us."
But he added, however, that his rivals also "use fear" to create support for their own policies on surveillance.