Rand Paul Faces Challenge In Opposing GOP War Hawks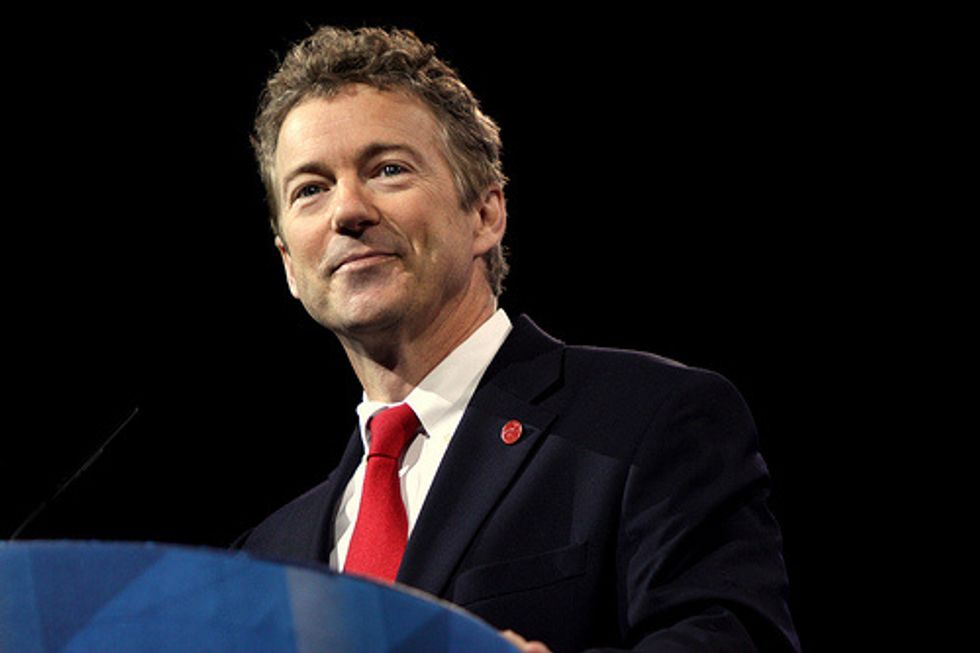 Kentucky senator Rand Paul is a curious vehicle for reformation of the Republican Party. He's not a font of creative ideas; he's hobbled by intellectual contradictions; he's viewed skeptically by his party's establishment. Still, Paul brings a refreshing view of the limits of warfare to a GOP that has spent the last several decades enthusiastically embracing military interventions across the globe.
So here's to the senator's efforts to help his party lay down its battle armor and beat its swords into plowshares. The country needs no more Dick Cheneys and far fewer John McCains.
Paul won't easily transform the Republican Party's views on military might. Earlier this month, Texas governor Rick Perry wrote an opinion essay criticizing him as "curiously blind" to the threat represented by international jihadists. "Viewed together, Obama's policies have certainly led us to this dangerous point in Iraq and Syria, but Paul's brand of isolationism (or whatever term he prefers) would compound the threat of terrorism even further," Perry wrote in The Washington Post.
As much as anything, that's a sign that Perry is considering once again seeking the GOP nomination for president and sees Paul as a significant rival. One way to knock off Paul, Perry believes, is to play to the GOP's armchair hawks, who haven't tired of sending other people's sons and daughters to war.
Paul immediately fought back with an op-ed of his own, published in Washington-based Politico. "Unlike Perry, I oppose sending American troops back into Iraq. After a decade of the United States training Iraq's military, when confronted by the enemy, the Iraqis dropped their weapons, shed their uniforms and hid. Our soldiers' hard work and sacrifice should be worth more than that," he wrote.
While Paul's views are closer to those of the American people, there is still a significant partisan divide — a challenge for the senator. Half of Americans now say the invasion of Iraq was a mistake, while only 38 percent say it was the right decision, according to the Pew Research Center. (The rest are undecided.) But a closer look at polling shows that 52 percent of Republicans still believe toppling Saddam Hussein was the right thing to do.
That may simply reflect the reluctance of Republican voters to admit the failings of the most recent Republican president, George W. Bush. And GOP leaders know there is a lot of political fodder in knocking President Obama's foreign policy, even if few of them present alternatives. They denounce the president's international leadership as feckless, weak and naive — red-meat rhetoric that fires up the base.
That means Paul will have to be not only smart but also courageous if he is to help his party find a more reasonable response to a complex world. The impulse to bend the globe to our will ought to be resisted, as should the instinct to continue to feed the military-industrial complex by draining the national treasury.
One of the reasons we ended up on a misguided mission in Iraq was that Democrats failed to put up enough resistance to the neocons who were then firmly in charge of the GOP. The doomed Vietnam War (though prosecuted by Democratic presidents John Kennedy and Lyndon Johnson) had left Democrats labeled wimps and cowards — a reputation they couldn't shake. As a result, too many who should have known better, including then-senators Hillary Clinton, John Kerry and John Edwards, voted to give Bush the authority to oust Saddam.
It took Obama's victory — he campaigned as a critic of the Iraq invasion — to help leading Democratic pols find the courage to resist a "dumb war." There are still military interventionists in the Democratic Party, but there are far fewer who would support a war in hopes of appearing strong on the national stage.
The Republican Party hasn't yet managed that transition. Its neocons have learned nothing from their years of folly, with Cheney and the entire cohort of Iraq War cheerleaders refusing to admit their mistakes. But if Paul can win enough support from his party's base, he can help the GOP come to terms with a world America cannot rule.
(Cynthia Tucker, winner of the 2007 Pulitzer Prize for commentary, is a visiting professor at the University of Georgia. She can be reached at cynthia@cynthiatucker.com.)
Photo: Gage Skidmore via Flickr
Want more political news and analysis? Sign up for our daily email newsletter!