Rand Paul Finally Gets Senate Challenger In Lexington's Mayor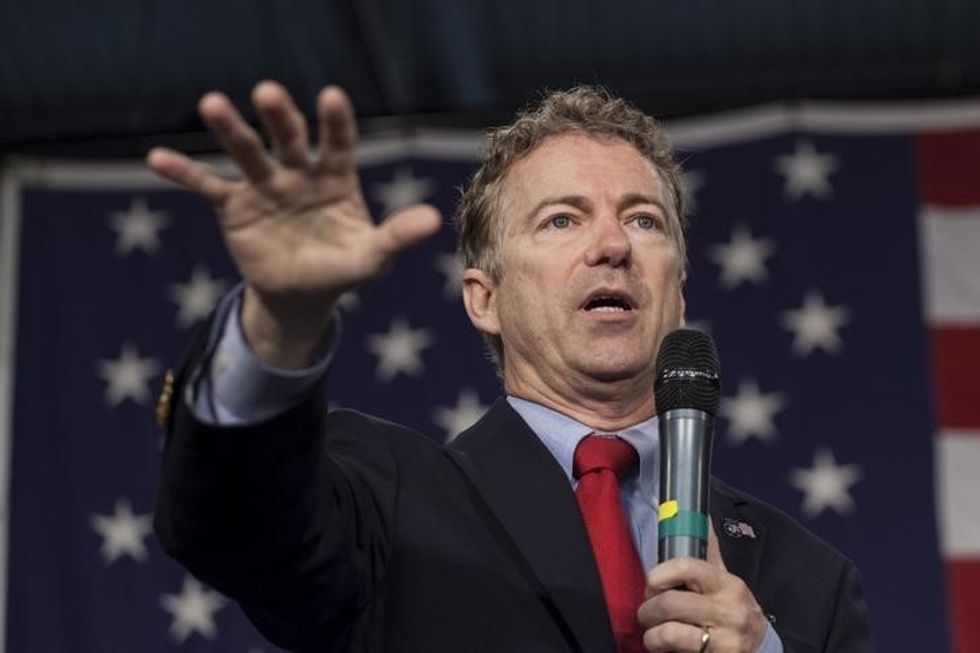 By Eli Yokley, CQ-Roll Call (TNS)
WASHINGTON — Jim Gray, the mayor of Lexington, Ky., filed paperwork on Tuesday declaring his candidacy for Senate – a last-minute move by a man viewed by most Kentucky Democrats as the party's hope to take on Republican Sen. Rand Paul for re-election this fall.
His candidacy – in the works for months, but made official on the very last day of candidate filing in the Bluegrass State – comes just a few months after Democrats there lost all but two statewide elections that swept away the chances of their first choice candidate to challenge Paul, former Auditor of Public Accounts Adam Edelen.
"There's no question that the Republican tsunami here in Kentucky in 2015 has made 2016 more difficult," Edelen told Roll Call ahead of Gray's announcement. But if anyone can do it, he thinks it is Gray, the wealthy construction businessman who became mayor of the state's second largest city in 2010.
"He has a real chance to draw some powerful distinctions between a guy who has created a lot of jobs in Kentucky verses a guy who treats Kentucky like a rental home," Edelen said.
Gray, he added, is "a hell of a likable guy," but admitted 2016 will be a tough fight for Kentucky Democrats. Along with a Senate race, the two parties expect to be in a vicious fight for control of the state House of Representatives, the last chamber of its kind held by Democrats in the South, whose dominance by Republicans is a pet project of Senate Majority Leader Mitch McConnell, the powerful Republican of Kentucky.
"There's going to be a lot of energy on the Democratic side to hold the House of Representatives and I think that will go to the benefit of a Jim Gray or any other Democratic candidate for other offices," said former Kentucky Gov. Steven L. Beshear, the 71-year-old lion of Democratic electoral politics there.
But Beshear, who watched Republican Matt Bevin ride a wave to the governor's mansion as an anti-Obama, becoming one of the few Republicans to do so since the Civil War, admits beating Paul will be tough.
"Whether you're running for dog catcher or governor, if you're a Democrat, the Republicans run a picture of you and Barack Obama together. That's the sum total of their campaigns here in Kentucky," he said, adding that, depending on how the Republican presidential nomination race shakes out, that effect might be weakened in 2016. "I would predict that Hillary would be more popular at the ballot box than President Obama has been."
Greg Blair, a spokesman for the National Republican Senatorial Committee, said Republicans can be expected to do all they can to not let Gray shake that Obama label.
"As Alison Lundergan Grimes, Jack Conway and Adam Edelen can all attest, any statewide candidate who puts a 'D' next to his or her name has already suffered irreparable damage in the Bluegrass State," he said, referring to Grimes' loss in 2014 to McConnell (before she won re-election as secretary of state in 2015), and Conway's loss to Bevin. "Like those who came before him, Jim Gray will be sunk by Obamacare, the war on coal, and the rest of Barack Obama's toxic agenda."
©2016 CQ-Roll Call, Inc., All Rights Reserved. Distributed by Tribune Content Agency, LLC.
Photo: U.S. Republican presidential candidate Rand Paul speaks at the Growth and Opportunity Party at the Iowa State Fairgrounds in Des Moines, Iowa, October 31, 2015.  REUTERS/Brian C. Frank