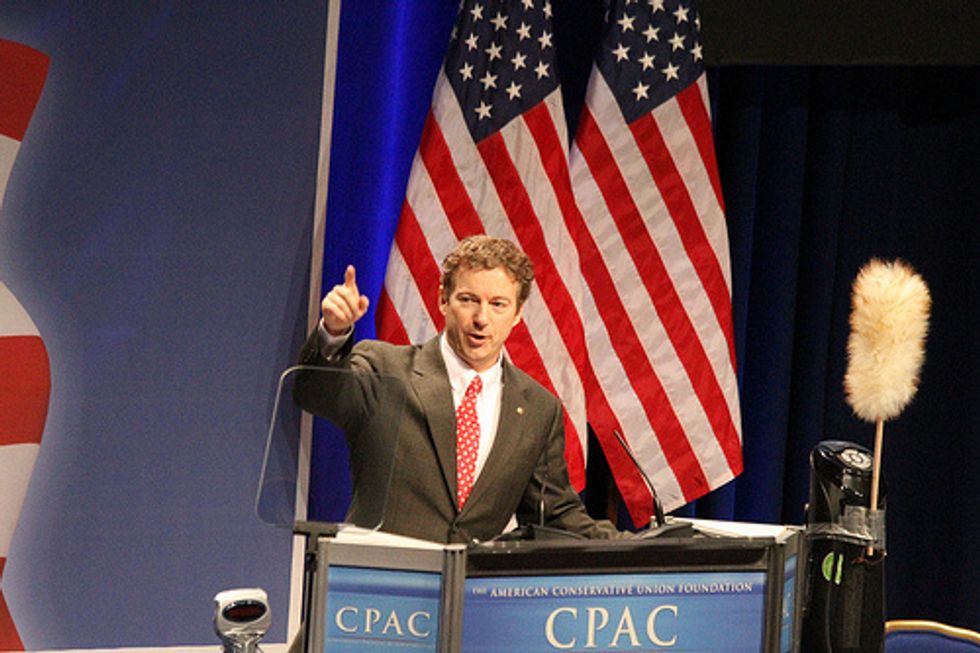 Rand Paul (R-KY) was one of the 18 senators who voted against the deal brokered between Senate Majority Leader Harry Reid (R-NV) and Senate Minority Leader Mitch McConnell (R-KY) that ended the government shutdown and raised the debt limit — but that deal would likely never have happened if not for Paul's alliance with McConnell.
Less than four years ago, Paul easily defeated Secretary of State Trey Grayson, McConnell's choice to replace Senator Jim Bunning, in a GOP primary. The minority leader quickly moved to make amends with Paul as the Tea Party favorite cruised to a win in the general election.
Since 2010, the two men have formed a relationship of equals that's worked to the advantage of both. "You know, I think when we call people a 'mentor,' I think that overstates," Paul said when asked about the nature of their bond earlier this year. "We are colleagues, and I do respect him."
McConnell backed Paul's "drone" filibuster of future CIA director John Brennan. Paul has not only endorsed McConnell's re-election, he's lent out his campaign manager Jesse Benton to the senator. A hot mic caught the two senators discussing tactics for how to avoid blame for the government shutdown.
It's impossible to imagine McConnell being able to swoop in at the last moment to negotiate a deal if he weren't leading his primary opponent — Tea Partier Matt Bevin — by as much as 40 percent. And it's impossible to imagine McConnell crushing a hardline opponent so handily if Paul had decided to back said hardline opponent.
In the wake of the McConnell-Reid compromise, Speaker John Boehner (R-OH) has gotten most of the grief from the Tea Party. You can get a sampling of the vile things he's being called on his Facebook page from this Tea Party Insult Generator. The Speaker is much more deserving of grief because he let the shutdown happen and refused to even hold a vote on the "clean" continuing resolution that McConnell let pass the Senate.
However, Sarah Palin said on Thursday that she's ready to fight in Kentucky in order to "shake things up in 2014."
McConnell has already said there will not be another shutdown over Obamacare. He also refused to comment on the ascent of Senator Ted Cruz (R-TX). To those who have embraced the junior senator from Texas as the new leader of the conservative movement, this makes the minority leader a member of the "Surrender Caucus."
It used to be a big deal when a former member of a national Republican ticket threatened to support a primary challenge to the GOP's leader in the Senate. But that was back when Republican congressmen didn't accuse former GOP standard-bearers of being in league with al Qaeda.
Palin's threat would be a much bigger problem for the senator if Rand Paul weren't standing with Mitch. And if you're wondering where Paul's loyalty is coming from, ask the man both men have employed — Jesse Benton. If he doesn't know he's being recorded, Benton might tell you, "I'm sorta holdin' my nose for two years, cause what we're doin' here is going to be a big benefit for Rand in '16…"
Photo: Mark Taylor via Flickr