Rand Paul Spends Two Days In Iowa, Behaving Much Like A 2016 Contender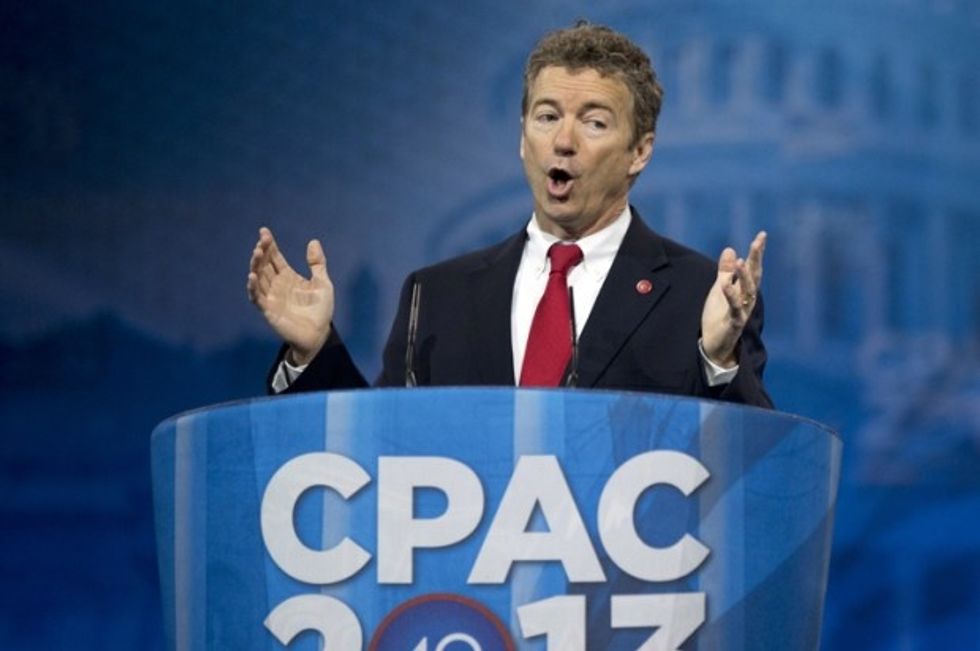 Looking very much like a man who has already decided to make a run for the White House in 2016 despite having no discernible campaign apparatus in place, Kentucky Republican senator Rand Paul blew into Iowa on Friday to attend several conservative events, including coffee with the Iowa Federation of Republican Women and breakfast with the Johnson County Republicans.
Next up in his whirlwind trip is noted hate group The American Family Association's "Pastors and Pews" event, where he gets to burnish his Christian right bona fides — privately, of course, as no media are allowed. Other invitees include fellow 2016 hopefuls Louisiana governor Bobby Jindal and Florida senator Marco Rubio, both of whom trailed Paul significantly in a McKeon and Associates poll of 804 past Iowa Caucus attendees released earlier in the week by pro-gun PAC Freedom to Choose — the Kentucky senator garnered 39 percent support, while his closest rival, Florida's Rubio, received only 20 percent.
Paul is then scheduled to keynote the Iowa GOP's annual fundraiser, the Lincoln Day Dinner. Said Iowa GOP co-chair David Fischer, "Sen. Paul has a much broader appeal than Congressman Paul had. It was heightened by the filibuster a few weeks ago. That energized Iowa Republicans to see a national Republican figure standing up for his principles and challenging the president."
Following his two-day swing through Iowa, Paul is headed for New Hampshire, and he'll wrap up the month with a speech at the Ronald Reagan Presidential Library. If he isn't planning to run for president, he's doing a great impression of someone who is.
AP Photo/Manuel Balce Ceneta