Rand Paul Takes To Senate Floor To Block NSA Surveillance Measure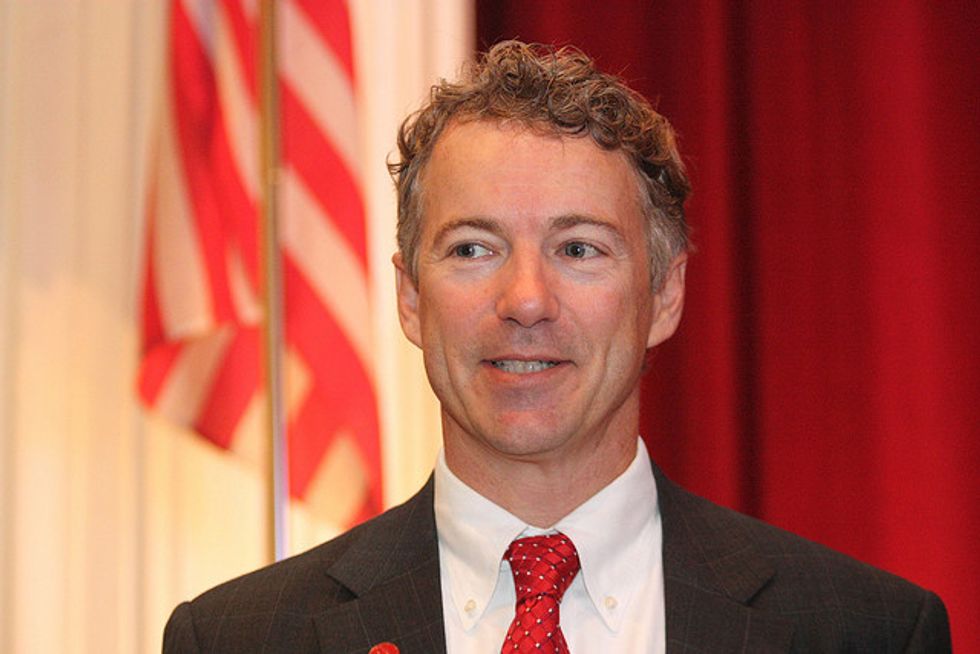 By Lisa Mascaro, Tribune Washington Bureau (TNS)
WASHINGTON — Sen. Rand Paul, R-Ky., seized the Senate floor Wednesday in what he said would be a filibuster to block renewal of a controversial domestic-surveillance program.
At 1:18 p.m. EDT Wednesday, Paul, the libertarian-leaning presidential contender, stood at his Senate desk before an otherwise empty chamber and began to speak out against a National Security Agency spying program that will expire at the end of the month if Congress fails to act.
"There comes to a time in the history of nations when fear and complacency allow power to accumulate and liberty and privacy to suffer. That time is now," Paul said as a few tourists in the gallery looked on. "And I will not let the Patriot Act, the most un-patriotic of acts, go unchallenged."
It was unclear how long Paul expected to hold forth on the Senate floor or whether his maneuver could be accurately described as a filibuster against the NSA program.
His speech actually interrupted proceedings on an unrelated trade measure that is a priority for the Obama administration. That trade bill is scheduled for a Thursday vote, and it was doubtful Paul could talk long enough to stop that, raising questions about whether his plan was to embark on a true filibuster, or merely a long speech.
"I've just taken the senate floor to begin a filibuster of the Patriot Act renewal. It's time to end the NSA spying!" Paul said on his Twitter account.
Whether he can break his previous nearly 13-hour effort remained unclear. In 2013 Paul launched a filibuster against the Obama administration's drone policies, temporarily blocking the confirmation of a new CIA chief.
An aide said Wednesday that Paul planned to speak until he no longer can. One clue of his plans: He was not wearing sneakers, but instead sensible-looking dark dress shoes.
The Kentucky Republican appears to have determined that the political rewards of holding true to his civil libertarian sensibilities overpowered any risks he now faces as a political candidate trying to appeal to a wider swath of Republicans and other voters, who may not support his actions.
He had previously canceled a scheduled Thursday evening event at a tea party group in Florida, organizers said on their website, so he could fight in Washington against the surveillance program.
Congress is racing against a deadline to resolve a standoff over what to do about an NSA program that collects and stores Americans' telephone dialing records. The House overwhelmingly approved a measure last week that reins in some aspects of the surveillance program. The Senate's Republican leadership under Majority Leader Mitch McConnell of Kentucky rejects that approach and wants to extend the program as is.
Paul rejects both approaches, and has vowed to do away with the program if he becomes president.
Photo: Rand Paul for U.S. Senate via Flickr