Reacting To Cohen Raid, Trump Delivers Inaccurate And Dictatorial Rant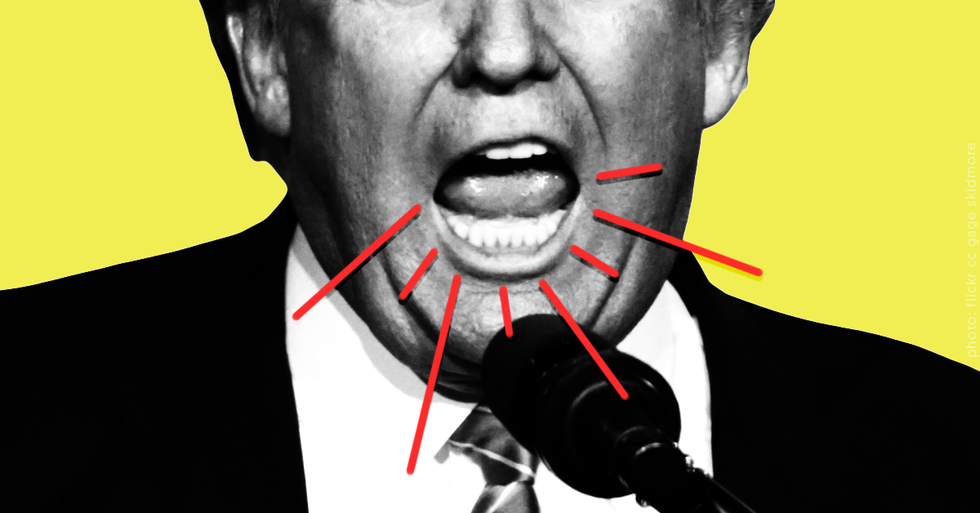 "It is an attack on our country!" exclaimed Donald Trump upon learning that the FBI had raided the office, home, and hotel room occupied by his personal attorney Michael Cohen. "It's an attack on what we all stand for."
What he meant by that deranged statement remained unclear as he rambled on about the "witch hunt" his own law enforcement officials are supposedly perpetrating against him. But the real meaning is all too obvious: He believes that any action against him, no matter how lawful, is an action against the nation. That is the mindset of a would-be dictator.
The last time Americans heard a president utter such bluntly authoritarian rhetoric was when Richard Nixon said: "if the president does it, then it isn't illegal." (By then, he wasn't president any more.)
Beyond his egomaniacal claim, Trump's remarks in response to the FBI seizure of Cohen's electronics and records require further correction.
"I just heard that they broke into the office of one of my personal attorneys. Good man. And it's a disgraceful situation. It's a total witch hunt," he complained.
Nobody "broke into" Cohen's premises and there was nothing "disgraceful" about the situation, except possibly what Trump's fixer-lawyer did to attract the attentions of law enforcement. The FBI agents who conducted the Cohen raid had lawful search warrants, obtained in a lengthy, painstaking process that began with a referral from special counsel Robert Mueller to the United States Attorney for the Southern District of New York.
But that was only the beginning, because Mueller had evidently found criminality on the part of Trump's attorney. In order to justify a warrant that represents a sweeping breach of attorney-client privilege, the Justice Department requires that the U.S. Attorney consult the department's Criminal Division and the Deputy Attorney General before applying to the court. Then the U.S. Attorney must ask a magistrate judge to approve the warrant. The standard of approval is substantive evidence that the attorney is aiding the commission of a felony.
The true disgrace is Trump's attempt — certainly not his first — to impugn the reputations of dedicated law enforcement officers.
"This is the most biased group of people. These people have the biggest conflicts of interest I've ever seen. Democrats all — or just about all — either Democrats or a couple of Republicans that worked for President Obama…"
In fact, not one of the officials who approved the Cohen raid is a Democrat. Special Counsel Robert Mueller is a lifelong Republican, appointed to head the FBI by a Republican president. Geoffrey Berman, the U.S. Attorney for the Southern District, is a Republican who was appointed by Trump himself, following a personal interview that violated Justice Department protocols and traditions. Deputy Attorney General Rod Rosenstein is also a career Republican, appointed by Trump, who now attacks him constantly.
And of course there is Attorney General Jefferson Beauregard Sessions, a former Republican Senator from Alabama, whom Trump now blames because Sessions was forced to recuse himself from the Russia investigation — and left Trump unable to interfere unlawfully with that probe.
"Why don't you just fire Mueller?" a reporter asked Trump
"Why don't I just fire Mueller?" he replied.
"Yeah, just fire the guy."
"Well, I think it's a disgrace what's going on," Trump blathered on, redundantly. "We'll see what happens. But I think it's really a sad situation when you look at what happened. And many people have said, 'You should fire him.'"
Actually, most Americans trust Mueller far more than Trump but for the moment that is beside the point.  Someone should advise this president that firing Mueller won't protect him, because the Cohen matter is now under the control of a separate jurisdiction. When the Justice Department executes a search warrant on a lawyer, that lawyer is almost certain to be prosecuted and end up in prison.
While the precise details of the search warrant and the charges contemplated against Cohen are not yet public, it appears that his jeopardy stems from the effort to pay off and silence porn star Stormy Daniels. He is reported to be under investigation for bank fraud, wire fraud, and campaign finance violations. The materials seized from his office are reported to include his communications with the client he represented in the Daniels affair: Donald J. Trump.
Header image by Sarah Wasko / Media Matters