Read This And Weep: Mike Pence For President
@FromaHarrop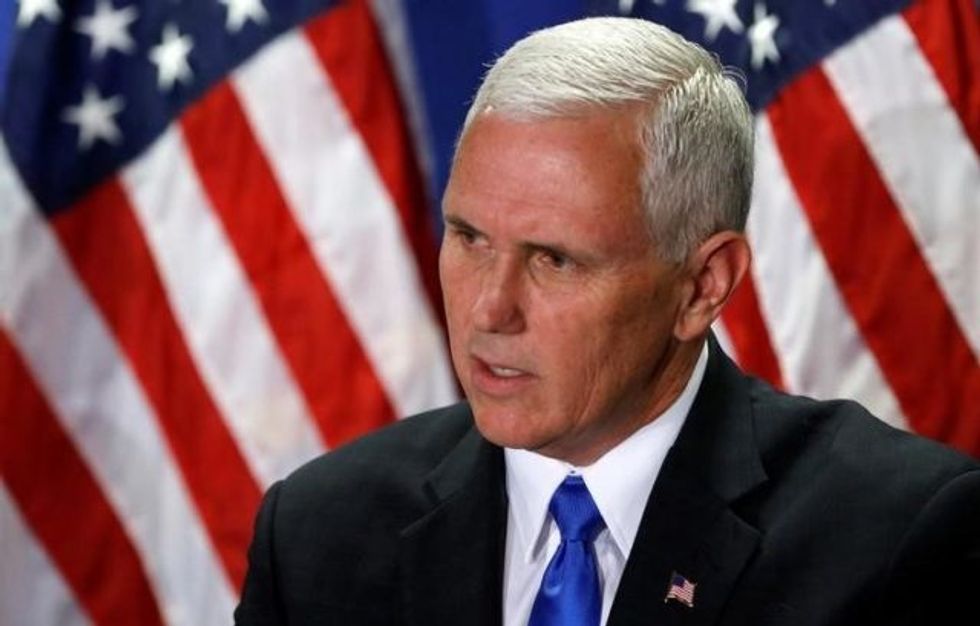 Reprinted with permission from Creators.
President Mike Pence. The words do not trip lightly off the tongue. But as special counsel Bob Mueller dives ever deeper into the murky waters of Trump family enterprises — and the campaign's possible collusion with Russia — a Pence presidency must be contemplated.
Donald Trump's journey from abrasively transformative to annoyingly ineffective would not have been enough to make the president's impeachment or resignation much of a probability. But recent developments kindle thoughts of Vice President Pence in the top job.
Now, Pence would not be my first or 10th choice for president. Even among Republicans, he scores well below Ohio Gov. John Kasich and Sen. Ben Sasse of Nebraska, both of whom have taken steps suggesting a challenge to Trump in 2020.
Good luck to them, but this presidency may not last that long. Consider how far Trump has fallen in only six (can't call them "short") months. Congressional Republicans who once quaked at his nutty tweets now shrug. Foreign leaders openly mock him. And though Trump can still find 12 rapturous faces in West Virginia to pose in front of, his national approval numbers grow more pathetic by the week.
Many liberal friends don't see Pence as much of an improvement over Trump. Pence, they say, is as hostile as Trump to reproductive rights and the Affordable Care Act (although, as governor of Indiana, he did expand Medicaid). He called global warming a "myth," said condoms don't protect against sexually transmitted disease and insisted "smoking doesn't kill."
And while Pence seems to have majored in junk science, he minored in double-moral bookkeeping. The ease at which he delivers falsehoods under a smooth mask of piety is most unpleasant.
Pence likes to preface his lies with "Let me be clear" — as in his tweet, "Let me be clear: The Senate health-care bill strengthens and secures Medicaid." Actually, the Senate bill would have knocked the stuffing out of Medicaid, slashing $800 billion over 10 years.
Some may see propriety in a man who asserts he won't dine alone with a woman not his wife. I see a man lacking basic self-control.
Despite these reservations, a Pence presidency would offer welcome relief in the years before the 2020 election. That's because Pence has one significant advantage over Trump. He is sane.
He would not insult our closest allies for the heck of it — and is highly unlikely to have accepted favors from Russian leader Vladimir Putin. Few believe that mere affection for the strongman prompted Trump's shocking remark that the U.S. might not help defend the Baltic States should Russia attack them. This happens to be our obligation under NATO.
Pence is now on cleanup patrol, recently reassuring Baltic leaders, "We are with you." And he told the prime minister of Georgia that the U.S. stands by his country's wish to join NATO, a prospect Putin abhors.
Pence is, in effect, telling friends, "Ignore the crazy man with the Twitter account." This is cause for hope.
During the campaign, Pence did object to some of Trump's more disgraceful outbursts, however meekly. When Trump smeared Indiana-born Judge Gonzalo Curiel over his Mexican heritage, Pence called the remarks "inappropriate."
Those opposed to the Pence agenda can argue with reason that he'd probably be more adept at furthering it than Trump has been. They take solace in seeing little getting done so far.
But the nation has yet to face an international crisis under its erratic, ill-informed leader. For Americans concerned about their safety and standing in the world, three years is a scary long time.
So, strange as it seems — and I choke saying it — Mike Pence for president.
Follow Froma Harrop on Twitter @FromaHarrop. She can be reached at fharrop@gmail.com. To find out more about Froma Harrop and read features by other Creators writers and cartoonists, visit the Creators webpage at www.creators.com.