Bill Maher Warns Against GOP 'Kooks' Running In Midterm (VIDEO)
@alexvhenderson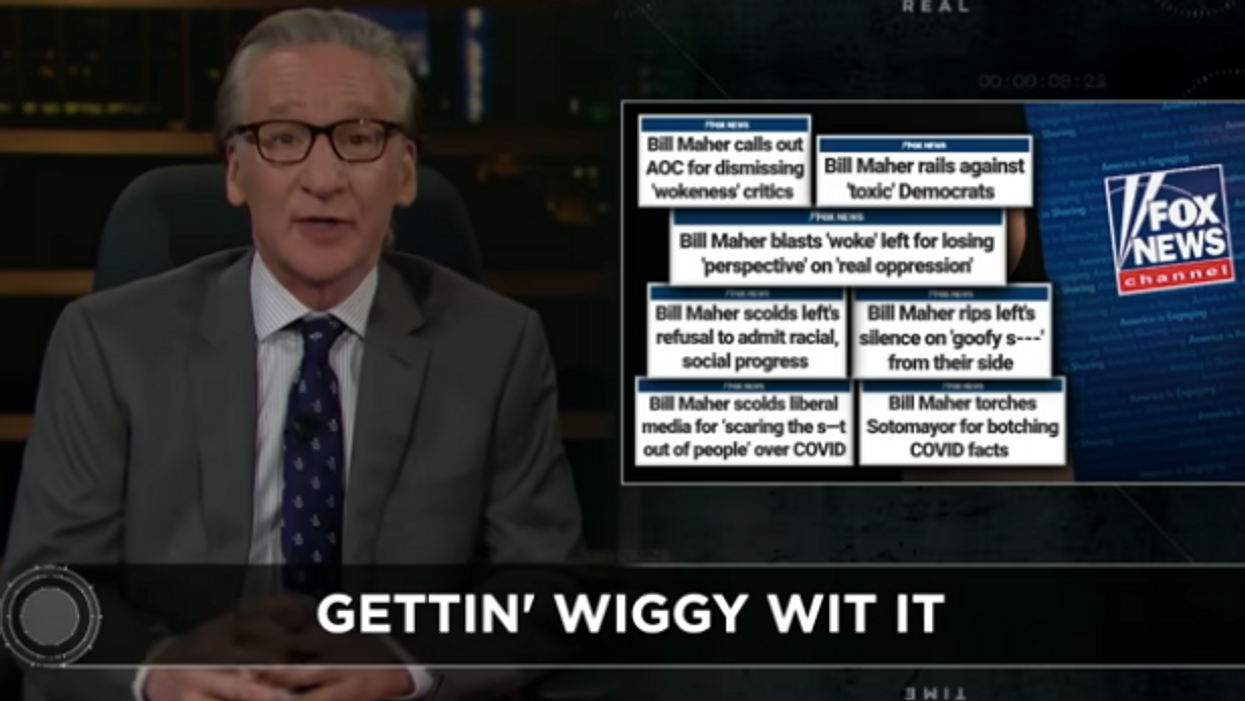 Although comedian and "Real Time" host Bill Maher is a blistering critic of political correctness and "woke culture," he is no fan of MAGA Republicans and former President Donald Trump. And during an early April monologue on "Real Time," Maher warned that the far-right GOP "kooks" and "extremists" who are likely to take over the U.S. House of Representatives in the 2022 midterms make the Republican "kooks" of 2010 and 2012 look tame by comparison.
"We are now only seven months away from midterm elections that are poised to make the Republicans much more powerful," Maher told viewers. "So, attention must be paid to where the Republican Party is right now. You'd think, with the left going a little looney over the past few years, Republicans would have seen an opening to grab the sensible center. But no…. Normal Republican crazy, where you just shoot guns at things you don't like in your campaign ads — even that shit doesn't cut it anymore… I look back at the Republican class of 2010 because that year has been held up as an example of Republican kookiness gone wild."
Maher went on to cite examples of Republicans who were slammed as "kooks" in the 2010 and 2012 elections, including Delaware's Christine O'Donnell (of "I'm not a witch" fame) and Missouri's Todd Akin (who is infamous for his "legitimate rape" comment). And the 66-year-old "Real Time" host stressed that in 2022, the GOP is even more unhinged.
"In 2009," Maher recalled, "it was a big deal when Congressman Joe Wilson yelled out 'You lie' during (President Barack) Obama's State of the Union address. But this year, [Rep.] Marjorie Taylor Greene and [Rep.] Lauren Boebert repeatedly interrupted (President Joe) Biden during his State of the Union. Excuse me, Karen! The president is talking; it's not a black kid you caught trying to use the pool. No, you can't have another skinny margarita, and if you don't sit down, this flight is never getting to Orlando."
Maher continued, "For all of you who get frustrated because Manchin and Sinema don't vote like true liberals — because they never were — or think Trump is as bad as it's going to get, remember the first rule of modern Republican politics: They always go lower. Because this party has no bottom, unless you count [Senator] Lindsey Graham. The kooky Republicans of the 2010 era wouldn't even make the cut today for extremism. And the ones today aren't even as bad as the ones in the wings. Wait 'till you see the incoming group of Facebook uncles, crazy Karens and submental shitposters coming up."
Maher pointed to "dim-witted religious nut" Kelly Tshibaka (who is running for the U.S. Senate in Alaska), Michele Fiore (who is running for Nevada state treasurer), "sociopath" Eric Greitens (who is running for the U.S. Senate in Missouri) and Tina Forte (a Republican seeking Rep. Alexandria Ocasio-Cortez's seat in the Bronx and Queens) as some of the many GOP "kooks" running for office in 2022.
Watch the video below:
Reprinted with permission from Alternet.