Recession Hits US Manufacturing Sector In Trade War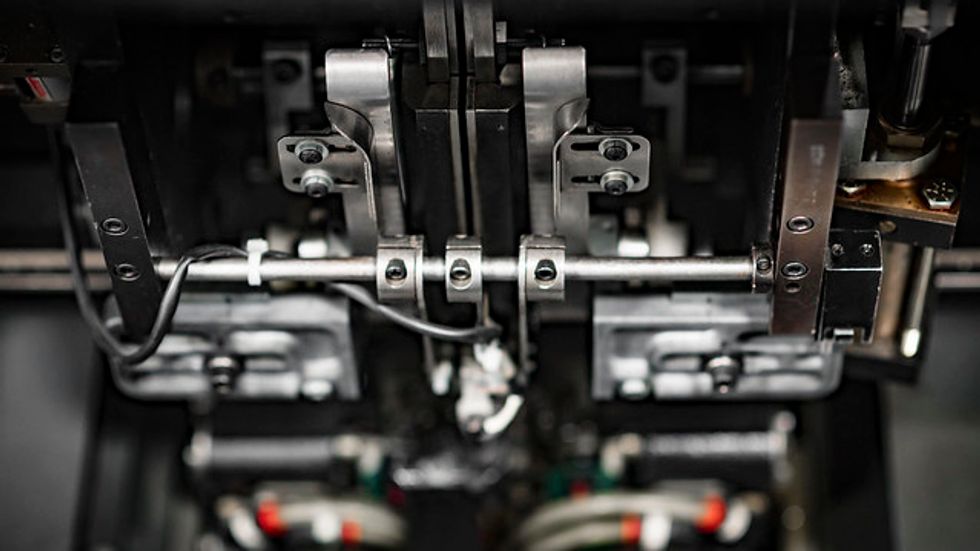 U.S. factories are struggling so badly that the manufacturing sector is officially in a recession, according to a Bloomberg report. It's thanks in large part to Trump's trade war with China.
New data released Tuesday shows shrinking orders, production, and hiring in the manufacturing industry, hitting a three-year low. The news follows worrisome data from August showing new manufacturing orders and exports hit a 10-year low.
Factories are struggling so much that the manufacturing industry is "technically already in a recession in the U.S.," Bloomberg wrote. A recession is defined as when the Federal Reserve observes two straight quarters, or six months, of declining output.
And a recession does not just mean fewer things are being made; it also means fewer people have jobs. Data shows factory employment dropped to the lowest level since March 2016, during President Obama's final year in office.
As far back as early summer, economists looking at the decline in manufacturing under Trump expressed concern.
"In our view, a continued decline … will be hard to spin as anything but a manufacturing recession," Binky Chadha, chief strategist at Deutsche Bank, wrote in June.
The manufacturing recession can be laid at Trump's feet.
Trump's "escalating trade war with China is taking a big bite from the manufacturing sector," CNBC reports. For more than a year, Trump has engaged in a trade war with China, culminating in increased tariffs on almost every product imported from China. Those tariffs mean companies must pay more for materials and parts imported from China.
And whatever costs those companies don't absorb, they pass along to buyers, meaning the tariffs are nothing more than a tax on American consumers, a fact even Senate Majority Leader Mitch McConnell admits. In total, families can expect a $1,000 tax hike, thanks to Trump's trade policies.
In retaliation for tariffs ordered by Trump, China has stopped buying U.S. agricultural products, pushing American farmers into bankruptcy at record rates.
The trade war has gotten so bad that major banks warned that Trump's policies could spark a nationwide recession.
"Trade tensions have pushed corporate confidence and global growth to multi-year lows," Chetan Ahya, Morgan Stanley's chief economist, said in early August.
The manufacturing recession could just be the beginning. The new data indicates "manufacturing is likely to have again acted as a significant drag on the economy in the third quarter," Chris Williamson, chief business economist at IHS Markit, said in a statement.
When he ran for office in 2016, Trump vowed to restore "the glory of American manufacturing."
But that's not what is happening. Instead, the American manufacturing sector is experiencing a recession.
Published with permission of The American Independent.